Hardcore lambic nerdery incoming. Take cover! So there have been some attempts to classify the different styles of lambic. The most common is to separate Gueuze (blend of 1, 2, and 3 year old lambic), fruited lambic (exactly what it sounds like), and unblended lambic (lambic that is not part of a gueuze blend or fruited lambic, and is usually near still or flat).
As it turns out, the usage of "unblended" is mildly inaccurate, but persists due to its widespread usage in English-speaking publications (N.B. this includes writings from Michael Jackson and other highly respected authors, so this isn't meant as a slight). While "unblended" lambic does exist, it seems to be rare. Most beers categorized as such, like Cantillon's Grand Cru Bruocsella or De Cam's Oude Lambiek, are actually blends of various old lambics. Since they are all older lambics, they still don't qualify as gueuze (which is a blend of old and young) and they don't experience any refermentation in the bottle and thus lack carbonation. Locals in lambic regions tend to refer to these beers as simply young or old lambics (The terms "jonge" and "oude" in Dutch and "jeune" and "vieux" in French translate to "young" and "old" respectively).
I have, of course, been guilty of using "unblended" in the past. Frankly, it's never been my favorite approach to lambic. I tend to be sensitive to carbonation issues and thus haven't been in love with the few examples I managed to snag. That said, I'm told that this approach does allow you to get closer to a given brewery's "house character" than a gueuze, and with this Lambickx offering sourced from De Troch, I think I may be catching on to the style.
This is all well and good, but it would be nice to know the carbonation state before opening a bottle and just calling something "lambic" seems like too big of an umbrella term for that. Maybe instead of "Unblended" you could use "Still" or "Pure" or "Straight" (all of which I've seen used in differing capacities). I mean, I knew what I was in for when I popped the cork on this bottle, but from the label alone one could easily assume it would be carbonated (like most other lambic or beer). Regardless, as hinted at above, I ended up enjoying this much more than I would have thought. Then again, that very "pure" nature of this offering also leads to more variability, so maybe I just got a particularly good bottle. Or maybe Vanberg & DeWulf's barrel selection is just on point.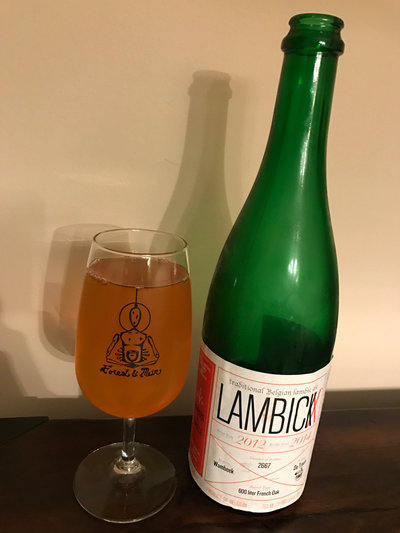 Lambickx De Troch 2012-2014 – Pours a honey gold color, no head, no carbonation. Smells great, light funkiness, tart fruit, sour twang. Tastes quite nice, sweet, nice tart fruit character, a little oak, moderate to low sourness, very well balanced. Mouthfeel is light to medium bodied, still (no real carbonation), moderate to low acidity, again very well balanced. Overall, this is much better than I was expecting. I've not been particularly enamored with unblended lambics in the past, but this is quite nice. B+
Beer Nerd Details: 5.75% ABV bottled (750 ml caged and corked). Drank out of a flute glass on 11/6/16. Brew Year: 2012. Bottle Year: 2014. Number of Bottles: 2667. Source: De Troch. Barrel Type: 600 liter French Oak.
So I may have to snag some more Lambickx vintages and variants, maybe even age some further. Other Still Lambics might get on my radar as well. Funnily enough, while I have a category for Gueuze, I pretty much put everything else in a generic Lambic category. Now that I've got a couple of these Pure Lambics, I should probably