Tonight was beer club, a meeting of beer minded individuals from my work who get together for a meal and lots-o-beer once a month. We had a good turnout this month, with quite a few interesting beers to try. As usual, we hit up a local BYOB, this time a Thai place. Good times were had by all.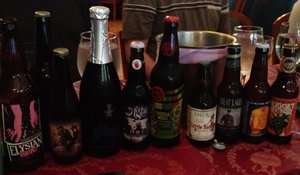 (Click for bigger image)
For the sake of posterity, some thoughts on each beer we tried are below. As usual, conditions were not ideal, so the below probably isn't completely representative of reality. In order of drinking (not in order of the picture above):
Elysian NIBIRU Yerba Mate Tripel – I arrived a bit late to the gathering, so I didn't get to have a lot of this, but it was a nice Tripel style beer with a twist. Apparently part of a twelve beer series celebrating the Mayan apocalypse of 2012… (also the source of the "End is Beer" pun). I wouldn't call it a top tier beer, but it was nice. B
Lakefront New Grist Sorghum Beer – Wow, is this a light colored beer. Incredibly light beer in every way. Not bad, per say, but there's not a ton of flavor here either. It reminded me a lot of a less tasty but better balanced Coors Light, if that makes any sense (which it probably doesn't). Certainly not a great beer, but it has it's place. C+
Tröegs Nugget Nectar – I've actually reviewed this before, but I've revisited it a couple times since then and I have to admit that it gets better every time I try it. Nice hoppy citrus and pine resin character, with some earthy/herbal notes as well. An excellent beer, I'd upgrade this to a B+, maybe even higher (this was generally considered the best beer of the night by beer club homies)
My Homebrewed Simcoe IPA – Seemed to go over very well with the beer club folks, even the people who don't normally love IPAs. Not to toot my own horn, but this did turn out really well. Tons of citrus and a little pine from the hops in both the nose and taste. The bitterness is well matched and pleasant. Really solid beer. B+
Atwater Dirty Blonde Ale – A very nice, sessionable wheat ale that sorta suffered from being tasted after a few stronger, fuller flavored brews. A very nice beer, to be sure, but it was hard to really pronounce it a great beer compared to other beers in the tasting. B-
Stillwater Of Love & Regret – Another of my contributions to the night, I bought this last week without realizing that I'd actually had it before, so I figured I'd share the wealth. The bottle did sorta explode when I popped the cap, instantly foaming over. Luckily, we did not lose much of it, and the beer still tasted wonderful. It's got a saison style feel to it, but a little fruitiness and lots of spice too. Very nice beer and one of my favorites of the night, though some others didn't care as much for this one… B+
Great Lakes Conway's Irish Ale – This Irish Red Ale seems to share something with the typical English Pale Ale style, though this time around, there's enough flavor around to make it feel balanced and actually decent. I enjoyed this beer, despite not being very blown away by it. B-
Lagunitas A Little Sumpin' Sumpin' Ale – A very nice IPA style beer, though BA lists it as an American Pale Wheat Ale. Not sure what that means, but it turns out that it's a lot like a regular old (well, a very good, actually) IPA. Lots of American Hop Character, quite nice. I'd like to try it again sometime… B+
Left Hand Milk Stout – Another beer I've had before and enjoyed. Reminds me very much of Lancaster's Milk Stout – very roasty, some coffee flavors, and overall a decent roasty stout. Solid, but not one of my favorites. B
New Belgium Lips Of Faith – Cocoa Mole – A most unusual beer. I get lots of caramel malt and chocolate out of this, but the chipotle spice is what really gives this beer an extra kick. It was pretty good in the context of beer club, though I'm not sure I'd love to drink an entire bottle of the stuff. B
AleSmith Old Numbskull – My other contribution for the night, this was the biggest beer of the night, and boy does it have an intense aroma/flavor profile. Lots of caramel and citrusy, resinous hops. Really nice and I liked it a lot, but I was glad to have shared it with a bunch of other folks. Overall, might be the second best beer of the night behind the Nugget Nectar. B+
A great time was had by all, so it was another successful beer club, and as always, I'm already looking forward to next month!