I don't know, maybe this just isn't a good year to be drinking beers with "elf" in the name. Not that any were super bad, just that none of them really connected with me. I had high hopes for this one, as I've heard many good things, but I found myself disappointed: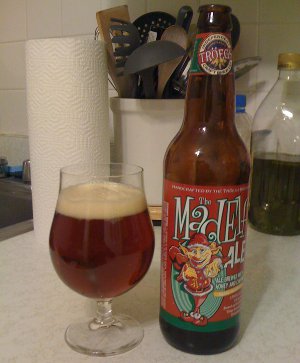 Tröegs Mad Elf – Pours a light, clear, reddish color, with a relatively small head that dissipates pretty quickly. Smell is a bit fruity and musty. Taste is sweet, with some of that cherry taste, and very boozy. The strong alcohol taste isn't nearly as well balanced with other flavors as this weekend's other big holiday brew, Three French Hens, but it's not out of control (like the Insanely Bad Elf I had on Thursday) either. Carbonation is low, which makes it a relatively smooth drink, but drinking a whole bomber of this gets a bit cloying towards the end. It's not bad, but I just didn't connect with it at all. B-
Beer Nerd Details: 11% ABV bottled (22 oz bomber). Drank from a tulip glass.
I'm getting close to the end of my Holiday brews, but I think I've got enough to tide me over until Christmas. So far, so good, even if there've been a few missteps.