A couple years ago, I acquired a bottle of Great Divide's Barrel Aged Hibernation in a LIF. It was quite nice, but the barrel component wasn't quite as integrated as I expected. This could be because the bottle was nearly 2 years old or it could be that the Stranahan's barrels they used don't really live up to the more common bourbon barrel approach. The former could be addressed by snagging a fresh bottle of BA Hibernation (which I see are circulating in the area right now), but the latter will be more of a challenge since Stranahan's is relatively small, there aren't that many breweries that use their barrels, and then there's the fact that they have asked brewers not to disclose their name on labels anymore. Also, the nature of a small distillery like Stranahan's can lead to inconsistency, which could also translate to their barrels… I'm not an inconsistency hater and can even find it charming in some instances, but that doesn't make a true miss any less annoying!
All that being said, it's my understanding that Great Divide does still use Stranahan's for their barrel program, and when I saw this barrel aged barleywine (for 12 months, no less), I thought I'd give it a shot. I'm happy to report that this worked out better than the old ale (though it appears some folks have gotten infected bottles – mine was not, so I don't know how prevalent any of those issues was):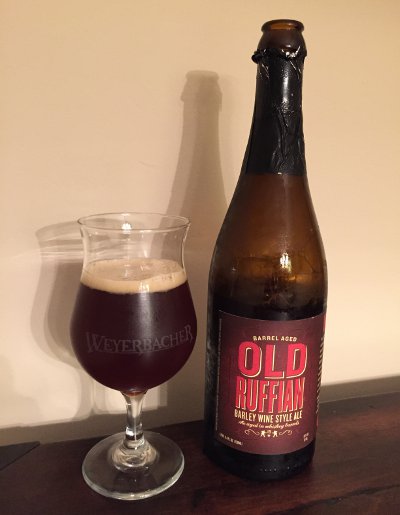 Great Divide Barrel Aged Old Ruffian – Pours a dark, murky amber brown color with a finger of off white had that sticks around for a bit. Smells of dark fruits, raisins, plums, with some caramel and toffee and hints of whiskey in the background. Taste goes to a similar place, rum soaked raisins and plums, hints of slightly boozy oak and whiskey, and a malt backbone of caramel and toffee, finishing with that touch of whiskey and vanilla. As it warms, it gets a bit deeper and the whiskey comes out a bit more. Mouthfeel is full bodied, tightly carbonated, with a moderate amount of richness from the barrel aging, silky smooth, with enough alcohol heat in the finish to keep it a sipper. Overall, very well executed bourbon barrel barleywine, quite a treat. A-
Beer Nerd Details: 10.2% ABV bottled (750 ml). Drank out of a tulip glass on 5/16/15. Bottled on: March 26, 2015.
This was very nice and makes me want to go out and grab another BA Hibernation, though I really shouldn't, as I'm drowning in good beer over here. I know, woe is me, but I've got to drink down my cellar a bit and oh, it looks like I've got a trip to Vermont on the near horizon, so this is going to be rough. For certain values of "rough".