The theatrical movie experience has suffered under the strain of the pandemic. Many theaters were simply closed for a while, and even once opened, box office receipts were way down, followed by delayed or limited releases with almost no marketing (if those movies were distributed to theaters at all). Media corporations were already shifting towards streaming, which has only accelerated. Even would-be blockbusters were being released on streaming, sometimes included in a subscription (witness: Warner Bros. entire 2021 slate released simultaneously in theaters and on HBO Max).
That said, I think we turned a corner about halfway through the Six Weeks of Halloween. All the sudden, there were exclusive theatrical releases. Long delayed blockbusters finally hit theaters, new indie fare made it to multiplexes, and crowds actually started showing up. We're not back to pre-pandemic numbers, of course, and marketing efforts have not served some films well, but theaters are back. My Regal Unlimited account is suddenly becoming a good investment again.
As such, after the aforementioned Six Weeks of Halloween, I started to catch up with all the non-horror movies released in October. This involved a lot of theatrical, but the shift to streaming is real, so we'll cover both here. While my normal media diet consists of a healthy mix of old and new, I've spent most of November catching up with 2021 movies, so this will be spread out across multiple posts.
2021 Movie Catch-Up: Theatrical
The Last Duel – Ridley Scott's overlooked and underseen Rashomon-esque medieval me-too movie didn't get a ton of play, which is a real shame because it's quite good. A story told from three differing perspectives, this sets itself up like it's going to be a spin on Rashomon, but then it pulls that rug out from under you when it goes and labels the third and final perspective as "The Truth." The differences between the three stories are surprisingly minor, and they do a good job of not being too repetitive. Still, the details that change are exactly that; perhaps something a simple as shoes falling off during a pursuit rather than shoes being taken off. The story is touching on more modern concerns, and there are clear references to, for example, Bill Clinton's controversies. Also, one can't help but wonder if Affleck and Damon are grappling with their association with Harvey Weinstein by telling this story (they wrote the script along with Nicole Holofcener).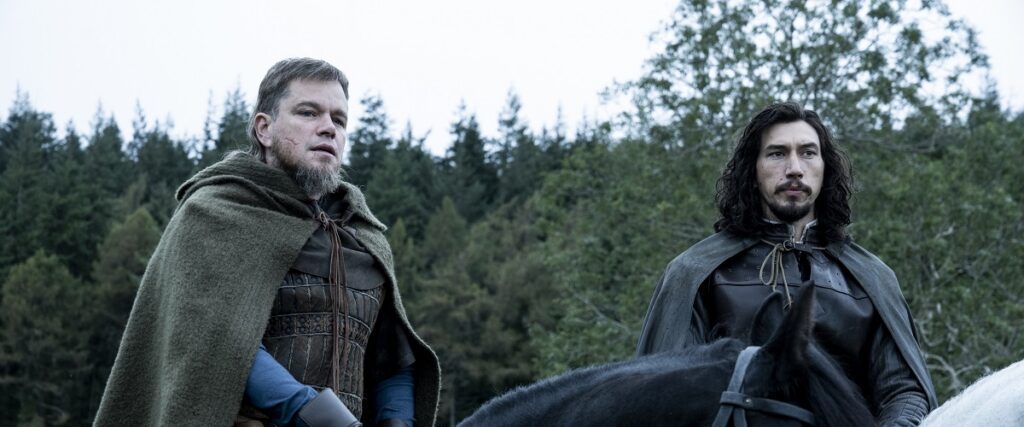 Of course, the film looks great, and while I wouldn't characterize this as an action movie, Scott's eye for action serves the story well. The titular duel that caps off the movie is a real corker, much more brutal than you've probably ever seen such an event portrayed. I know that Game of Thrones fans might argue against that, but perhaps because the stakes here are so well established, I found it effective. Performances from the three main leads, Matt Damon, Adam Driver, and Jodie Comer (she's having a good year and will certainly be nominated in the Kaedrin Movie Awards for Breakthrough Performance), are excellent, but Ben Affleck, of all people, steals the show as the privileged, blond-haired Count. It's not a happy-go-lucky blockbuster type of movie and the runtime is a tad long, but it is worth checking out and may find a place on my top 10 list at the end of the year. ***
---
Last Night in Soho – 2021 is turning into a year in which someone makes an interesting and weird little film, and people start calling it Giallo-inspired, and I'm sorry, but I just don't see it. This Edgar Wright jam is filled with his usual craft and leans heavily on music-inspired sequences, and while there are some murders at the core of the story, this ain't Giallo. I don't get why people keep doing this (the other big one was Malignant, also not remotely a Giallo). If you want to see movies that influenced this, you'd be better off with Repulsion or Carnival of Souls.
Sadly, while it's well made, I just don't think this is my kinda thing. This isn't meant to take away from Wright's skill, and I can respect what he's doing here, but there are a few things that hold me back. One is that I'm just not as inspired by the music as a lot of fans of this movie are. I can respect the way Wright deploys visual and audible components to achieve something that's more than the sum of their parts, but it just doesn't inspire me as much because the story at the heart of this is a bit muddy. Second is that I really couldn't get over just how passive our protagonist was. As a psychic medium (or whatever), this passivity is sorta baked into the plot, but even when she tries to go active, she doesn't accomplish much.
Thematically, I like the whole beware nostalgia or don't view the past with rose colored glasses vibe, but for whatever reason, this packaging of those themes didn't quite work for me. I have a ton of respect for what Wright is trying to do here and I don't hate it or anything, but there are some missteps here that are holding it back. **1/2
---
Dune – It's a pretty great first half of a movie, which is the only real complaint I have here: it just sorta ends (with a character literally saying "This is only the beginning.") That said, the gamble paid off, and it looks like we'll be getting the second half of the movie soon enough. Dune is one of those books that feels unfilmable due to the large amount of weird worldbuilding and made-up jargon needed to tell this story. Director Denis Villeneuve has a tendency towards overly deliberate, ponderous style that I didn't care for with Blade Runner 2049, but are much better calibrated here. I can't get over how well he balanced the various difficult components of telling this story. Visually spectacular without feeling like a boring CGI-pixel stew, thoughtful without being insufferable, I'm really looking forward to the second film. ***
2021 Movie Catch-Up: Streaming
Finch – Tom Hanks in a post-apocalypse world building a robot to take care of his dog when he inevitably dies. Well balanced sentimentality that never crosses over into an overly saccharine or maudlin mode, I was surprised by how much I enjoyed this. Hanks kills it, as usual. I mean, this is so obviously an exercise in acting (not quite as much as Cast Away, but still) and yet, it still works. Perhaps because despite what the premise might imply, the motion capture performance by Caleb Landry Jones as the robot is surprisingly effecting. His performance is filled with subtle grace notes that indicate how quickly his learning robot is maturing. Plenty of special effects here, but they're not the weightless spectacle you get from superhero movies, and are much better deployed here. (Available on Apple TV+) ***
---
Riders of Justice – Danish revenge flick starring Mads Mikkelson as an army vet who befriends three computer nerds to take revenge on a motorcycle gang who caused a train accident that killed his wife. A well calibrated, darkly comedic reflection on acceptance and forgiveness and the patterns in the chaos of life.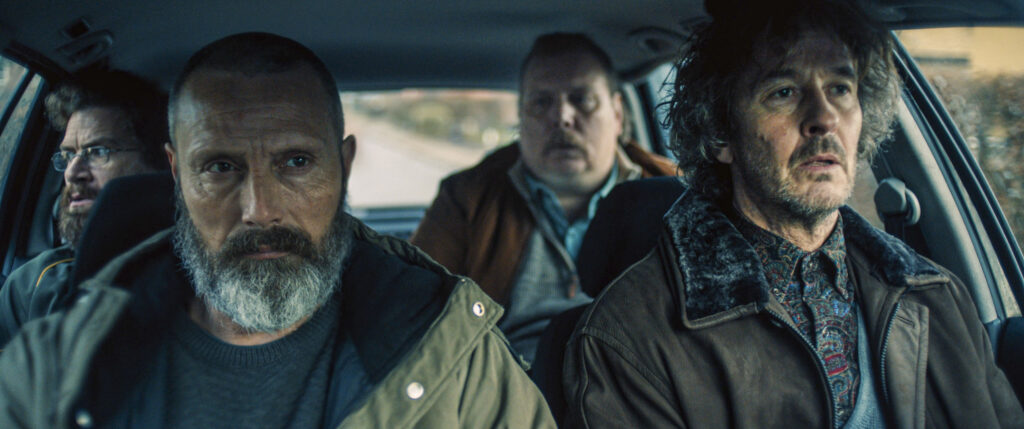 You can drive yourself crazy looking for meaning in random events, whether you're doing so explicitly or building an algorithm to sift through massive amounts of data. It's unconventional, but really interesting and quite entertaining to boot. Worth seeking out (it's on Hulu). ***
---
The Guilty – Set entirely at a police dispatch center, this tells the story of a demoted police officer trying to help a woman in an emergency situation. By the numbers stuff, and apparently it's a remake of a much better Danish film, which I didn't realize when I started this. Antoine Fuqua and Jake Gyllenhaal deserve better, as does Riley Keough, who does amazing voice work as the woman on the other end of the line. It's fine, but I'm guessing it doesn't play particularly well to American audiences after the last year. **
---
Stay tuned for Part 2 of this 2021 Movie Catch-Up, and it appears there's plenty more films coming to theaters soon (looking forward to Licorice Pizza!)