Last time on Weird Movie of the Week, we covered a tender tale of voluptuous androids and space cops. This time, we're going to watch the Citizen Kane of Astrologer movies.
When I was in college, one of my roommates had discovered this list of the weirdest (or maybe grossest) movies of all time on the internet. The details are fuzzy and I have never been able to track down that original list, but we had great fun making our way through it. It's where we discovered things like Alejandro Jodorowsky's particular brand of insanity like El Topo or Peter Jackson's early splatter flicks like Meet the Feebles and Bad Taste. Thinking back on it, we were exceedingly lucky to have found copies of these films at all (mostly thanks to the now defunct TLA Video Stores in the Philadelphia area), but there were many films on that list that we were never able to track down.
I might be imagining things, but I believe The Astrologer was one of them. Of course, any attempt to find a home video version was probably doomed to failure. This is one of those movies where people find a 35mm copy in a vault in Brazil, then do a limited tour of film festivals and art-houses with the print. For decades, this was basically the only way to see this film.
A few weeks ago, some hero uploaded the film to YouTube (and it's of a surprisingly good quality). If trash cinema is your jam, get thee over there now before it gets pulled. Some assorted thoughts below:
A plot summary can't really capture the film's bonkers nature, but I guess I should give it a shot. A carnie specializing in astrology and putting on a small-scale psychic act on the carnival circuit gets embroiled in a scheme to smuggle rubies out of Kenya. He somehow becomes the sole survivor of that ordeal, and he parlays the ill-gotten earnings into an astrological empire. Once on top of the world, he begins to meltdown.
The plot doesn't really capture how strangely paced the movie is. Each part of the film feels like a sudden digression that lasts way too long, but somehow adds up. The first twenty minutes or so feel awfully conventional, such that you might be wondering why this film has such a batshit reputation. Then a sudden, jarring jump-cut to Kenya knocks you off balance, and I suspect you'll never recover. Huge emotional swings, every filmmaking gimmick in the book, ridiculous editing, and not an ounce of shame from the egomaniac who made the film.
In case you can't tell, this film is not for the faint of heart. I have no idea how I'd characterize this movie's politics, but if you're of the woke persuasion, you will probably find it appalling. Then again, the appalling nature of the film is its primary draw.
The reason for this film's rarity has to do with rights issues. Usually, this sort of thing traces back to contracts that didn't include music rights for home video, or the movie was lost in the assets of a giant corporation who can't be bothered with such a small scale release. However, in this case, it's because the writer/director/star Craig Denney simply inserted a bunch of Moody Blues tracks (amongst others) into the film without any permission whatsoever. Weirdly, the music is so perfectly integral to the film that you can't just take it out and replace it.
Speaking of writer/director/star Craig Denney, one of the other mysterious things about the guy is that he seemingly disappeared decades ago. Rumors abound about mob ties and faking his own death and whatnot. The story behind this film is almost as interesting and weird as the film itself. The movie is generally portrayed as the first work of egotistical mania, a sorta precursor to Tommy Wiseau's The Room.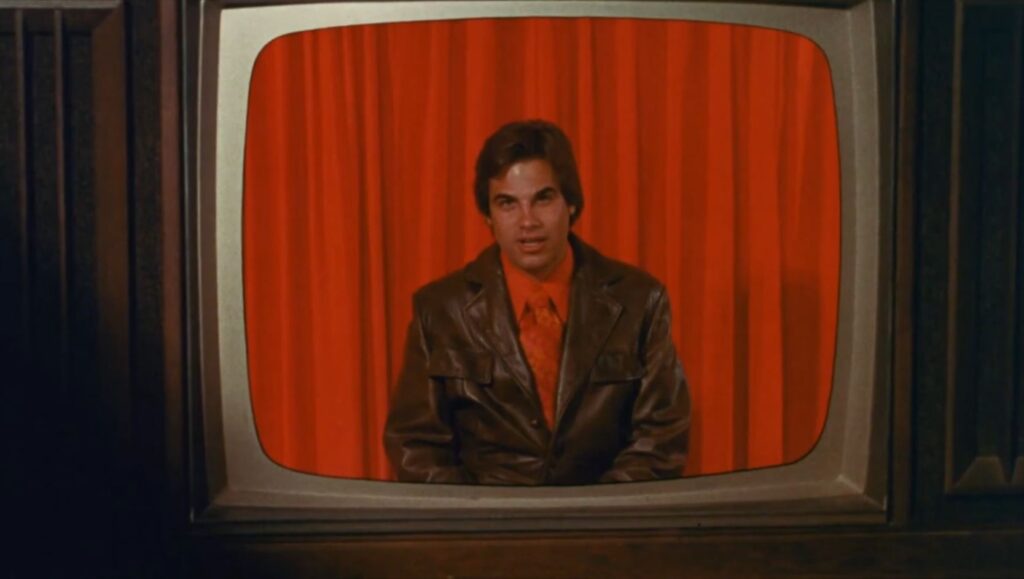 The comparison to The Room isn't quite right, though. That movie is "so bad it's good" and people love reveling in how bad it is. The Astrologer almost accidentally bumbles into genius territory.
As an example of the film's accidental genius, take the dinner scene. It's one of those scenes that's completely driven by the stolen music, this time Procol Harum's prog rock epic "Grand Hotel." You can't hear what anyone is saying, but you get that a couple is happy at the start and then start arguing until the sequence reaches a fever pitch. It incorporates slow motion, bizarre editing, and weirdly tracks with on-the-nose lyrics. It's a bravura sequence that I'm pretty sure happened completely by accident, but does that really matter? There's nothing this brilliant in The Room.
I could go on, but I think you get the idea. The Astrologer is one for the ages, and something fans of schlocky cinema need to check out. It's bound to be pulled from YouTube at some point, but the genie's out of the bottle. It'll probably be available via less reputable methods indefinitely.