The nominations for the 2020 Kaedrin Movie Awards were announced last week. The Vegas odds-makers, starved for movie-related action due to the delay of the Academy Awards, have been chomping at the bit ever since. Next week, I'll announce the winners of some more goofy, freeform categories that we call the Arbitrary Awards, and not long after that, I'll post my top 10 of 2020. Alrighty then, that's enough preamble, let's get to the Kaedrin Movie Award winners. And the KMA goes to:
Best Villain/Badass: Nix, played by Samara Weaving in Guns Akimbo. A sorta cheat, to be sure, because while undoubtedly a badass and a joy to watch onscreen, her villainy is a bit suspect (trying to avoid spoilers here). Still, I suppose the badassery was enough to overcome the villainy and Samara Weaving is a Kaedrin fave, so here we are (plus: putting her in the hero/badass category is fraught with similar issues).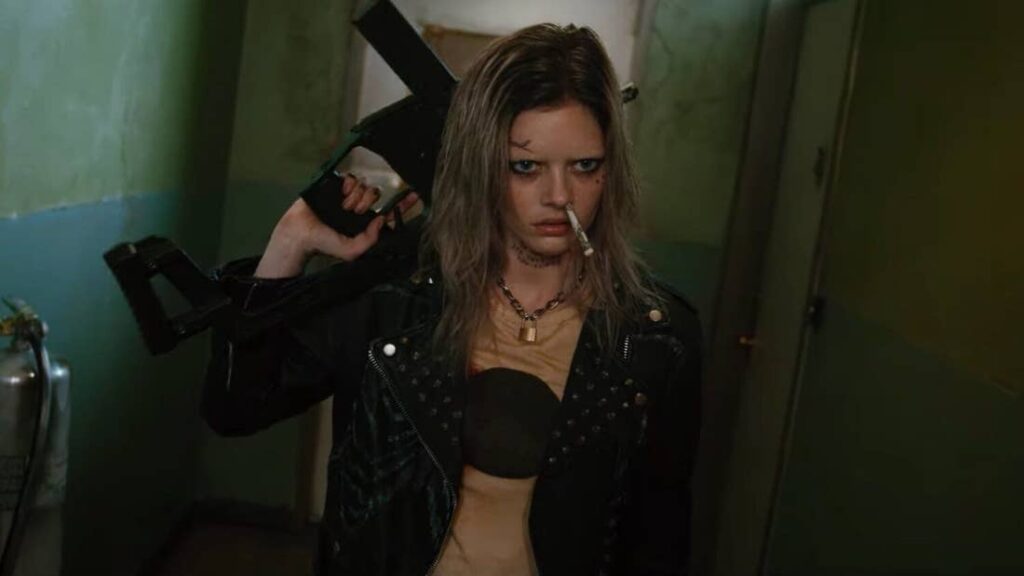 Funnily enough, another nominee (Saju, played by Randeep Hooda in Extraction) has the same sorta relatable villainy problem (again, trying to avoid spoilers). Anyway, while I like a good deal of the other nominees, none could really overcome Weaving's performance. Runner up would probably be Skinny Man, played by Walton Goggins in Fatman. Goggins isn't exactly treading new ground, but he's good at this sort of thing and I enjoyed his performance quite a bit. I'll also give a shoutout to Anne Hathaway in The Witches, who is having a lot of fun in a middling movie.
Best Hero/Badass: Crystal, played by Betty Gilpin in The Hunt. This movie became a political football, which is weird to me because it's much more about moderate, politically tribeless people beset on all sides by partisan maniacs bent on isolation and destruction. Betty Gilpin's Crystal is caught up in a bizarre political vendetta wherein rich liberals hunt conservatives for sport, but it's not really about left and right, but rather the ever widening partisan gap and extremism. It's another in a long line of spins on Richard Connell's infamous story, "The Most Dangerous Game", where the hunted turns the table on the hunter, and Gilpin does a great job in the role.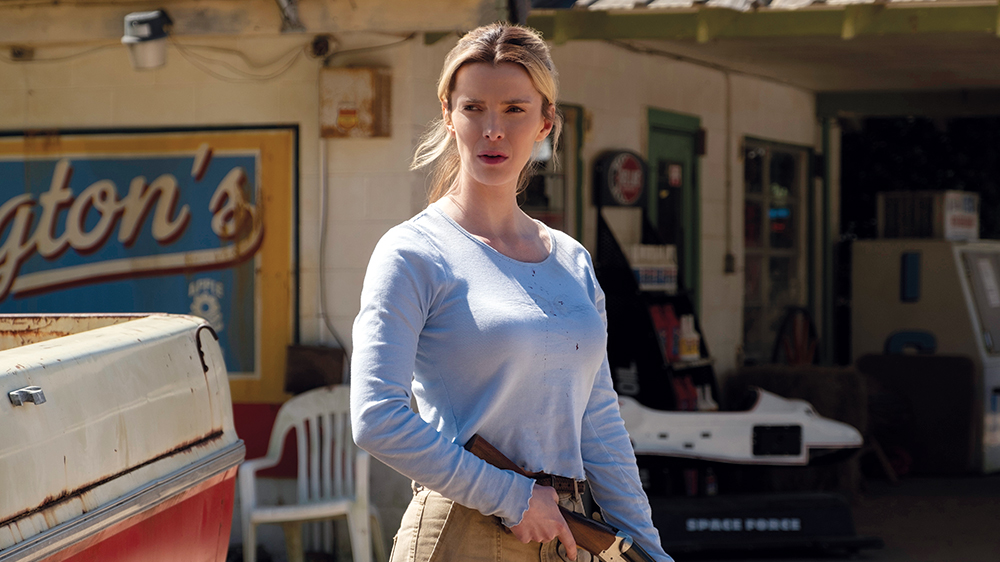 Runners up include Charlize Theron in The Old Guard, who is always great (and a former Kaedrin Movie Ward winner of hero/badass) and Colin Farrell in The Gentlemen (which I seemed to like a lot more than other folk, and while I zeroed in on Farrell, there's plenty of badassery to go around in that movie…
Best Comedic Performance: Andy Samberg and Cristin Milioti in Palm Springs (tie). The biggest problem with this award is that so many comedies rely on an ensemble, so while there are certainly singular performances that win this award (which justifies the existence of the award in the first place), it's often one person representing the movie as a whole. In this case, I opted to just choose the two leads, and chalk it up to this being a weird year. This movie came out in middle of lockdown and provided some much needed laughs, and a big part of that is the performances (and chemistry between) Andy Samberg and Cristin Milioti. Second place in the voting was Maria Bakalova in Borat Subsequent Moviefilm, a movie I didn't much care for, but her performance is certainly worth singling out. I also quite enjoyed Vince Vaughn in Freaky and Seth Rogen in An American Pickle, both doing good work. Also just a quick shoutout to Mary Elizabeth Winstead in Birds of Prey, who was very funny (and probably could have qualified for best badass too), though that's a small part of the movie…
Breakthrough Performance: Van Veronica Ngo in Da 5 Bloods and The Old Guard. I guess it's just a weird year all around. It's really hard to call these breakthrough performances because they're so small, but a key criteria here is that I see someone in a movie and immediately check IMDB to see what else she's been in. I really do suspect that she will breakout in the next few years, and she could be a top tier action star if given the opportunity (see also: Furie). Some other good performances listed amongst the nominees, but few true standouts, hence the weirdness of the winner.
Most Visually Stunning: The Vast of Night. Another tricky award without an obvious winner, I gave it to this one for its visual inventiveness and propulsion. This wasn't a huge budget extravaganza, but it still managed some breathtaking camera movements and long takes, and it also knows when to dial it back to just a black screen and audio. The obvious alternate choice was Tenet, but as we're about to see, it'll be recognized in other ways. Blood Machines is certainly a visual feast for the eyes, but wow does the story just sink that flick (the special effects crew and Carpenter Brut deserve better). Bacurau features some gorgeous photography and landscapes, and David Fincher apes the old-school Hollywood look well in Mank. Still, I'm glad I could get The Vast of Night some love, and it certainly deserves it.
Best Sci-Fi or Horror Film: The Wolf of Snow Hollow. A divisive choice for sure. On paper, this is one of those movies that's too funny to be scary, but too creepy to be funny, and too silly to be a serious drama. And yet it manages to be all of those things in a more-than-the-sum-of-its-parts kinda way. I loved it, but can't fault anyone for not getting on its wavelength.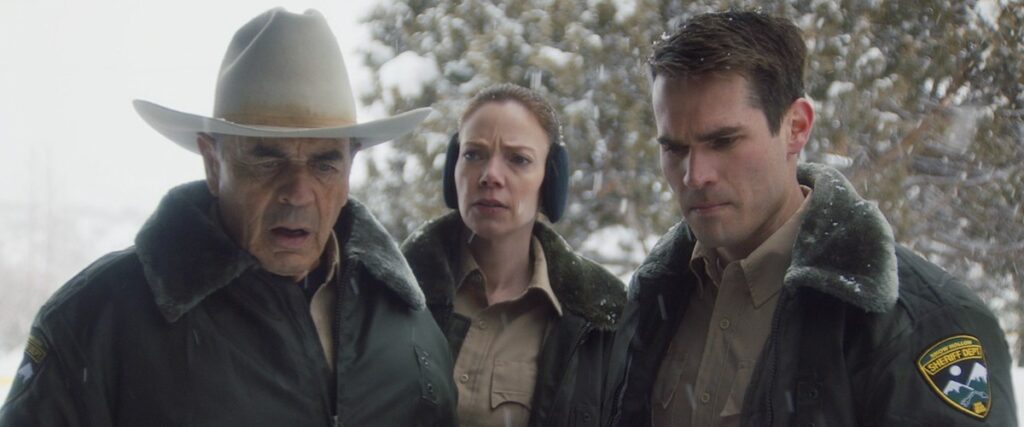 The aforementioned The Vast of Night is certainly a contender here too, and not to give anything away, but both will be showing up on my top 10, so there's that. The Invisible Man is another success from Leigh Whannell and worthy of attention for sure. Freaky and Satanic Panic were both really fun horror comedies that deserve more love too. Tenet certainly has the chops for this award too. In the end, I'm giving it to Snow Hollow because of its strange dedication to cross-genre flare.
Best Sequel/Reboot/Remake: The Invisible Man. Leigh Whannell strikes again, this time taking on a classic Universal monster movie and updating it from both a technology and thematic perspective. Great performances and amazing use of negative space taking full advantage of the invisibility concept. It's unusual that a remake/reboot like this connects with me, as I usually come away just loving the original that much more. Here it's a situation where both movies are great, just for different reasons. Bill & Ted Face the Music was also a big surprise and a whole bucket of fun just when we needed it. Many sequels/reboots/remakes were obviously delayed last year, so the pickings were slim, but these two films are certainly worthy, even in a normal year.
Biggest Disappointment: Wonder Woman 1984. There's actually a lot to like about WW84 and I actually quite enjoyed the first hour or so of the movie, but even that felt a bit messy and then it went off the rails and never really recovered. There were certainly worse movies last year, but the first Wonder Woman was so good and showed so much promise that I really had high hopes for WW84. The second film in a superhero franchise is often better than the first… alas, WW84 joins Iron Man 2 in the disappointing sequel department. One can still hold out hope for WW3 though. The general lack of blockbuster releases and sequels last year also puts a damper on this category, though there were still a few big disappointments. That said, it's not like I was expecting much out of Scoob!, so the it doesn't register as much on the Plus/Minus Scale.
Best Action Sequences: Tenet. I keep feeling like there should be a better, less-obvious candidate for this award and it's true that I haven't gotten to much in the way of martial arts movies this year, but Tenet certainly has tons of cool, large-scale action going on. There's some Bond-like setpieces and the whole temporal pincer movement and it's all very impressive. Perhaps this category is also impacted by a lack of blockbuster releases in 2020. The other nominees certainly have decent action, but Netflix fare like Extraction and The Old Guard, while entertaining and diverting enough, can't really compete with Christopher Nolan's more ambitious staging.
Best Plot Twist/Surprise: Tenet. Look, don't ask me to explain it in great detail, but once the movie starts to take shape and you realize what's happening… it just gave me that sense of wonder jolt that I love so much. Sure, some of the intricate plotting and details might require some additional noodling, but it's easy enough to discern that shape of what's happening, and the cascade of revelations in the film's second half is worth digging into. The other nominees include some twisty crime thrillers and some genre exercises, but nothing quite surprised me like Tenet.
Best High Concept Film: Freaky. I feel like this is one of those films that would have been a sneaky box office success. Instead, it sorta faded into VOD for a week and didn't get much play. And sure, it's not exactly breakthrough stuff, but as body-swap horror-comedies go, it's pretty great and a ton of fun. The idea of a "high concept" film is pretty nebulous to start with, but this year didn't exactly rock the boat in this respect either. Most of the other nominees are worth checking out though, and are either doing something new and weird, or they're putting a new spin on an old trope.
2020's 2019 Movie of the Year: Doctor Sleep. Mike Flanagan's woozy sequel to The Shining manages to find a line between servicing the book and the very different Kubrick adaptation. Some might see that as trying to have your cake and eat it to, but it worked well enough for me. Sure, I don't think it would displace any of my top 10 picks from last year (none of the nominees would), but I'm really glad I caught up with it. Portrait of a Lady on Fire was the critical darling of the year and having seen it, I can see why it garnered praise and I like some bits a lot, but if you had asked me to create a parody of a French art house film, it would have looked something like that movie. That's probably more of a me problem than anything else, but still. The other nominees are mostly solid genre exercises that are worth catching up with if you're a fan of those genres. But I do want to single out I See You, which seems like a criminally underseen movie. What starts as a sorta rote, dour serial killer thriller takes a fascinating turn about halfway through that makes the whole exercise worthwhile. It's worth catching up with!
Congrats to all the Kaedrin Movie Award winners in this strange year. Stay tuned for the Arbitrary Awards, coming next week!