While the Six Weeks of Halloween marathon is mostly about watching horror movies, it's also nice to dip our toes into the realms of television from time to time. I suspect the whole "Golden Age of Television" thing has passed, but there is truly an astounding amount of great television to catch up with. Even for horror nerds, which is a little surprising. Every year, I watch some horror television shows just to switch things up, and this year I'm finally catching up with a few programs that have been on my watchlist for a while now…
The Six Weeks of Halloween: Week 3.5 – Horror Television
The Haunting of Hill House S1: E1-E4 – I watched the first episode of this back when it came out, and while I was mostly impressed, I never quite followed through to the rest of the episodes. That first episode is a good introduction though. There are a lot of characters in this show, and we move back and forth through time enough that things could get very confusing, but it's all handled reasonably well. There's some skillfully crafted horror sequences and a really great button on the end of the episode that sets up the rest of the series well.
The next few episodes are a little less successful. While we got a good introduction, the characters and timelines do get a bit fuzzy at times in the ensuing episodes. Still, there's great atmosphere and set design; you're constantly scanning the screen looking for things happening in the background… and often finding things that are worthy of our attention (even if they're not noticed by the characters in the scene – we notice them, and that produces some tension in and of itself). After a good first episode, though, it does feel a bit like the series suffers from the typical Netflix disease of being a little too long for the story it's trying to tell. Then again, as we'll see below, this might all just be really good setup for the rest of the series.
Mike Flanagan is the creator and director of all the episodes, and he's been doing a lot of unsung work in the horror genre for a while now. I'm glad he's found something of a patron in Netflix, who has given him a bunch of great opportunities over the past few years.
The Haunting of Hill House S1:E5 "The Bent-Neck Lady" – I wasn't going to give up on the series or anything, but it was starting to become something of a slog… until I hit this episode. I've been deliberately avoiding plot descriptions here, in part because it does get very complication, but also because I don't want to spoil anything. Still, in this episode, a lot of threads that may have seemed random in earlier episodes start to get pulled together. It turns out that a bunch of the spooky scenes in earlier episodes aren't just there to provide a convenient scare in the moment, but also build towards a larger revelation and narrative purpose.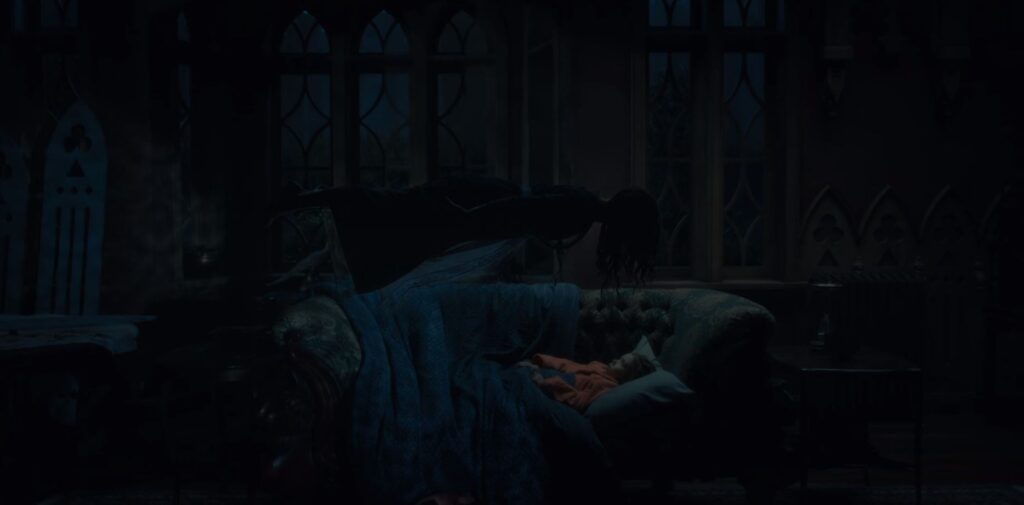 This is the episode that really hooked me. It being halfway through the series does seem to indicate that maybe there are too many episodes, but perhaps other threads will be tightened in a way that justifies the length further. As I reach further in the series it seems less bloated and more like a generous sharing of screentime for all characters. Anyway, this episode was good enough to justify separating it out from the rest of the pack though, so here we are.
The Haunting of Hill House S1:E6 "Two Storms" – And I'm separating this one out too, just in recognition of the technical achievement. The entire episode consists of three long-take shots. This sort of thing can be gimmicky and showy and maybe too much style over substance, but I think this episode warrants the effort and the result really is a compelling episode. It is, of course, not the most pleasant story we're engaging with here, but it has its spooky moments as well as a few well-placed emotional punches. I'm looking forward to finishing off the remaining episodes.
Ash vs. Evil Dead S1:E1-E4 – In the spirit of perhaps finding something a little lighter and more fun, I fired this series up. It doesn't quite have the same energy that Raimi brings, but it does an adequate job imitating that style. I generally like the character of Ash, so I think the initial view of the character that we get is a bit of a turnoff, but it gets better as the series goes on. Bruce Campbell is great, as always, though perhaps not quite the amazing physical talent that he was in the early films (not that anyone could expect that, but still).
As an overall narrative, I'm not entirely sold, but really, the story and plot are not what make the Evil Dead universe so much fun, so who cares? I've only watched a few episodes, so I'm not sure it can maintain and improve where its at, but I'm optimistic. I'm having fun with it, even if it's not the most amazingest thing evar.
What We Do in the Shadows S1 and S2 – Speaking of amazing things, this show has really won me over in a big way. Like Ash vs Evil Dead this is a television spinoff of a movie, but one that seems to have really found its feet. The first few episodes of season 1 are a bit repetitive, featuring some of the same bits from the movie. But as the season progresses it slowly but surely starts to assert an identity of its own. By season 2, they're really firing on all cylinders.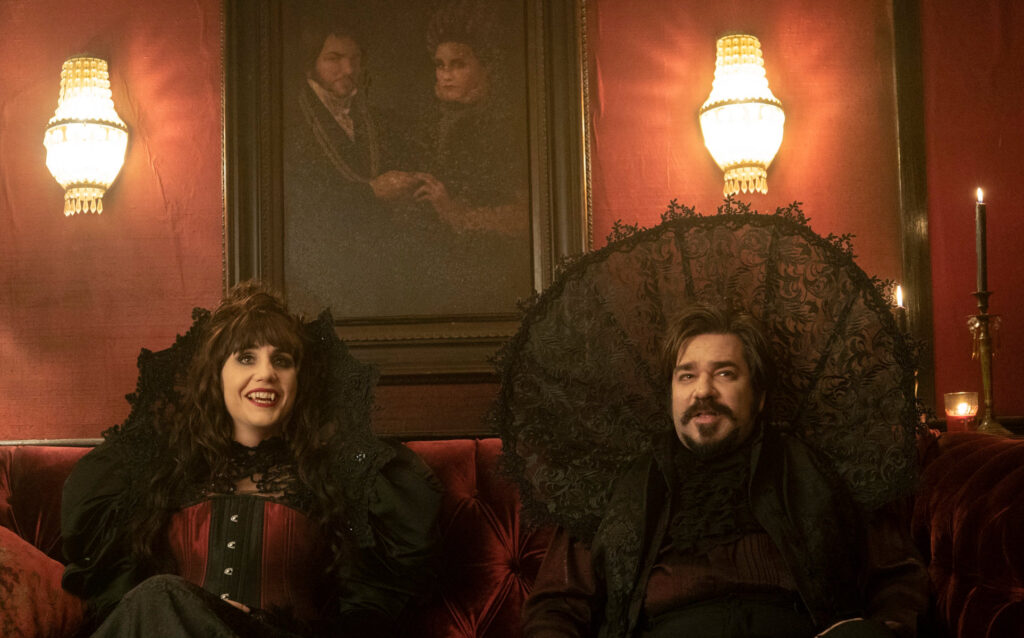 A lot of this is due to an incredible core cast of five actors. Every single one is perfect for their respective role and you quickly fall in love with them. This is an overall more comedic treatment than Ash vs Evil Dead but its parody comes from a place of love (whereas a lot of this sort of thing could be mocking its subjects). It's really just nice to have a show that has some vampires but isn't an existential slog of angst and ennui or overly gory, dark violence. If it touches on such topics it manages to do so with a comedic bent that really helps. Recommended!
Up next on the horror television docket (once I finish Hill House) will be Dark, a show that I've heard great things about (but which will apparently require every ounce of attention available and is, um, probably quite thematically dark.) And then, of course, there's also The Haunting of Bly Manor, a sorta anthology-like follow up to Hill House by Flanagan and team (apparently being released this weekend). The cup truly runneth over with good horror television shows.