Middlegame is the fifth novel by Seanan McGuire (aka Mira Grant) to be nominated for a best novel Hugo Award. She's been nominated in and won the award in several other categories, but the best novel win has eluded her. Will this one do the trick?
Roger and Dodger are twins bred for a specific (but secret) purpose by rogue alchemist James Reed (himself an alchemical creation, reminiscent of Frankenstein, that's been scheming for over a century on said secret purpose). Rodger is skilled in all things words and language. Dodger is a math whiz. Separated at birth and placed in foster homes, they somehow managed to connect via some sort of handwavey quantum entanglement; they can speak to one another and even see through each other's eyes. Their parents and teachers generally attribute this to imaginary friends, but Reed knows it's the pair's latent powers beginning to manifest and he doesn't want them to do so too early. He and his merry band of alchemical minions stop at nothing to keep the two separated until their powers can be fruitfully harnessed for whatever dreadful purpose they have in mind. Will Roger and Dodger manage to discover and subsequently foil Reed's nefarious plans? Spoiler alert: yes.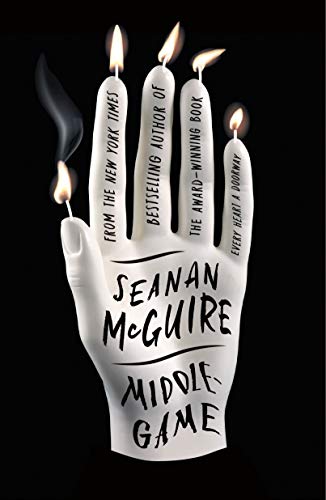 While this novel is a bit too long and overly cryptic for its own good, McGuire is a good yarn-spinner and has developed two core protagonists that are likable enough such that the pages turn quickly, which certainly mitigates the issues I have with the novel. Roger and Dodger have a great chemistry together and McGuire is able to generate a lot of empathy for their various plights. The story requires them to be separated, sometimes forcibly, and McGuire is able to harness this conflict to induce a certain longing and desire to seem them connect.
The story suffers a bit when Roger and Dodger aren't around, but those are thankfully brief little episodes and only make the connections they make more sweet. The overarching secret purpose at the core of the story does fall a bit flat in the end, but since we're so invested in Roger and Dodger, it still works. Along the way, we get some nice surface explorations of mathematics and language and the interplay between both. It's still firmly rooted in the fantasy genre, but it does incorporate some SF window dressing well enough. Dodger uses mathematics in some interesting ways and there's even a bit of time travel (or, at least, an ability to reset a timeline); none of this is explored in a particularly SFnal way, but it works well enough in a fantasy story like this. Some of the story choices and various sub-plots might not entirely fit together, but the page turning nature of the novel and the likable protagonists mitigate that.
McGuire is a good storyteller and her craft is evident here, especially viewed in contrast to the other Hugo nominees I've read (both of the other two novels I've read are by debut authors, and while they pull off their stories in fine style, it's clear that McGuire's experience gives her an advantage). I enjoyed the novel and expect it to fall near the top of my ballot, though who knows, maybe one of the remaining three novels will really knock my socks off. All that said, I'm still not entirely sure this novel is award worthy. I haven't read a ton of Seanan McGuire, but I get the impression that she's capable of more, and while her talent is undeniable, I'm not sure it's the best Fantasy novel of the year. But what do I know? It's not like I've read a ton of this year's fantasy offerings…
A few words, if I may, on the audiobook, which is at best functional and at worst awful. It's read by Amber Benson of Buffy fame and while she's got plenty of geek cred (and she's an author in her own right), some of the choices she made in her reading of this book are just baffling. In particular, the exaggerated, emphatic verbal tics she employs for the alchemist Reed and his murderous minion Leigh are weirdly out of step with the tone those scenes should be generating. Just completely over the top. Like, sure, they're kinda mustache twirling villains, but they aren't straight up cartoons. Likewise, I'm not sure what she's doing with Roger's voice, but it ain't a New England accent. The one character she is able to nail, though, is Dodger, so credit where credit is due. She's suffused with nervous energy and Benson carries that off well. I got a very Jordan from Real Genius vibe from her reading of Dodger (this is also due to McGuire's overall conception of the character, but Benson does add something of her own here.) It's a testament to McGuire's skill as an author that I came away with an overall good opinion of the work.