I always find myself coming back to Ghost in the Shell. The original movie was among the first anime movies I'd seen, and I revisited it near the start of my current Anime watching regime. As I (slowly) progressed through various anime series, various parts of the GitS series would pop up. I saw the second film, Innocence and eventually moved on to the first Stand Alone Complex series. This past week, I burned through the second series. Perhaps it's because I didn't like Trigun so much, but I found myself pouring through this series at a rate I never have for an anime series. In the end, I found it entertaining and satisfying, though perhaps not as much as the first series or movies. Still, it hit the spot just right.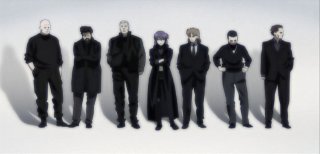 Public Security Section 9
In all honesty, I don't have a ton to say about the series, and I don't have many screenshots either, but here are some assorted thoughts on the series:
Like the first 1st Gig, this series touches on many of the same existential issues as the films, but in a less direct fashion. The burning questions of identity and the nature of humanity and machinery seem content to simmer beneath the surface of a more straightforward narrative, though "straightforward" in the GitS universe can still be quite obtuse. All throughout the series of films and shows, I've speculated that at least part of the confusion has to do with something that is lost in translation. I think that's still a part of it, but I also think that the show's creators aren't afraid of leaving questions unanswered or allowing viewers to work out various plotpoints or themes for themselves (this despite semi-frequent info-dumps and philosophic ramblings by various characters throughout the series). In any case, even though I'm still not sure of every detail in the series, it's easy enough to follow at a high level and quite entertaining. The one thing that frustrated me was the Netflix's watch online service had the last three episodes in the wrong order, so I missed one before watching the final episodes.
Thematically, this series follows the first series Laughing Man story with a story about what's called the Individual Eleven. The Individual Eleven is another Stand Alone Complex (a series of copies without an original), similar to the Laughing Man, but different in some subtle ways. The first film focused primarily on the consequences of humanity relying too heavily on computer communications and merging with machinery. The second film plays off the first, pondering how machines could become more human. The 1st Gig series explored the concept of the Stand Alone Complex and how groups copied something that never actually happened. The 2nd Gig explores the same stand alone complex ideas, but it adds a wrinkle or two. The stand alone complex is initiated and manipulated by one character seeking to exploit a political and sociological situation to overthrow the current Japanese government and move on to something different. The 1st Gig seems to focus more on groups, while this series seems to focus more on individuals.
Individuality seems to be a key theme in the series and there are some interesting new questions raised here as well. What happens when individuals connect their cyber-brains to a network of other individuals? Are they still individuals? One of the key episodes about this is the second episode. It's more of a stand-alone story that doesn't really contribute to the plot of the series, but it follows a disgruntled war vet who dreams of assassinating his boss. The episode clearly takes it's cues from Taxi Driver, though this man never really acts out his impulses. When the Major and Batou investigate (by going undercover), they find that he is "just one in the long line of pitiful souls who fantasize about fulfilling the goals they can never accomplish." This idea of how an individual can make a difference in the world is something that is explored in this series and also in the later Solid State Society movie (which is something I plan to cover in a future post).
The GitS world has always featured its share of politial organizations and maneuverings, but this series seems more reliant on such elements than previously. A lot of the history of the GitS universe is explore here, namely the two World Wars that took place between current day and 2030, one a nuclear war (whose long term effects were mitigated by the invention of radiation scrubbers) and the other being a non-nuclear war often referred to as the Second Vietnam War. At the end of WWIV, a number of refugees from all over Asia sought to move to Japan, and the tensions between these refugees and the Japanese government are the primary driving force behind the plot of the series. This is clearly a series that was influenced by the post 9/11 world, and there are lots of little references to real world analogs, though nothing particularly overt (the US military shows up in the film and the series isn't especially flattering). While politics has always played a role in the series, it is more of a focus in this series.
Like the 1st Gig series, there are several stand-alone episodes mixed in with the continuity episodes, and in a lot of cases you get some backstory on various characters in Section 9. In my review of the 1st Gig series, I mentioned that the closing credits featured lots of shots of Section 9 staff just hanging around, shooting pool or playing cards. I had wanted to see more of that in the series, and we get a little of that here. For instance Saito plays poker with some new recruits and talks about how he first met the Major (in a sniper duel – though I'm not sure I buy that). Other side characters, like Pazu and Togusa get their own episodes as well, which is something I appreciated (and would like to see more of, as most of these characters are interesting in their own right). You find out more about the Major's past and how she came to become a full replacement cyborg, though there are some things with this that they try to tie into the main storyline later in the series which struck me as being a bit contrived, but it worked well enough, I suppose.
The Tachikomas are back and also get their own episode as well as a rather heroic moment later in the movies (a good cavalry moment). Also, at the end of each episode there are these 1 minute shorts called Tachikomatic Days that can be kinda funny (apparently they were part of the 1st Gig series as well, though I never noticed them…)
One of the things that always seemed strange about the first series was the way the Major dressed (her non-combat uniform seemed to be a one-piece bathing suit, thigh-high stockings, and a leather jacket). I was apparently not alone in this assessment, with some people going so far as to call her Major Cheeks. In comments, Steven Den Beste came up with a half-satisfying explaination for the outfit, claiming that perhaps as a full-replacement cyborg, the Major likes to express her sexuality in such ways, if only to remind herself that she's human. In this series, you get much more variety, including some more explicit stuff and some actual sensible outfits (though I still don't think she'll live down the Major Cheeks nickname). Her standard ensemble from the original series seems to have been updated with pants and a different (though still somewhat improbably) jacket, making it less obtrusive (and actually, more attractive – at least to me).

Major Kusanagi

On several occassions she puts on quite attractive and revealing outfits, but they're more appropriate to the situations at hand (a couple of these are in the extended entry section of this post). She does still retain that odd cyber-sexual ambiguity though, at one point joking around with Section 9 about how if they don't get an assignment, she'll take them all out to the nudie bar, or later in the series when a teenager asks her if she can still have sex (her behavior during this sequence is actually kinda strange given that she's of an indeterminate age and he's presumably much, much younger, but nothing actually happens, which I think is how she wanted it anyway). In any case, I've always had a thing for the Major, and this series certainly delivers on that area.

In the end, I enjoyed the series quite a bit, though I think I may have watched it a little too fast, as my thoughts on the series are still a little disjointed. That or after 2 movies and a series, I'm starting to repeat myself. Who knows, I may have more to say about it as time goes on.
I suppose I should also note that Yoko Kanno is back, and as usual, the soundtrack for this series is great. It's not quite Cowboy Bebop, but it fits the series well.
I watched the series mostly off of Netflix's watch online service, though this time around I installed the PlayOn media server so that I could stream the video to my PS3 and watch it on my 50″ screen whilst sitting on my couch (much better than watching the series on my monitor while sitting at my desk). Unfortunately, it wasn't quite an ideal experience. The substandard quality of the Netflix video (perhaps combined with the additional steps the video had to take to get to my TV) really looked poor at times on my HD TV. Sometimes it was fine though, and it was still easier to watch from my couch than at my desk. The other major issue was that the service was somewhat unreliable, though this may have more to do with Windows Media Player than PlayOn. Still, I was frequently interrupted by "The Data is corrupted" errors and DRM failures, which means I probably won't be buying the PlayOn software (but I suppose the free trial is worth checking out, if you have a PS3). At this point, I'm hoping that the rumors of Netflix's PS3 (or even Wii) support are true, and that we'll get something workable soon.
A few more screenshots (though not as many as usual) and comments in the extended entry…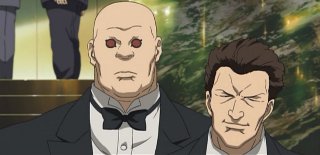 Boma and Pazu
As mentioned earlier, some of the bit players in section 9 get more screen time. On the left we have Boma, who is apparently an explosives expert but is mostly seen helping out Ishikawa with online information gathering and the like. He at least gets a chance to disarm a bomb later in the series. On the right is Pazu, rumored to be former Yakuza and apparently he sleeps around a lot (as evidenced by his episode).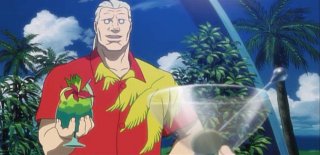 Batou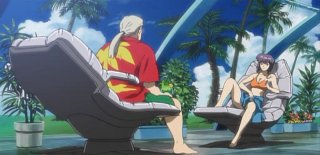 Batou and the Major
Batou and the Major enjoy some time on the Section 9 equivalent of the Holodeck whilst reminiscing about their cat burglar escapades earlier in the episode. Batou clearly still has a cyber-crush on the Major and it's even kinda referenced at some point in the series, but of course nothing comes of it. Still, I always liked the interactions between these two…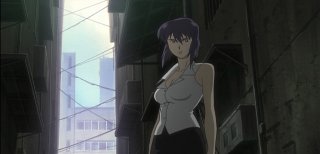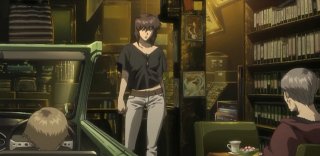 And finally, just a couple more shots of the Major, because I feel like it. I like these better than the faux-lingerie outfit from the first season…
And that wraps it up for now. Again, I may have more thoughts later and I'll definitely have another post soon about the Solid State Society movie, which picks up a few years after 2nd Gig.