I'm pretty sure I've covered all the Trappist beer tropes before, so I won't bore you with the general trivia again. Chimay is probably the most commonly found of the Trappist beers… Indeed, back in the day, they were probably one of the most common Belgian beers you could find (in particular, the Chimay Red was pretty popular). The name of the monastery is actually Scourmont Abbey, but they market all of their products (aside from beer, they also make a line of cheeses) using the name of the tiny town in which they're located: Chimay.
This particular beer is variously known as Chimay White, Chimay Tripel and Chimay Cinq Cents. The first refers to the white cap that was used in bottling, the second is a reference to the style, but the third is a mystery. It only appears on the 750 ml bottle… the smaller, 12 oz. bottles make no mention of the… catch phrase? What does it really represent? At first glance, I thought it perhaps translated to "Five Cents" and referred to, perhaps, some aspect of the pricing in the distant past. But it doesn't make any sense that a Trappist brewery in Belgium would name their beer after American monetary units. After some google-fu, I figured out that it really translates to "Five Hundred", but I was still a little unclear as to what that really meant. More googling ultimately lead to this post from 52 Brews (apparently their first post!) where the author heroically answers the question:
Michael Jackson's Great Beer Guide features interesting write-ups on some of the best beers in the world, and upon perusing its pages, the answer was right under my nose. Regarding Cinq Cents, the book makes note that while this beer was once identified only by its white cap, the "Champagne-style presentation" was introduced to celebrate the 500th anniversary of Chimay, the town.
Mystery solved. Not only does that explain the significance of the phrase, but it also explains why it's only on the 750 ml "champaign style" bottles.
I've probably had this beer a dozen times over the years. On tap, in small bottles, in large bottles. It's often one of the few good beers available, which I'm usually pretty happy with because these beers really are great (indeed, I had one of these along with a Blue during my recent Vegas Trip.)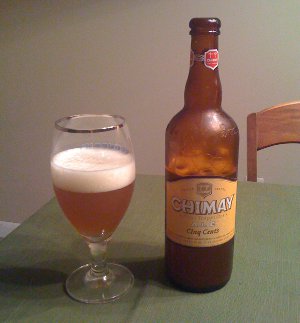 Chimay Cinq Cents – Pours a cloudy golden color with lots of fluffy head. Smells strongly of sweet, fruity Belgian yeast. Taste is sweet and very spicy with a dry finish and a little lingering bitterness in the aftertaste. Chimay beers have a certain distinctive element that I can never place, but I think it's the way it's spiced – it's more peppery (?) than most other Belgian beers (this is probably entirely due to their yeast, not actual spice adjuncts). It's here in the Cinq Cents, but it's not as prominent here as it is in the Red, and I think this more subtle treatment works better here. It's got a full body and tons of carbonation. Overall, it's a great beer. A-
Beer Nerd Details: 8% ABV bottled (750 ml caged and corked). Drank out of a goblet on 7/17/11. Cork says 07/10, so I'm guessing it was about a year old when I drank it.
I think the Chimay Grand Reserve (Blue) is probably my favorite of their beers, but comparing that with the Cinq Cents is an apples and oranges type of thing. Strangely, despite the fact that I love dubbels, I'm not a huge fan of the Red. It's a really well crafted and unique beer, but something about it just doesn't jive well with me. Of course, I haven't had it in years, so perhaps my tastes have changed…