I somewhat recently (ok, I guess starting late last year) started playing around with Tavour. For the uninitiated, Tavour is basically an app that has a small number of beers on offer (around 10 at any given time, with a new beer added about twice a day on average). If the beer interests you, you can buy it, and they'll put it in a crate, and after a certain amount of time your crate ships out and you get to enjoy the beer you've selected. Easy peasy. The shipping takes a while though, and to facilitate their cheap, flat-rate (about $15 no matter how much beer you have), it doesn't really go through the big majors, so you need to schedule your shipment at a time when you'll be home.
It's an interesting experience and it's pretty easy to go overboard. The beers on offer range from exceptional brews from not-locally-available breweries to pretty mediocre stuff that isn't usually nationally distributed for a reason. After a couple of shipments, I've settled into a pretty selective mindset, but it's always fun to take a chance on something new and obsure. IPAs are a little tricky given the shipping lead-time (typically it takes two weeks once the crate ships, and the beers aren't exactly right off the line), so I usually only order them during the last week before my crate ships. Full credit to Tavour though – they're very open about packaging dates on IPAs, which is really great of them.
This is basically a Northeast IPA made with Citra, Lemondrop and Galaxy hops. Listermann was a longtime homebrew store turned brewery (starting a little over a decade ago) in Cincinnati, OH. The beer is named after the brewer's dog (pictured on the can), and apparently Yoda Potato can be found running around the brewpup, scrounging for crumbs and head scritches. Sounds good to me: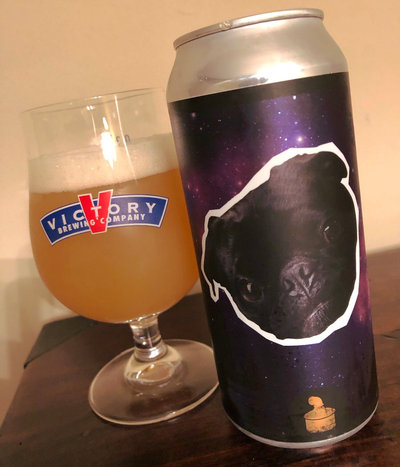 Listermann Yoda Potato Strikes Back – Pours a murky yellowish orange color with a solid finger of tight white head. Smells sugary sweet, citrus hops with floral aromas sprinkled throughout. Taste hits those citrus and floral notes, along with some kinda green onion bits, a little balancing bitterness in the finish. Mouthfeel is medium bodied, well carbonated, and a bit viscous. Overall, it's a solid NEIPA, but not quite top tier. B
Beer Nerd Details: 8% ABV canned (16 ounce pounder). Drank out of a tulip glass on 5/24/19. Canned on 4/25/19.
Pretty solid stuff, not going to supplant any of my local NEIPA purveyors (of which there are many), but a nice change of pace.