Anyone who's observed ratings systems has probably encountered something like this: most people rate things 5 stars (out of 5 – or the highest rating possible). Some people are so upset with their experience/product/whatever that they'll go out of their way to rate things 1 star (out of 5). When YouTube figured this out, they simply switched their rating system to the good ol' thumbs-up/thumbs-down rating. Netflix recently did something similar on their streaming service (though stars are still around on the DVD side, I guess). My day job is at a retailer, and back in the day (jeeze, well over a decade ago), when we launched product ratings, we weren't sure what to expect, but the pattern holds. Most people rate 5 stars, some rate 1 star, and few go inbetween (of note for retailers: products and sometimes even brands that consistently get poor ratings tend to be dropped, which perhaps adds a form of bias to the process, but still.)
Personally, I'm almost always finding myself in the middle ratings. It's pretty rare that I hand out the highest rating available, and even more rare that I can find so little value in something that I rate it the lowest rating. When I shop any retailer with ratings, I always seek out the three star reviews. Why? Because those are people who put some thought into their review, acknowledge pros and cons, but ultimately approve of the product. You get a much better feel for what the product is by reading that than the person who's just like "best movie ever dudez!" or "this thing sux".
On this blog, it's true that I've suffered from ratings inflation. I'm pretty easy on a lot of beers, and the most common rating is a B+ followed by A-, which is probably high. Plus, even when you consider my reticence to rate things with the highest possible rating (an A+), things that I rated at an A or even A- eight years ago might not warrant such a rating today. This is the way of things, but a couple years ago, I tried to put some rigor around giving something an A+. Naturally, here I am years later, not having rated anything else that highly. However, I did have one beer somewhat recently that I think deserves the bump up to the vaunted A+. Ok, by "recently" I mean back in August. I was hoping to pad this out with some other A+ beers to do a whole class of 2018 thing, but that never happened, so I'm finally just pulling the trigger, because this is a great beer: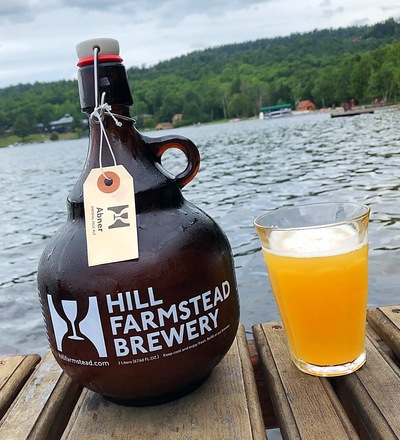 Hill Farmstead Abner – In 2012, I attended a Philly Beer Week event at the local beeratorium Teresa's Cafe. The event featured an up and coming brewery called Hill Farmstead, and the first beer I had from them that truly blew me away was Abner, a Double IPA made with somewhat trendy for their time but not so much anymore and you know what, probably not even then hops like Centennial, Chinook, Columbus, Simcoe, and Warrior. I didn't know it at the time, but as it turns out, this was probably my first real Northeast IPA (or Hazy IPA, or whatever you want to call it). In fact, local favorite NEIPA purveyor Tired Hands had literally just opened a few days earlier and I only learned of their existence at this event (someone was wearing their t-shirt). I managed to get my greedy hands on several more glasses of Abner throughout the years (fun fact: the linked post there contains a meme that is one of this blog's crowning achievements), but I grabbed a full growler of the stuff on my most recent jaunt to Vermont, and boy does this thing hold up. Classic citrus and pine hop flavor profile heightened by the juicy character imparted through whatever English yeast strain Hill Farmstead uses. Perfectly balanced and utterly crushable. I didn't drink this entire growler by myself, to be sure, but I probably could have. Congratulations Hill Farmstead, you've earned a coveted A+
Beer Nerd Details: 8.2% ABV growlered (2 liter swingtop). Drank out of a tumbler on 8/3/18. Growler filled on 8/2/18.
Abner forever. Already excited for my next trip to Vermont, but then, when aren't I.