And so we enter IPA season here at Kaedrin HQ. I know, I know, all year is IPA season, especially these days, but the summer months tend to be an attractor for hops. For whatever reason, my fridge just magically starts to fill with new and unique IPAs around this time of year, much moreso than the winter months. As such, the next several reviews will feature hoppy beers. I usually try to mix things up here, but sometimes the pipeline gets clogged with hops. Oh, the horror!
First up is a pair of Tree House IPAs thoughtfully passed along by Kaedrin friend Danur (many thanks!) I also had two additional Tree House beers at a share (also thanks to Danur), but they were small pours and I didn't take notes because I'm the worst and I know everyone loves tasting notes and finds them super-useful and entertaining to read so I'm sorry that I don't have much to say about them and by the way, I only really took detailed notes on the first of these beers, so enjoy it because the rest of the post is blatant rambling and run-on sentences kinda like this one. Annnd… go: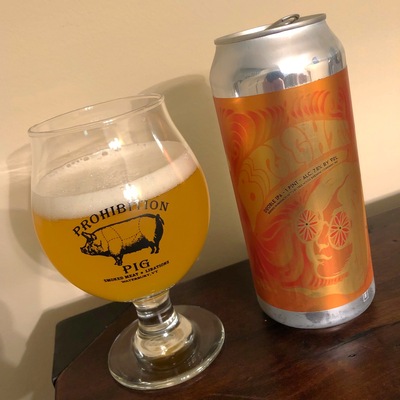 Tree House Bbbrighttt with Citra – I initially mistook this for plain ol' Bright w/Citra, but apparently the extra b's and t's mean something. I think this was, like triple dry hopped instead of whatever they normally do? Something like that? Let's see: Pours a moderately hazy but kinda radiant (bright?) pale straw yellow color with a solid finger of dense, fluffy head. Smells great, lots of juicy citrus (dare I say bright?) with a nice floral component. Taste starts off sweet, again that juicy citrus with a solid floral note, followed by just a hint of balancing bitterness in the finish. Mouthfeel is medium bodied, perfectly carbonated, crisp, refreshing. Overall, big shock, another great Tree House IPA. A-
Beer Nerd Details: 7.8% ABV canned (16 ounce pounder). Drank out of a tulip glass on 6/22/18. Canned on: 06/12/18. Batch: NNNEVER EVER SAW THE STARS SO BBBRIGHT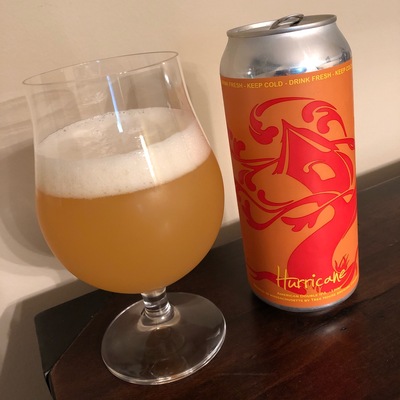 Tree House Hurricane – I didn't take detailed notes for this, because as previously mentioned, I'm the worst and I'm just going to blather about it for a bit and maybe make a Bob Dylan joke (or maybe just mentioning that is enough). My general impression is that this has a great citrus nose, but the taste is dryer and more minerally than I'm used to from Tree House. It's still got your typical citrus hop notes, but they're not quite as pronounced here. But the dryness makes for a good mouthfeel and a nice match with food. Still a pretty good IPA, but not near their top of the line. B+
Beer Nerd Details: 7.7% ABV canned (16 ounce pounder). Drank out of a tulip glass on 6/26/18. Canned on: 06/12/18. Batch: EVERYBODY'S PLAYING IN THE HEART OF GOLD BAND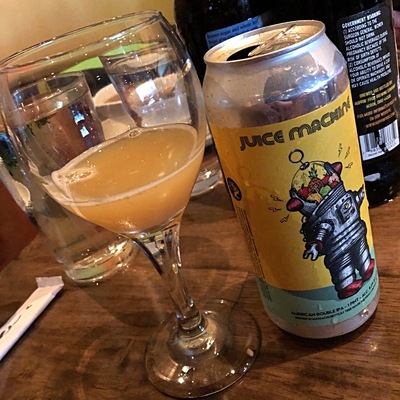 Tree House Juice Machine – This apparently very limited release (2 cans pp) appears to be a sorta mix between King Julius and Very Green, with a convoluted hop schedule consisting of Magnum, Columbus, Amarillo, Citra, and Galaxy, resulting in a complexity not quite present in, for example, the above beers. Lots of citrus, juicy tropical fruit, pine, and floral notes, pretty much running the gamut of what hops are capable of. It's totally delicious. That being said, I suspect ratings are entirely driven by rarity here. It deserves a good rating, to be sure, but this gets astronomical ratings. I will abstain from rating because I was not in a hermetically sealed environment like I usually am (but seriously, not ideal conditions here). Who knows, maybe if I have ten more of these I'll think they're worth the trouble.
Beer Nerd Details: 8.2% ABV canned (16 ounce pounder). Drank out of a wine glass on 7/5/18. I don't remember the canning date, but I assume it's around 6/12 like the above.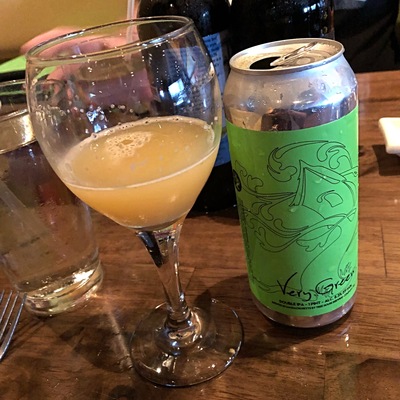 Tree House Very Green – The plain ol' Green was actually my first Tree House beer way back when, shared by a visiting friend from Vermont, and it was phenomenal (once again, I never really wrote about it because it was a social situation and it's not like I drank a whole can, and so on). Like Juice Machine, this one is hyped to high heaven, probably because of the rarity. It's also totally delicious with all that great NEIPA character, juicy hops with some big floral notes – the word green actually does come to mind, but that may just be the power of suggestion and my puny willpower. Again, totes great beer, but the hype and rarity drive the ratings perhaps a bit to far. Of course, here I am posting terrible pictures and no tasting notes, so it's not like I'm immune to hype.
Beer Nerd Details: 8.6% ABV canned (16 ounce pounder). Drank out of a wine glass on 7/5/18. I don't remember the canning date, but I assume it's around 6/12 like the above.
So there you have it. I continue to pine for Tree House beers and will most certainly be seeking them out in the future. Many thanks again to Kaedrin friend Danur for braving the Massachusetts wilderness to acquire and share all these beers.