In what's become an annual tradition, I stopped in at Burley Oak on my way home from a vacation in Ocean City, MD for a big, pre-holiday release. Last year, I was taken aback by how bonkers the release was. This year, I was mildly prepared for the insanity. I wouldn't think to put Burley Oak in the top tier of breweries capable of sustaining releases like this (i.e. TreeHouse, Monkish, Other Half, etc…), but I suspect their location matters, and it helps that it was a holiday weekend.
For their part, Burley Oak has implemented some practices to minimize the strain, such as numbered wrist bands and pre-orders (though not pre-payment, which would make the line move faster, but probably presents challenges of its own). The facility has morphed a bit as well, and is more conducive to the whole beer swap/share environment that inevitably emerges during such events. I talked to a guy who was third in line; he'd arrived at 7 pm the night before and hadn't left. Me? I was 173rd in line. But I still got everything on offer, so there is that: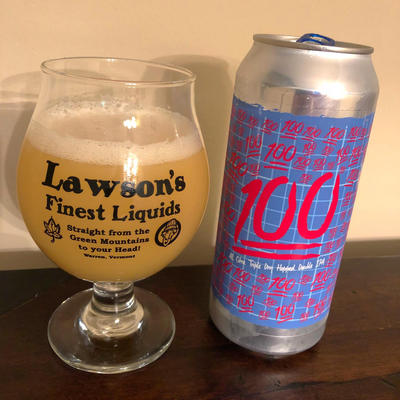 Burley Oak 100 (Citra) – Last year's Mosaic 100 was amazingly good. Here we have the same beer, but with Citra hops. Alas, I don't think that this rivaled last year's version, though it's obviously quite nice. Pours cloudy, downright murky, a muted, milky looking yellow color with a finger of white, dense head that sticks around for a while. Smells great, lots of sweet citrus and floral notes. Taste is sweet and citrusy, orange juicy, that floral component kicking in for complexity's sake, with a perfectly calibrated finish. Not noticeably bitter, but not sickly sweet either. Mouthfeel is well carbonated, medium bodied, a little chewy, well balanced stuff. Overall, it's great. I'd put the mosaic higher, but this is quite good. B+ or A-
Beer Nerd Details: 8.5% ABV canned (16 ounce pounder). Drank out of a tulip glass on 6/30/18. Canned: 06/29/2018. Batch: Y WAS THE B BALL COURT WET?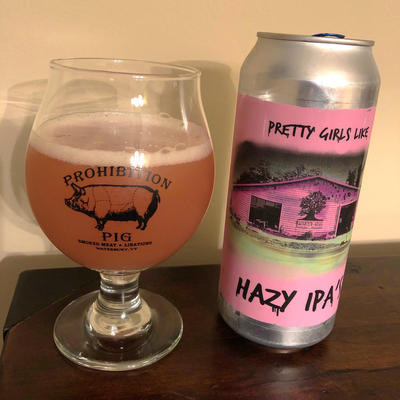 Pretty Girls Like Hazy IPAs – This is a "Pink" IPA (whatever that means) triple dry-hopped with Vic Secret, Summer, and Mosaic hops. Pours a murky pinkish hued color with a finger of off-white (a hint of pink?), dense head that sticks around and leaves some lacing. Smells great, citrus, pine, pineapple, really nice. Taste isn't quite as great as the nose, sweet with a little of that citrus going on, and a balancing bitterness towards the finish. Mouthfeel is medium bodied, well carbonated, moderately dry, again, not quite as good as the nose would have you believe. Overall, it's a solid little IPA, but nothing special. B
Beer Nerd Details: 6.9% ABV canned (16 ounce pounder). Drank out of a tulip glass on 7/1/18. Canned: 06/29/2018. Batch: BECAUSE OF ALL THE DRIBBLING.
Double Blackberry Mango JREAM – The acronym stands for "Juice Rules Everything Around Me", in case you were wondering, and last year's entries in this series were nice, but didn't particularly blow me away. This one turns things around, perhaps because of the "double" nature providing a wallop of richness, or maybe just Blackberry Mango combo is more to my palate. Pours a hazy, bright red color with a finger of striking pink head. Smells nice, lots of fruit, those blackberries coming through strong, less of the mango. Taste starts off with rich and sweet, with bright, tart fruit coming through in the middle, again with the mangoes taking backseat to the blackberries, finish with a lactic sour kick. Mouthfeel is rich and on the higher end of medium bodied, well carbonated, moderate acidity. It's not something you could slam several of in a row, but it's really great. Overall, this might be my favorite take on a JREAM yet. A-
Beer Nerd Details: 7% ABV canned (16 ounce pounder). Drank out of a tulip glass on 7/1/18. Canned: 06/25/2018. Batch: I DON'T TRUST THAT TREE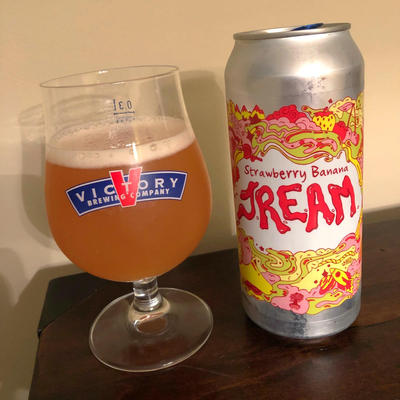 Strawberry Banana JREAM – Pours a hazy yellowish orange color with a finger of white head. Smells decent, sweet, I'm getting both strawberry and banana in there, though who knows if I'd be able to pick that out blind. Taste starts off sweet, hits a sugary strawberry and banana note in the middle, finishing with a tartness that escalates into sourness. Mouthfeel is well carbonated but smooth and medium bodied, a sorta sweet soft drink feel to it, but with that acidic note in the finish. Overall, it's not the eye opener that Double Blackberry Mango was, but it's pretty good and compares favorably the ones I had last year. B or B+
Beer Nerd Details: 4.8% ABV canned (16 ounce pounder). Drank out of a tulip glass on 7/6/18. Canned: 06/25/2018. Batch: IT LOOKS A BIT …SHADY
So there you have it. Not sure it'd be worth getting in line at 7 PM the night before, but I'm glad I got there when I did…