One of the great and yet simultaneously frustrating parts of reading a lot of beer blogs is when people go on and on about fantastic beers that are only available locally (I'm as guilty of this as anyone, of course). It's great because everyone loves their local breweries and it makes for a nice communal experience with other folks in the area. But sucks when you're on the outside looking in because you'll have these situations where seemingly everywhere you look, people are raving about this or that small brewery… and they don't distribute anywhere near you.
As I've become more of a beer dork, my beer hunting prowess has certainly increased, but there are always things that are uber-local. Think Surly or The Alchemist, both of whom don't distribute outside their state, and yet it feels like everyone's drank some of that stuff. I've not yet tipped my toes into the illicit realm of beer trading, but that's certainly one way to get a hold of the stuff. Or you can just patiently wait for the beer to be distributed to your area, which has somewhat recently happened with California's own Telegraph Brewing.
Of course, I've been hearing raves about these beers from everyone. For instance, The Beer Rover has covered tons of their beer. Jay also loves them, and I found out about their plans to distribute to PA from an interview he did with the founder and brewer. So when I saw a bottle on a recent beer run, I immediately snapped it up without even really looking too closely at it… I immediately squirreled it away in my fridge, hoping to get to it quickly. Then I went and looked it up and… oh noes! Jay lists it as "unrateable". When I dug into his original review, it appears that this may have just been a reaction to the Berliner Weisse style… but then, my only real experience with that style was Dogfish Head's Festina Pêche, which is a beer I hated. Seriously, C- maybe even D range beer for me. Fortunately, my fears were mostly unfounded. I still wouldn't call this a style I prefer, but I can't imagine it being better executed: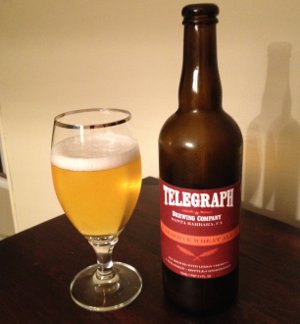 Telegraph Reserve Wheat Ale – Pours a clear, bright straw yellow color with a finger of quickly disappearing white head. Smells of lemon and funk, with lots of wheat beer character too. Really nice nose, actually. Taste starts off a little sweet, with a pleasant lemony tart character emerging quickly, followed by a slightly more intense sourness in the finish. Not a lot of wheat in the taste, but it does have that sorta mouthfeel. Effervescent, well carbonated (but not overly so), and very lightly bodied. The sourness prevents gulping this down, but it's not a slow sipper either. Overall, this is well balanced, tart, but not overpowering. I'm surprised at how much I'm enjoying this given how little I enjoyed the Dogfish Head take on the sytle. B+
Beer Nerd Details: 5% ABV bottled (750 ml caged and corked). Drank out of a goblet on 3/24/12.
So my first experience wasn't the bust I was dreading, and I will certainly be on the lookout for their more celebrated brews, like the California Ale or Gypsy Ale. I actually saw the California Ale recently, but it was in PA, so I would have needed to buy a full case of the stuff. I'm sure it's great and all, but I've got way too much beer sitting around here to justify that!