It's been a while since I've recapped recapped some recent Tired Hands beers, and these notes just keep piling up, so here goes nothing. Note that the earliest of these is from late August, so it really has been a while since I've attempted to stoke the jealousy of my readership with these local gems. Most are one-offs that will never be brewed again, but we've gotten to a point where I'm starting to recognize rebrews of some of their beers, so you never know.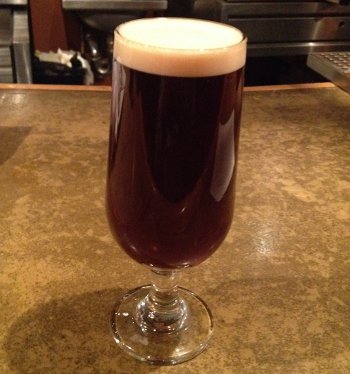 SCREECHING LOUD THRASHING DEATH METAL OFFENSIVE SONG – 10.5% ABV blended old ale – Named after a review on Yelp where someone complained about the, shall we say, eclectic mix of music you hear when at TH (it looks like someone told her that they brewed this beer in her honor, so she updated her review, but the original one is still there.) A blend of 9 month old Flemish red (25%), fresh Barleywine (65%), and rye whiskey barrel fermented Barleywine (10%). Very interesting! Not a ton in the nose, but the taste is unique and interesting. I'm getting lots of chocolate, and maybe even coffee-like notes. Faint hints of cherries and a note of something bright escaping in the finish (prolly that Flemish red). Unique beer, never had anything like it. B+
Singel Hop Saison Citra – 5% ABV saison – Hurm, either this has gotten a lot better since my last glass (my previous note expressed surprise that Citra wasn't that potent – but it was great this second time), or my palate got destroyed by Vermont beer and is only coming back… Juicy citrus hops and saison spice. Glad I gave it another shot, upgrade! A-
Tabel, Sacred – 4.2% ABV spiced saison – Brewed with oats and Holy Basil, fermented with a touch of grapefruit and pomegranate. Is there a touch of funk in here? Not sure, but it's a nice, quaffable saison, with some citrus rind character, maybe a hint of lemon, an herbal note, and slight spicy yeast notes. B+
Mt.Sharp – 7.2% ABV Citra and Columbus IPA – Interesting sticky icky citrus and pine combo. Sticky and yet creamy? This is striking a chord that I can't place, but who cares, because its awesome! A-
SuchUnique – 8.2% ABV Double IPA, Simcoe & Centennial hops – Nice floral and citrus notes, mango, flowers, good stuff. Well hidden ABV. Good! A-
Pub Style Ale – 4.5% ABV pale ale brewed with oats & Centennial hops – Great nose, lots of citrus, big floral hops in the taste. Quaffable! B+
Sad State of Affairs – 8.2 % ABV DIPA – A less profane reference to the cease and desist for FarmHands? Regardless, this is a rock solid DIPA, citrus and pine, a little slickness but still well balanced. Fantastic! A-
Lizard Queen – 5.2% ABV Motueka & Centennial Pale Ale – Yep, another great pale ale, juicy citrus nose (maybe even a lemon note), some earthy floral notes too. Crushable. A-
Euphoric Sunshine Drip – 5.7% ABV spiced saison with Meyer lemon and pink peppercorn – Another typically great Tired Hands farmhouse saison, not quite funky, but that lemon makes overtures in that direction, and the peppercorn accentuates the yeast well… A-
The Multiverse – 8.1% ABV pear farmhouse DIPA – Wow, really nice pairing (pearing?) of farmhouse spice (funk?) and hops, with neither dominating, but instead melding into something different. Really nice! A-
Critical Anxious – 7.8% ABV Biere De Garde – And I didn't take any notes on this one, though I did write down that I had it, so, um, I dunno. Mulligan.
Oktüberfest – 6.1% ABV Ser Gut Yam Bier – Very nice Oktoberfest style beer, mild, light toasted bread, but still relatively sweet. Great mouthfeel on this one too. Not really my style, but this is my kinda take on the style. B+
My Favorite Show – 5.7% ABV classical modern saison – Typically great Tired Hands saison, almost funky, nice peppery notes, highly drinkable, like a slightly amped up FarmHands (er, SaisonHands). B+
Communication is the Key – 5.5% ABV crushable Simcoe pale ale – Typically great Tired Hands pale ale, big juicy fruit notes, hint of pine, crushable is a perfect descriptor. A-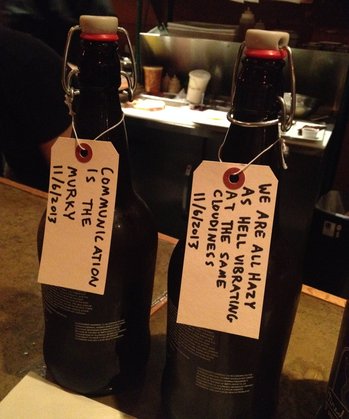 (Click for larger picture)
So I'm at the bar one night and Jean fills a couple of growlers. He gives them to some guy who's making a trip to Hill Farmstead and says that Shaun Hill likes his beer extra cloudy, so he renamed "Communication is the Key" to "Communication is the Murky" and "We Are All Infinite Energy Vibrating At The Same Frequency" to "We Are All Hazy As Hell Vibrating at the Same Cloudiness".
Fall Precious – 6.6% ABV autumnal saison – Really nice saison, it's got that typical Tired Hands farmhouse character, but it's carving out an identity of its own. Sweet up front, maybe some fruit, with the spice emerging towards the finish. A-
H.C.S. – 5.9% ABV viscous and delicious saison – Power of suggestion, or is this really viscous? Definitely a fuller body than your typical TH saison, very cloudy, a little yeasty spice, well done. B+
MortalGrade – 8.2% ABV DIPA brewed with wheat, oats, Chinook, Citra, Zythos, and Simcoe – Fantastic, one of my favorite Tired Hands DIPAs! Huge juicy citrus, some grassy, floral, and pine hop notes too. Obscenely quaffable for its ABV, no real hint of booze. Great stuff! A
MoMoCoe – 5.5% ABV Motueka, Mosaic, and Simcoe pale ale – Great juicy hop character, lots of grapefruit, nice bracing bitterness, really good! A-
Singel Hop Saison, Chinook – 5% ABV – The 8th singel hop saison, and probably around the middle of the pack. Indeed, the hops and saison yeast seem a little at odds here. Still good, of course, but not the best of the bunch. B+
Under Pressure – 7.6% Blended Artisanal Farmhouse Biere de Garde – Excellent malt forward Brett beer, some nice malty fruit notes, with some peppery yeast and complementary Brett. Great! A-
Coulton Hop – 5.5% heirloom cider/pale ale – 49% of the fermentables came from cider made of apples, pears, and quinces. Hopped with Simcoe and that's really what stands out, but it's amazing that they were able to coax something so beerlike out of something comprised of so much cider… As I drink more, the cider twang becomes more pronounced… Really nice. B+
Coulton Sour – 5.5% heirloom cider/Berliner Weiss – Similar approach with the cider used as fermantable. Holy sour patch kids, this is super tart, and you really get that cider side of things here too. Really interesting beers here. A-
Cosmic Slop – 8.3% DIPA – Tired Hands' 200th batch is a typically great fruit and hop forward DIPA, lots of citrus, pine, and floral notes, very well done B+
Hail Santa – 6.4% ABV Rye IPA – Slightly darker than typical, but still a pale yellow, beautiful juicy hop nose, with some floral and spicy notes hitting in the taste. Really good! B+
I See a Darkness – 8.5% ABV porter brewed with coffee and honey – Collaboration with Sante Adairius, very nice, bigger than normal porter. Tried getting some a few days later, but they were out… B+
Sgt. Salamander – 5% ABV Holiday Sour Berliner Weiss – Wow, this has a typical Berliner nose, but the taste is all sorts of great. Really tight lactic sourness, puckering really, and it's great. Also had some dosed with cinnamon & vanilla bean syrup that just puts this miles ahead. Super flavorful. B+ (regular) and A- (with syrup)
Trendler – 5.5% ABV alt bier – Very interesting and different, Jean is branching out here, malt forward but not heavy at all… B+
Praise Bee – 9% 2X honey IBA – Zombie rides again… Sorta! Doesn't quite live up to zombie levels, but it's really good, nice hop character, well matched dark malts, excellent. A-
Circumambulation – 7.2% biere de garde – Fermented with kolsch yeast and lagered three weeks, this is a subtle beer, super creamy head, not a typical TH feel, but still very good, lots of muted flavors, complex but not overwhelming… B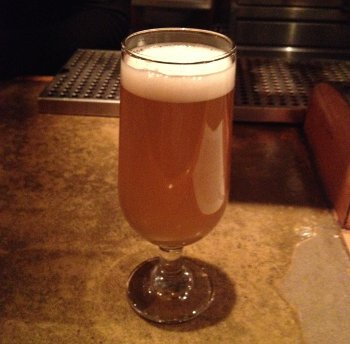 Bucolic Overlord – 8% DIPA – Brewed with oats, Citra, Columbus, and Simcoe hops. Great stuff, dank and resinous, with floral and citrus notes rounding it out. Superb! A
VOID ego VOID – 9.8% ABV blended imperial stout – Partially barrel aged in Tuthilltown rye whiskey barrels for 7 months… Not a lot of barrel character, roasty up front, sweet towards the finish with a nice hit of vanilla. Not as thick or heavy as you'd expect, but it still has admirable heft. I really enjoyed this! A-
Principal Eel – 6% sour farmhouse IPA – Well this is unusual, better than the last sour IPA I had from TH last year, but something about the strong hop and sour combo doesn't completely work for me… B
All-O-Gistics – 5.9% Experimental IPA – Experimental hop #05256 – Whoa carbonation! Not that I'm complaining, but this is more carbonated than your typical Tired Hands beer. Great juicy hop nose, citrus, pine, and grass. Maybe something like green onion. Taste is more piney and it's got a sharp bitterness. Definitely not your typical Tired Hands IPA, but still great. A-
Can't Keep Up – 6.2% Spontaneous Saison – Fermented in old Tuthilltown rye barrels that had previously been used to make some apple cider (by frequent TH collaborator, Tom Culton), only 10 gallons produced. Amazing, nice oak character, sharp but very pleasant sourness, almost vinous tart fruit, really great. I love this! A
And that just about covers it. If you're local and heading over to the next release on Sunday, let me know!