For the uninitiated, the Holy Trinity of 80s Scream Queens consists of Linnea Quigley, Michelle Bauer, and Brinke Stevens. We covered Linnea Quigley during the 6WH a couple years ago. Michelle and/or Brink sometimes show up in those movies too. Unfortunately, for actresses with 150-200 movie credits to their name, it's more difficult to find good examples of their work (that I have not already seen) than you might think. They show up in some very high profile movies, but when you look into it, you see that they're playing "Girl in Bathroom #3" (that's Brinke in De Palma's Body Double).
Of the three movies I watched this weekend, only one is a real showcase for the scream queen in question. That said, the two remaining films are actually kinda interesting, so it's not a total fail. If you are looking for true showcases of their work and don't mind watching absolute trash (*ahem*), a good double feature would be Sorority Babes in the Slimeball Bowl-O-Rama and Nightmare Sisters (all three are prominent in both). You can add in Hollywood Chainsaw Hookers for a bonus, though it only has two of the trio… Anyway, let's take a look at what we watched this weekend:
The Six Weeks of Halloween: Week 6 – The Holy Trinity of 80s Scream Queens
Creepozoids – A group of deserters from WWIII in a post-apocalyptic world take shelter from acid rain in what turns out to be an old scientific research facility. It soon becomes clear that they're not alone! This is utter trash cinema. If you're in the right mindset, it can be a little fun in a so-bad-its-good kinda way. There are only really two highlights though. One is Linnea Quigley, who (spoiler!) doesn't exactly make it to the very end of the movie. She's prominent, but doesn't exactly get a ton to do. But then, most of the actors don't get much to do either. Neither, really, does the monster. It's that kind of movie.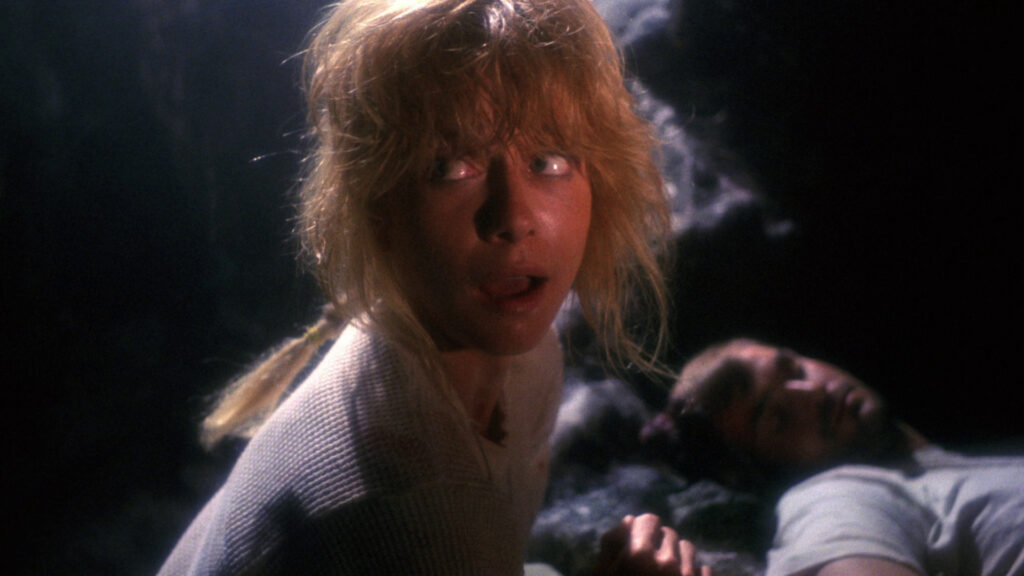 The other is a pretty cool end stage monster design. I mean, both monster designs are derivative, but the second, baby-like design is actually pretty effective. The first, more Alien-like design with the oblong head and claws is pretty much exactly what you expect in an ultra-low-budget 80s movie: a dude in a plastic suit who has a limited range of motion. The baby is weirdly detailed and occupies a place in the uncanny valley that actually works in the movie's favor.
There's otherwise not much to recommend this movie, and it's clearly the worst thing I watched this weekend. It might be fun for bad movie enthusiasts, which is certainly a thing that exists. Plus, at 72 minutes, it's not going to waste too much of your time. But there's movies that are far worse/better that I'd recommend ahead of this one. *
Puppet Master III: Toulon's Revenge – In 1941 Berlin, a lowly puppeteer named Andre Toulon attracts the attention of Nazis. They obviously don't like the dissident themes of Toulon's puppet shows, but are fascinated by his seeming ability to bring inanimate objects to life. In their bumbling attempts to steal Toulon's secrets, they kill his wife. Enraged, Toulon unleashes his army of reanimated puppets on the local Gestapo troop.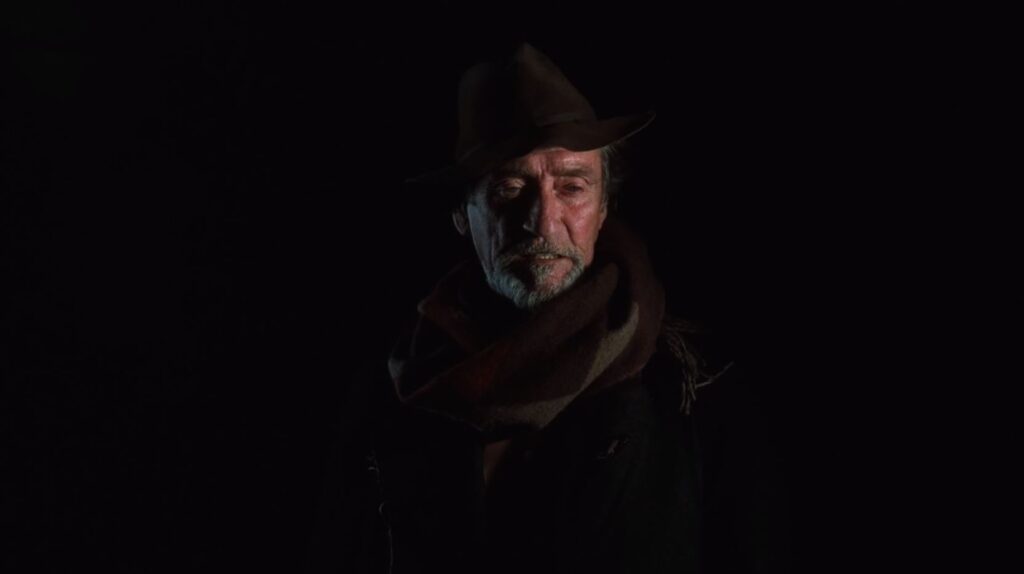 The first two Puppet Master movies are pretty damn trashy stuff. What's interesting about this movie is that it seems to have an actual point-of-view. It's surprisingly ambitious, delivering a backstory and real pathos to Toulon (who was previously just a generic boogeyman and excuse for murderous puppet action). A big part of this is the performance of Guy Rolfe as Toulon. He provides depth and personality and would reprise the role in future installments. Director David DeCoteau also transforms a Universal backlot into Nazi Germany in a pretty convincing way. The whole thing has an almost dreamlike atmosphere that serves the film well. Funnily enough, DeCoteau also directed Creepozoids, though his heart was clearly not in that one the way it is here.
Look, I don't want to oversell this movie. It's still low-budget trash, but in the best way possible. The puppets are put to gory use in dismembering Nazis (always a fun target for this sort of thing), and the designs and puppet powers are as effective as ever. The old favorites are there and there's a new six-armed puppet who is naturally called Six Shooter. That said, the Blade puppet doesn't get nearly enough screen time (though the way he is deployed, mirroring the look of the Gestapo villain, is great).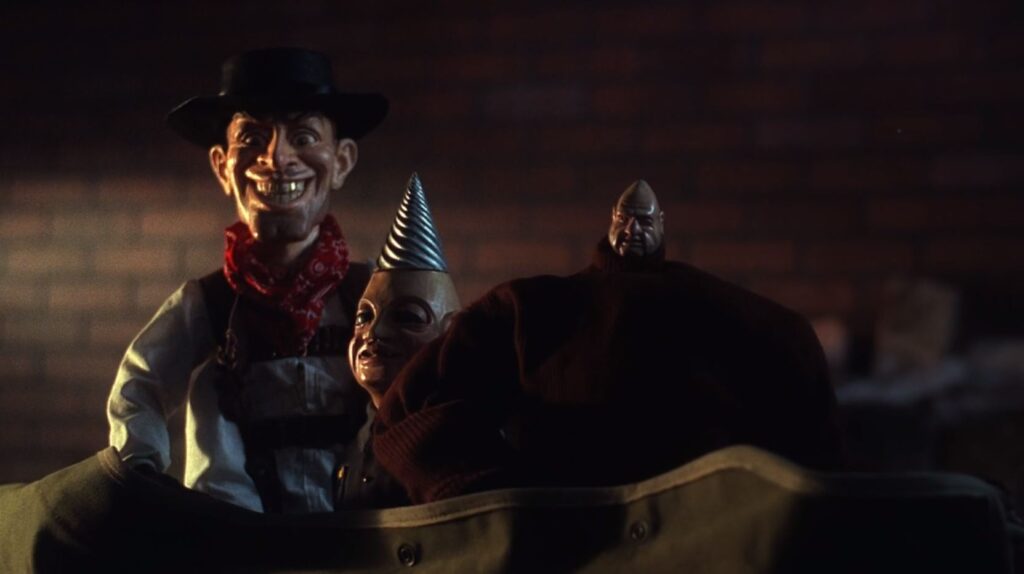 What's more, we also get a backstory for the puppets, each possessing the spirit of a slain Jew from the war. That this movie is even attempting to grapple with the plight of oppressed peoples is admirable. Once again, they're taking the silly premises established in the previous movies and trying to imbue them with some sense of gravitas. That they succeed at all is impressive, even if the result is still corny. I'm usually pretty hard on sequels, and doubly so on prequels, but this is oddly one of the best examples of a sequel/prequel I can think of…
I was hoping Michelle Bauer would have a more substantial role here, but it turns out to be more of a cameo than anything else. Ultimately, this was the biggest surprise of this year's Six Weeks of Halloween. It's not exactly fine cinema, but it's doing much more than it gets credit for. ***
The Jigsaw Murders – A down-on-his-luck detective must catch a serial killer who preys on erotic models before his daughter becomes the next victim. Indian director Jag Mundhra produced a string of cheesy exploitation flicks throughout the 80s and early 90s. These infamously included Hack-O-Lantern, one of the stranger Halloween movies ever made. Those that tuned in to Joe Bob's Halloween Hideaway on Friday night got to see it interspersed with commentary around the particulars of the movie that provide at least some context to the film's odd choices.
The Jigsaw Murders could perhaps use such commentary. It's an odd little film. It really wants to be a serious police procedural, but it's almost like Mundhra gleaned everything he knew about American police from cheesy 80s movie clichés. Still, at least some of the clichés are subverted. The police captain isn't some angry maniac constantly yelling at the detectives about how they're rogue cops or whatever (he's actually pretty supportive.) At one point our detectives conduct an illegal search, and as a viewer, I'm like, yeah it's a movie, I guess I can go with that. But then there's a discussion of "fruit of the poisonous tree" doctrine and the killer goes free. So the movie is certainly trying. It's not exactly succeeding, but I appreciate the effort.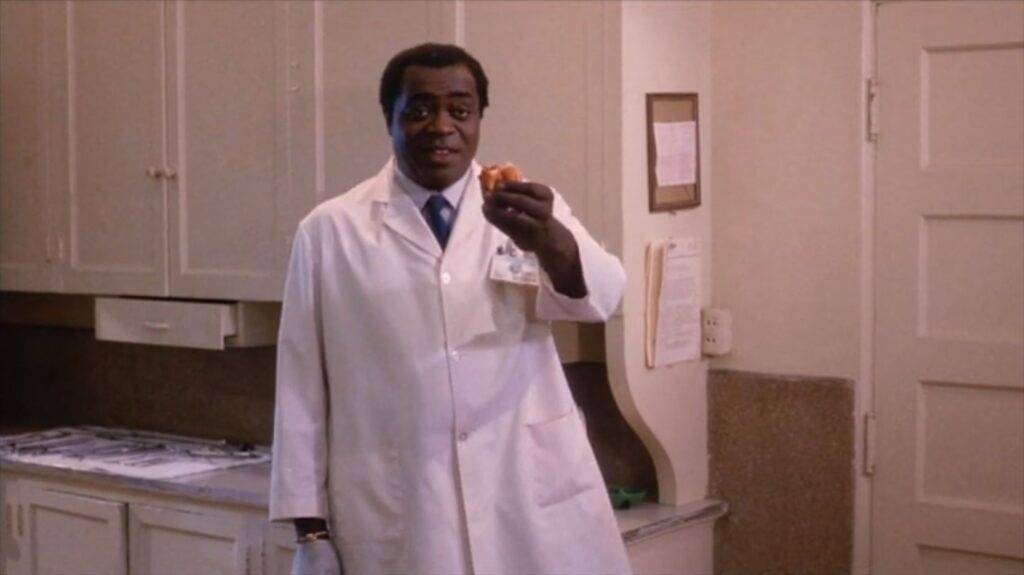 Chad Everett plays the alcoholic detective well enough and Michelle Johnson is fine as the daughter-in-peril (who gets in a nice turn-the-tables moment at the end). But the real scene stealer is Yaphet Kotto as the demented medical examiner. He's only in the movie for a few scenes, but he's fantastic. I mean, you've seen this character before. He's eating a jelly donut whilst working, that wacky medical examiner! But it's Yaphet Kotto, so it's much better than normal. Brinke Stevens is, alas, barely in the movie, playing one of the models for our sleazy photographer suspect. It turns out that Michelle Bauer is also in the movie, sorta. She's the model that appears on the titular Jigsaw Puzzle, which we get glimpses of from time to time. Ultimately, this is kinda interesting for how weird and cheesy it is, but it's not exactly great. **
I can't believe we're already at week 6 of the Six Weeks of Halloween. While the whole Holy Trinity of 80s Scream Queens thing was a bit of a bust, I still think that, on whole, we've had a very successful six weeks. And we still have a couple more posts coming up! On Wednesday, we'll tackle a Halloween season movie quiz. And next weekend is the big day, plus the traditional Speed Round of movies watched but not yet covered. Oh, and we'll probably continue into November, because I never got around to posting about what I read during the spooky season, so that'll be on the agenda too…