The Earth has once again completed its orbit around the Sun, which for some reason means that we should all take stock of what we did over the past orbital period. I just posted my recap of the year in beer (and yes, I'm recycling the opening of this post, heh) and in accordance with tradition, I'm still catching up on 2012 movies (look for movie recap stuff in mid-January, lasting up through February), but Books are pretty straightforward to recap. I've been keeping track of my book reading via Goodreads for a while now, so with their help, I can compare this year's reading to the past couple.
Let's start with overall books read:

So I've read 50 books in 2012, which is a significant step up from the 28 I read 2011 (30, if you split out an omnibus). How did I manage such a feat? Well, I cheated. There are a few short novellas and the like that are on the list, which seemingly reduces the accomplishment (but not really, because this was, more or less, my goal). You can see this a little better when you look at page numbers:

So I certainly did significantly outpace myself in terms of page numbers, even if, proportionally, I didn't excel as much in page numbers as I did in simple quantity of titles. That being said, page numbers are notoriously variable in size and actual length. The are only 228 pages in The Structure of Scientific Revolutions, but the amount of words read probably equals one of them 700 page Harry Potter novels. The elastic relationship we have with book length is something that's been bugging me of late, and warrants a post of its own. For today's purposes, let's stipulate that such variability is relatively even across years, and again, I went for quantity of books this year, not quantity of pages read.
This is evidenced by the longest book I read all year, Lois McMaster Bujold's A Civil Campaign, which clocks in at a paltry 544 pages. For reference, 2011's longest book was Neal Stephenson's Reamde, which was 1044 pages (or, about 10% of what I read that year).
Some more assorted stats about this year's reading:
10 of the books were non-fiction, which is only slightly more than last year, but still probably a record for me.
The grand majority of the 40 fiction books were science fiction or fantasy novels, and my progress this year was definitely fueled by short, trashy reads.
14 of the 50 books I read were written by women, a very slight increase and probably a record for me, but also something that could be more equitable.
Goodreads also provides a neat little gizmo that graphs publication dates, as such: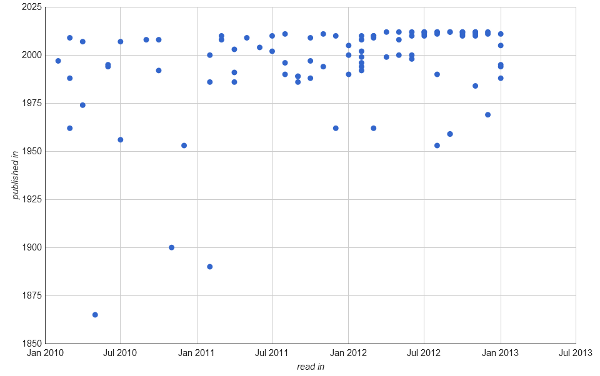 If you click the image above, you should be able to get a more interactive version of the graph, though I do find it annoying that it only states the publication date, not what book it is!
Anyways, it's been a really good year for reading, and I got through a ton of stuff. Will I read through as much this year? Well, let's try and keep the page numbers equal, but I'm going to say that the overall number of books is going to come way down. Instead of quickly knocking down short novels, I plan to tackle lots of longer books this year, stuff that might take me a while to get through. I'm sure I'll read some shorter stuff too, but I'm probably going to shoot for 25 or so books overall. We'll see where that takes me. More details on that little project to come…