The nominations for the 2007 Kaedrin Movie Awards were announced last week. This post marks the end of the formally nominated awards, but I've still got another wrapup post with some miscellaneous awards and finally my top 10 films of 2007.
Most Unusual/High Concept Film: Fido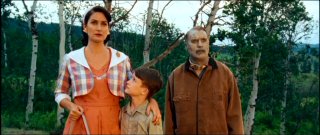 From left to right: Mother, Son, Fido.
When I was making the nominations, I didn't want to say high concept film, but then after I finished, I realized that they really are high concept films. The winner, a strange but fun Canadian zombie film done like a Lassie story, but with zombies in place of dogs. The setting is a sorta retro-futuristic 1950s, filled with vibrant colors and, well, zombies. It's a lot of fun. Grindhouse is an awesome throwback to 1970s grindhouse film. Stardust is arguably not that unusual or high concept, but then the film's director describes it as The Princess Bride meets Midnight Run. It's probably not as good as either of those films, but that doesn't make it bad (actually, in this mediocre year, it stood out for me, despite the fact that it did so poorly in theaters.)
Next up is a buch of miscellaneous awards, followed by my top 10 of 2007. Both may be posted this weekend, but the top 10 might take a little longer.