About a year ago, I started a video game retrospective, beginning with my first video game console, the Atari 2600. My intention was to go through my favorite games for all the various platforms I've played on. In typical Kaedrin fashion, I wrote about 5 posts on the Atari 2600 then promptly forgot that the series was supposed to continue. I figure it's time to resume the retrospective, taking on my second major video gaming system: the Commodore 64 (and, after my brother and I destroyed that, the Commodore 128).
The C64's hardware was basically contained within the bulky keyboard (the C128 had a more standard keyboard size, but had a chunk extending back that contained the processing hardware) and you could just use a television as a monitor. Now, unlike the Atari 2600, the C64 is an actual computer – you could do more than just play games on this (I remember writing book reports with some rudimentary word processing software and printing it out with a fancy dot-matrix printer). Indeed, I got my first taste of computer programming using the C64's native BASIC language (not that I produced anything of worth, but it was a start). That said, it was primarily used for video games. Booting up the C64 gave you a command line with a distinctive blueish/purple monochromatic color scheme: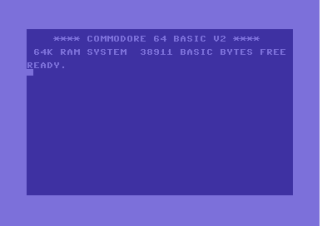 It's funny, but that color scheme was very memorable and seems to be a popular target of geeky nostalgia (for all you Opera users out there, there's a user mode style sheet called "Nostalgia" installed by default, so you can browse the web like you're on a C64). It used the same controllers as the Atari (directional stick and a single-button), but it had far better graphics and much more expansive gameplay. You'll see more of this when I go through the games later this week, but the games for the C64 progressed further than the simple, arbitrary goals of the Atari era. I just downloaded the open source VICE emulator and have been getting reaquanted with some of my favorite games. The emulation here leaves something to be desired (particularly with respect to games that require keyboard controls, as the C64 had a slightly different keyboard layout and VICE's documentation is… lacking…), but I'm making due… Again, my favorite games will be reviewed in separate posts, so stay tuned!
Update: Follow up posts: