This is the last of my Voodoo Barrel Room Collection, so I find that I have little to say about it. I mean, there's only so many ways to work terrible jokes about Defense Against the Dark Arts into these posts, and I've pretty much exhausted them. The previous two iterations of this beer, respectively aged in Pappy Van Winkle and Buffalo Trace barrels, were exceptional beers. While I'd say that the Pappy variety was the clear winner, the Buffalo Trace iteration was very similar. This one is aged in Laird's Apple Brandy barrels, which should bring a distinctly different note to the series. They certainly worked wonders with Voodoo's Gran Met, so I was really looking forward to what a more substantial base would do. It ends up being a little less barrel forward and despite the higher alcohol, somehow less boozy. At this point, I also think it's showing its age a bit, and I probably shouldn't have waited quite so long to crack this sucker open. So prep your jinxes and counter-curses, it's time to drink some Black Magick: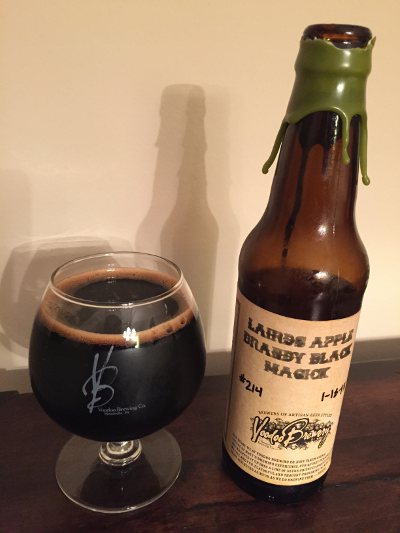 Voodoo Laird's Apple Brandy Black Magick – Pours black as night with a finger of brown head that quickly resolves into a ring around the glass. Smells of rich caramel, vanilla galore, chocolate, oak and booze (not a whole lot of apple in the nose, actually). The taste has lots of caramel and vanilla, sugary sweet, chocolate fudge, almost brownie-like, oaky, boozy, with that bright apple character emerging towards the finish. It's not quite the apple pie like character I got out of Grand Met, but it's there. Mouthfeel is reasonably well carbonated, full bodied, rich, and chewy, with a certain sugary stickiness in the finish. Boozy heat makes itself known as well. Overall, it's very good, though not fresh Pappy Black Magic good. But then, few beers are. A-
Beer Nerd Details: 13.5% ABV bottled (12 oz. Green Wax). Drank out of a snifter on 10/4/14. Bottle #214. Bottled 1-18-13.
So there you have it. I really enjoyed all of these beers, and in terms of local folks doing really great non-sour barrel aging, there really aren't that many. I'll keep an ear open for future releases, but I'm afraid the 5 hour drive to Meadville, PA is a bit prohibitive. For only a couple hours more, I could end up in Vermont!