Voodoo has a tiny little barrel room and recently held two releases. One out at their brewery in Meadville, PA, and one in the Philly area. The Philly area one was held yesterday, and looky at what I found: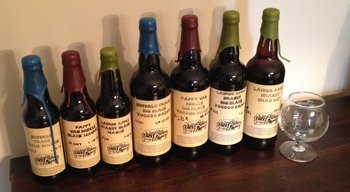 Well hello, my pretties. Gotta love the look of waxed bottles. The three small bottles are Black Magick (big stout somewhere on the order of 15% ABV) variants (one aged in Buffalo Trace barrels, one in Pappy Van Winkle barrels, and one in Laird's Apple Brandy barrels), the next three bombers are Big Black Voodoo Daddy (one of Voodoo's staple beers, a still rather large 12.5% stout) aged in the same three barrel types. And lastly, another of Voodoo's staple beers, Gran Met, a Belgian style tripel aged in Laird's Apple Brandy barrels. Supposedly, these suckers stayed in the barrels a little longer than planned as Voodoo was opening a brewpub and availability of the packaging line was maxed out.
Anywho, the Philly area release was held at the Blue Dog Tavern in Chalfont, PA (i.e. north of the city). I got there a little over an hour before opening, but while there was a sizable crowd ahead of me, I was there in plenty of time to ensure that I got a bottle of each barrel room beer (some variants only had 72 bottles available at this release). About a half hour before the doors opened, the staff passed out wristbands so that they could do a "deli-style" release – they call your number, and you go to a table to pick up your allotment. Very orderly and convenient, and it allowed me to sit at the bar and try a couple Voodoo rarities, like this beauty:
They call this stuff 2 Live Gran Cru Greatest Hits – Vol. 1, a blend of Big Black Voodoo Daddy and Black Magick aged in Pappy Van Winkle barrels for 15 months. Don't mind if I do. Massive bourbon and oak in both the nose and taste, but plenty of malt to balance that out, leading to that great caramel, vanilla, and oak character I love so much. Clocking in at 13% ABV, it's got a pretty big boozy component too. Big, chewy stuff, smooth with a big boozy bite. Fantastic stuff, and hopefully an omen of what those bottles will taste like. It was a small sample, but I'll give it an A- for now…
My cellar is getting crowded again, and I've even got more stuff coming. It's going to be a fun summer.