When it comes to spirits, I'm a Scotch and Bourbon man. But I'm also a big tent guy, so I'm pretty open to trying something like Brandy… but Apple Brandy? That's not something I see myself seeking out. As such, when Voodoo's Barrel Room Collection came out, I was a little skeptical of the Apple Brandy variants. I've had a couple of Calvados barrel aged beers (basically Apple Brandy originating from a specific region in France), with mixed results (and nothing approaching actual apple flavor). Fortunately, it seems the Voodoo Apple Brandy variants are much better, and my first taste has essentially erased all doubts… this stuff is like sooper boozy apple pie, in liquid form (though this sort of mimicry isn't quite as perfect as Apple Pie Moonshine, it's still close enough in my book).
The base for this one is a tripel style beer made with Belgian yeast and Beet sugar. Supposedly, they add the sugar gradually throughout the fermentation, so as to extend the process in a way that won't overload the yeast. Or something. I've actually never had the base beer, but by all accounts, aging in these Laird's Apple Brandy barrels has done a world of good. Let's find out, shall we?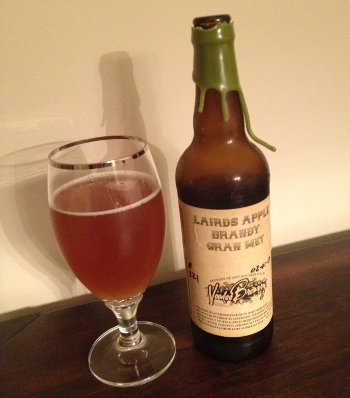 Voodoo Laird's Apple Brandy Barrel Gran Met – Pours a light brownish orange color with a cap of big bubbled, short lived head. Smell is straight up apple brandy and booze, bready with an almost nutty component, kinda like apple pie. I'm actually really liking the nose here. The taste follows along, tons of apple brandy and booze, it's drinking a lot hotter than 9.5% ABV, and it's not like that's a slacker of an ABV. Very sweet, but the booze sorta keeps that in check, which makes no sense, but I'm going with it. Apple is prominent, but not an off-flavor type of apple, and it's really good. Mouthfeel is medium to full bodied, a little sticky, lots of alcohol heat, good carbonation. It's not quaffable or anything, but for this booze level, it's actually quite approachable. Overall, this feels a bit like someone poured some brandy into an apple pie, then threw the whole thing into a blender and made a smoothie. Or something. It's not perfect, but it's an interesting and unique beer. I've never had anything like this, and it's really working for me. A-
Beer Nerd Details: 9.5% ABV bottled (22 oz green waxed cap bomber). Drank out of a goblet on 8/31/13. Bottled 02-01-13. Bottle #321.
Well, now I'm quite excited that I've got those Laird's Apple Brandy variants of Black Magick and Big Black Voodoo Daddy. I'm curious to see how different the treatment works on a big imperial stout. Jury is still out on the next Voodoo release. There doesn't appear to be a satellite release in Philly this time around, and driving 5 hours to the brewery seems like a stretch. We'll see, I guess.