I'm sure it's blindingly obvious that I love me some barrel aged beers. And while I've dabbled with beers aged in exotic spirits barrels like Tequila or Rum (not to mention sours, can't forget those), Bourbon barrels are clearly where it's at. But you can't just dump your beer into a barrel and expect it to come out perfect. There are some clear misfires out there (that aren't that bad, per say, but pale in comparison to the best stuff…) I think that FiftyFifty's Eclipse beers have shown us that the type of Bourbon in question is also a factor.
Indeed, there's a million factors to consider here. What condition is the barrel in? How long did the barrel have Bourbon in it? How long will the beer be in the barrel? What's that base beer like? What's the environment (i.e. temperature, humidity) for the barrel? And so on. Clearly those barrel masters have their work cut out for them.
Whoever is running Voodoo's barrel room has certainly made a pretty good name for themselves. Black Magick aged in Pappy Van Winkle barrels is an amazing beer (and I'm not alone in that assessment). The recently released (and sadly not secured by any Kaedrin operatives) K13 Barleywine is tearing up the trading forums too. So maybe my expectations were a little too high for this beer, which is Big Black Voodoo Daddy aged in Buffalo Trace barrels. It's not bad at all, but it sadly doesn't quite live up to the example of the Black Magick beers. Or, you know, maybe this barrel aging stuff isn't as exact a science as we'd like to think…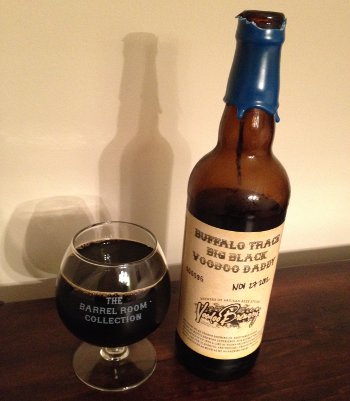 Voodoo Buffalo Trace Big Black Voodoo Daddy – Pours a deep, dark, viscous looking black color with a minimal cap of light brown head that quickly resolves down to a ring around the glass. Smells of burnt caramel, vanilla, oak, and a heaping helping of bourbon. Taste has more roast than the nose would have you believe, less caramel too, along the lines of the regular BBVD, though the bourbon, oak, and vanilla are clearly there. Mouthfeel is thinner than expected, though still full bodied, not quite as rich and chewy as I was expecting. None of this is bad, I was just expecting something slightly different. Indeed, the more I drink, the more this grows on me, and in the end, I'm really enjoying it. Overall, it's a very good beer, better than the base (even though, d'oh, I graded the base beer the same – stupid ratings inflation). Perhaps not quite the amazing brew that Black Magick was, but still very good! B+
Beer Nerd Details: 12.5% ABV bottled (22 oz. blue waxed bomber) Drank out of a snifter on 11/16/13. Bottle #: 000096. Bottled Nov 27, 2012.
I've been doing this blog long enough that my grades have started to suffer from some form of inflation. I guess they can't all be A level beers, eh (but looking at the grade archives, maybe the can all be B+ level? – ed Quiet you!) I do have the other two BBVD variants, one aged in Pappy Van Winkle barrels (which legend fortells will part the skies and bring forth an angelic choir whilst you drink) and one aged in Lairds Apple Brandy barrels (which certainly worked well for Grand Met), so perhaps this one is just the odd man out.