One of my favorite beer-store games is what I'll call Belgian Beer Roulette*. I'm sure you're already familiar with the concept of Russian Roulette, but a quick google search yields a Belgian variant where instead of placing a single bullet in a revolver, you place rounds in all but one chamber, spin the cylinder, point the gun at your head and pull the trigger. Fortunately, Belgian Beer Roulette is not nearly as insane or deadly to play. To play, you need 5-10$ and a bottle shop with lots of Belgian beers you've never heard of. Purchase one of said unfamiliar Belgian beers, chill, and drink. I'm quite the fan of Belgian beers, so I daresay that my odds of "winning" are probably more like Russian Roulette (5 out of 6 win) than Belgian Roulette (1 out of 6 win).
Generally I look for something with a tasteful label (I'm a total sucker for a coat of arms). This is, of course, not always the most reliable indicator, but that's how I stumbled on to some of my favorite Belgian breweries, like Westmalle and Affligem. So one day, I see a series of beers from Maredsous. Nice clean label design and the store had a blonde, a dubbel, and a tripel (i.e. styles I love), so I picked up the Dubbel. As I write this, I now find out that the Maredsous brand is actually brewed at the Duvel Moortgat brewery. Maredsous is a Benedictine abbey, apparently famous for their cheese, but in 1963, they also began to license their name to Moortgat. I don't know how much the monks contribute to the actual brewing of the beer or the recipes or whatnot (sometimes monks direct brewing efforts outside their abbey, but I can't tell what's going on in this case), but I'm willing to bet that they drink a shitload of the stuff.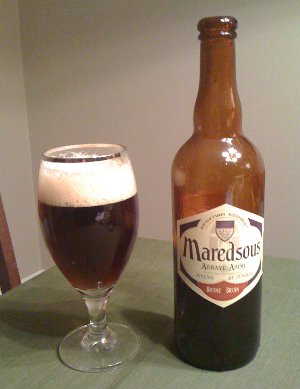 Maredsous 8 – Dubbel – Pours a nice reddish brown color, decent head with bigger sized bubbles in it. The nose is a bit light, but that typical spicy Belgian yeast aroma is there and maybe some dark fruitiness as well. Taste has a sweet malt backbone, with a little spiciness and just a hint of tartness in the finish. Ample carbonation and a medium mouthfeel make it readily drinkable. Alcohol is reasonably well disguised too. Certainly a solid effort and a good representation of the style, but not particularly close to the top of my favorite dubbels. B+
Beer Nerd Details: Beer Nerd Details: 8% ABV bottled (750 ml, caged and corked bottle). Drank from a goblet. Drank on 2/19/11 (yeah, I'm really behind on this review.)
It seems my thoughts are pretty much in line with the Beer Advocate nerds, and they say the other Maredsous beers are about equal quality. I won't be rushing to the store to pick some up (and now that I've had one, I see them every where, so it's not like it's a rarity or anything) anytime soon, but I'll probably get to the other two varieties at some point…
* I'm not the originator of this term as a way to describe this process – I have Jay from the Hedonist Beer Jive (now just Hedonist Jive) to thank for that. It's a fantastic term though, and it fits how I sometimes shop. Thanks Jay!