I've often noted my fondness for the openness Four Roses displays with their recipes. It makes the homebrewer inside of me all squishy. That being said, I've only ever had one recipe on hand. I was able to sample a regular single barrel (OBSV) with a cask strength private selection of the same recipe and that difference blew me away. This time around, I sought out something different, then lucked into another bottle that I'm guessing is as different as possible.
First up is a Private Selection from TalkBeer.com. Yes, you read that right, apparently a community of beer nerds can purchase their own barrel. In fact, this is the third time a group of beer nerds got together, traveled to Louisville, KY, met with Jim Rutledge, and sampled from about 10 barrels. You can get the background at the TalkBeer thread (needless to say, somebody chose their best man well!), but here's the barrel they chose:
(Click to Embiggen)
It's an OBSK, which is the high rye recipe with yeast that produces a light spiciness, light caramel, and full body bourbon. It's 10 years, 8 months, and 19 days old, and bottled at 113.2 proof (not quite the boozy monster that my OBSV pick was, but certainly enough to pack a punch). Sploosh.
Then last fall, during a trip to the Garden State, I decided to stop in at a liquor store to see if they had any Carton beer, and what did I stumble upon? Another Four Roses Private Selection, this one from White Horse Wine & Spirits in Absecon, NJ. I don't think it's possible for this bottle to be more different than the TalkBeer pick. It's an OESF, so it's lower rye with a yeast that trends towards herbal character (I kept calling it floral though, go figure). Oddly, it was also 10 years and 8 months old (doesn't list the days), but it's only 107.8 proof. Nothing to sneeze at, to be sure, but it's awfully close to the regularly available single barrel. While not my favorite bourbon, this did make for a truly fascinating double feature because these two bourbons are very different. Really happy I got both of these bottles though, and will certainly be looking to expand my collection in the future. Let's take a closer look at each:
Four Roses Private Selection Single Barrel Bourbon – TalkBeer OBSK – Pours a reddish orange brown (leather bound books and rich mahogany). Smells very nice, spicy rye, cinnamon candy, oak, caramel, and a beautiful wallop of vanilla, and that fruity bubblegum character that seems to wind its way through all the Four Roses expressions I've had (thanks to Kaedrin beverage compatriot Padraic's observation long ago, I can't not notice it now). Taste starts off with that spicebox character, cinnamon and the like, with a nice caramel, oak, and vanilla middle, then the spices strike back in force towards the finish. Very complex and layered, I'm picking up different pieces with each sip, and after some time, that caramel and vanilla character really opens up. Mouthfeel is full bodied, not quite syrupy, but it's got a nice coating factor, and the boozy heat is quite approachable (even to my baby-like beer palate). Overall, this is a fantastic, well rounded Bourbon, among my favorites ever. A-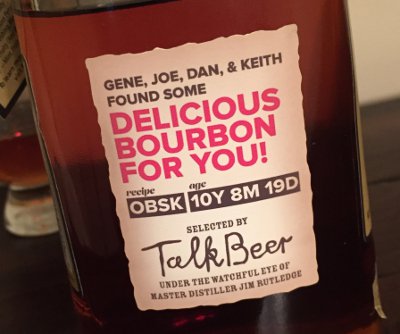 Whiskey Nerd Details: 113.2 Proof, 56.6% ABV bottled (750 ml). Drank out of a glencairn glass on 2/26/16. Selected by TalkBeer. Four Roses Recipe Selected: OBSK. Aged 10 Years 8 Months 19 Days. Warehouse No.: QS. Barrel No.: 87-20.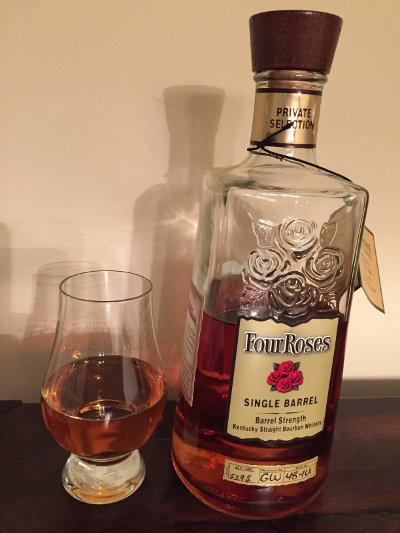 Four Roses Private Selection Single Barrel Bourbon – White Horse Wine & Spirits OESF – Pours a bit lighter than the TalkBeer, a golden orange brown color (less Anchormany). Smells quite different, more sweet corn, less spice, more in the way of floral, vegetal, herbal aromas, actually even less of that fruity bubblegum (though it's still there). Taste follows the nose, sweeter, much less spice, much more of the floral, herbal character. Mouthfeel is lighter, less spicy, less hot. Overall, by itself, I find this a bit disappointing, but still quite nice. It is, however, fascinating to drink this beside other Four Roses recipes, as it's quite distinct. Personally, I tend to prefer the spicier, more caramelly recipes, but this is worth trying. I do wonder about the low-ish ABV though, and if it were higher, would that intensity win me over? I'll have to keep an eye out. In fact, a while ago, I might have had the 2014 Limited Edition Single Barrel at a bar, which was also an OESF, but I can't find the picture to confirm this, and I remember that sample to have a distinct minty character that was awesome. Alas, no such minty goodness here. B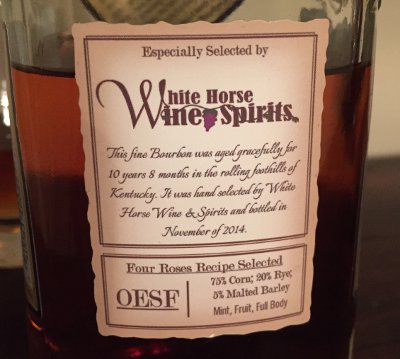 Whiskey Nerd Details: 107.8 Proof, 53.9% ABV bottled (750 ml). Drank out of a glencairn glass on 2/26/16. Selected by White Horse Wine & Spirits. Four Roses Recipe Selected: OESF. Aged 10 Years 8 Months. Warehouse No.: GW. Barrel No.: 48-1U.
Beer Nerd Musings: Plenty of beer has been aged in Four Roses barrels, but you know what? To my knowledge, no one has ever specified which Four Roses recipe they were using. Next level beer nerdery: a series of imperial stouts aged in all ten recipe barrels of Four Roses. FiftyFifty, you're up! Somehow, I doubt this will ever happen. However, I hold out hope that someday, I'll visit a really small brewery and they'll show me the barrel the beer is aging in, and I'll be able to see the stenciled recipe on the barrel. A man can dream. Or, um, not. This is getting pretty wonky. I'll stop now.
Fellow Travelers: Lots of people more knowledgeable than myself have tackled the different Four Roses recipes, often in a much more complete and detailed fashion:
We've got at least one more doozy of a bourbon to go before this little beer quasi-hiatus concludes, so stay frosty folks, we'll be back to beer in no time (or, uh, a few weeks from now).