Beer nerds are familiar with all sorts of marketing hooey, mostly from the Bud/Miller/Coors behemoths (Triple Hops Brewed? Wow!), so it's not surprising to see it in other realms of boozy glory. The whiskey world seems particularly susceptible, as the high costs in producing well-aged juice mean most of the best stuff is produced at distilleries owned by multi-national corporate entities.
Enter Diageo's Orphan Barrel project, a series of high-age bourbons they said had been sitting "lost" in one of their warehouses and only recently rediscovered, a claim that lasted about as long as it took Chuck Cowdery to write a blog entry (I'm going to guess somewhere on the order of 20 minutes). The marketing and faux claims of "limited" availability clearly cheesed off folks who take this thing seriously (and marketing in general seems to strike a bad chord no matter what we're talking about; even craft breweries get slammed for marketing when it works a little too well, like Brew Dogs, etc…), but as I always say, it's what's in the bottle that counts. I'll let others recount the history in more detail, but while the marketing gives people hives, most people seem to be agreeable when it comes to the juice itself.
The two Orphan Barrel bourbons that I've had are very similar on paper. Both are 20 years old, 90 proof, and they use the same mashbill (75% corn, 13% rye, and 12% barley – Though I've seen conflicting reports). The whiskey newbie will invariably glom onto some poorly informed heuristics in choosing a whiskey, and one of the most common refrains is that "older is better", a sentiment that I admit I find somewhat appealing myself. Intellectually, I can understand the tradeoffs at play here. Older is certainly older and usually rarer and more expensive, but not necessarily better. Thanks to the Angel's Share, there's going to be a lot less older bourbon than younger bourbon (even in the same number of barrels).
I've read lots of bourbon nerds who claim that old bourbon is over oaked and undrinkable and, like, those bottles of Pappy 23 they have in their bunker are really nothing special. That's great, but I've found that the best way to tell what I like is to go out and try a bunch of stuff, and most 20+ year old bourbons are either prohibitively expensive (I could spring for a $215 bottle of Elijah Craig 23, I guess) or impossible to get a hold of. And look, I get it. I jump through incredible hoops and pay absurd premiums to get a taste of beers that are sometimes not worth the effort, so I can understand the impulse to impart such wisdom. Still, I like that these Orphan Barrel bourbons are extra-aged, readily available, and while expensive, not nearly as costly as other comparably aged bottles (Barterhouse cost about a third of that EC23 bottle… though who knows how the quality compares).
And now I know what over-oaked bourbon tastes like. As someone obsessed with barrel aged beer, the notion of "over-oaked" wasn't quite a turnoff, but now that I've had some, I can say I'm a little more mixed than I thought I would be. So last Saturday, I poured myself a dram of each and compared and contrasted: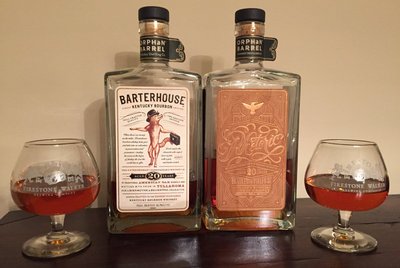 (Click to Embiggen)
Barterhouse – Pours a golden orange color with moderate legs. Smells of oak (almost sawdust), a little vanilla and corn, lots and lots of spice. Taste also hits those spicebox notes pretty hard but it's really quite oaky and dry. Mouthfeel is minerally and dry. Very, very dry (not like red wine dry, but for bourbon, it's very dry). A little spicy kick in the finish along with the booze. Overall, a pretty solid little number, lots of oak and very dry. I can finally see what people talk about when they say that older whiskey is "over oaked", even if I feel like this comports itself well, even if the oak is the dominant character. It's not particularly well integrated, but I'm enjoying it well enough. B
Whiskey Nerd Details: 90 proof, 45% ABV bottled (750 ml). Drank out of a snifter on 3/7/15. 20 years old.
Rhetoric – On paper, very similar stats, but the plan for Rhetoric is to release an older version every year (i.e. 2015 will see 21 year old Rhetoric, 2016 will be 22 years old, etc… on to 25 year old). Looks about the same and shares a lot of the same characteristics. Nose is woody and dry, a little lighter on the spicebox, not as corny either, though it has a nice almost caramelly aroma. There's something lighter playing around the edges here too, not quite fruity (though it may have been like that when this was, say, 15 years old or something – now I think the oak is really trying to overtake that). Taste follows along. Less spice than Barterhouse, just as much if not more of that dry oak. Does not feel quite as complex as Barterhouse, reliant more on the oak here. Overall, unbalanced but still a decent dram, cut from the same cloth as Barterhouse, but with subtle differences. I like Barterhouse better, but would be really curious to try the 21 year old (or 22 year old, when that comes to pass). B
Whiskey Nerd Details: 90 proof, 45% ABV bottled (750 ml). Drank out of a snifter on 3/7/15. 20 years old.
Beer Nerd Musings: My scientifically wild ass guess is that older barrels aren't necessarily the best to use for aging beer. The oak seems to be spent, so the only thing the barrel imparts in the beer is a whole lot of bourbon. Unless, that is, you age the beer for a very, very long time (Bourbon County Rare spent 2 years in Pappy 23 barrels and is a prized brew, though I've never had the opportunity to try it). That being said, I have to wonder how well these bourbons would work in a homebrew that used fresh oak chips/cubes… something that's probably not realistic at this price point. Also, I'd totally hit up some more beers aged in very old barrels, just to be able to confirm my hypothesis.
So there you have it. These are far from my favorite bourbons, but they are not bad at all and I have to admit that I'm pretty curious about the other Orphan Barrel entries (Particularly the 15 year old Forged Oak, which maybe won't be so insanely oaky, despite its name?) And there is something romantic about really old whiskey that's worth considering as well. If I've learned anything from beer, it's that rare tastes so much better than not-rare. /sarcasm
In the meantime, look for another whiskey review on Thursday (this one will be of particular interest to beer nerds). This weekend is looking like wine, so expect a couple posts next week. Then there's Pliny the Younger day and Fat Weekend to contend with, followed by some more bourbon, at least one Scotch, and whatever else I feel like drumming up during my temporary detour away from the glorious world of beer.