For the unwashed masses (like folks who read and write beer blogs like this), Maker's Mark is probably the most common wheater out there. In bourbon nerd parlance, a wheater is bourbon where the secondary grain (after the defining corn) is wheat instead of the more typical rye. Other examples include the Weller line and the vaunted Pappy Van Winkle bourbons.
Speaking of ol' Pappy, he apparently helped out Maker's founder Bill Samuels Sr. with recipes and general advice. Unsure which recipe to use and (wisely) unwilling to make batches of each and wait a few years to find out which he liked best, Samuels simply baked a loaf of bread with each mash bill. Of the seven loaves, the one without rye was deemed the best (the mash bill is 70% corn, 16% red winter wheat, and 14% barley), and thus Maker's Mark was born. Or so the urban legend goes, as I'm almost certain this is apocryphal or at least a tongue in cheek reminiscence. Whatever the case, Samuels made the decision to use wheat because he liked it better than rye. The iconic branding, on the other hand, was the work of Samuels' wife Margie. She named it, drew the label, and devised the distinctive red wax dipped look. Not an insignificant contribution, if you ask me.
For the longest time, Maker's Mark was a pretty straightforward brand, with only one major expression (there was a limited release of a Mint Julep variant, and some export bourbons at different ages and/or proofs as well). Maker's was basically just that ubiquitous red waxed bottle stuff. In 2010 they introduced Maker's 46, which is basically regular Maker's finished on French Oak and bottled at a slightly higher proof. Then, in 2013, they famously announced that they'd be lowering the proof of standard Maker's from 90 to 84 (the notion being that this move would increase yields and thus ease some of the supply issues they were facing in this bourbon boom we're currently enduring). They quickly backtracked due to a very swift and vocal outburst from fans. And now it appears they've completely reversed course and released a cask strength expression (basically, this is undiluted juice, straight from the barrel). It's a limited release, but it's been surprisingly well stocked (at least, in PA stores), perhaps because of the small packaging mixed with high(ish) price.
I have, of course, had a few drams (er, shots) of Maker's over the years, but have never really sat down and sipped it, so I made sure to grab a sample bottle of regular Maker's to compare to the cask strength version. Standard tasting note disclaimers apply: I'm a beer nerd and thus these baby palate tasting notes are almost certainly not going to please whiskey aficionados. Cut me some slack guys, I'm giving up my preferred drink for a few weeks. Also, check out my forced perspective skills. It's not perfect Lord of the Rings style forced perspective, but I was pretty happy I managed this given my meager cameraphone and about a minute of preparation: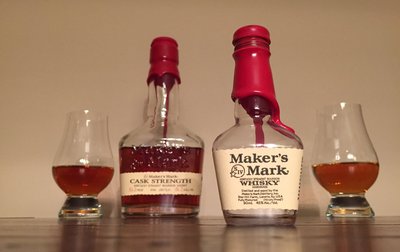 (Click to embiggen)
Maker's Mark – Pours a golden color with just a hint of orange and loose legs. Smells sweet, lots of soft corn, some candy, light on the spice, booze. Taste has a nice, mellow corn character, some sweet candy, again very light on the spicebox (there's something there, but not much at all, I'm guessing it's coming from the oak). Mouthfeel is light, sticky, soft but with a little boozy heat (sorry guys, my baby palate is used to beer, so all whiskey feels hot to me). Feels pretty thin when tasted side by side with the cask strength, as you might expect. Overall, this is pretty standard stuff. It's not my favorite of the slightly above entry level bourbons that I've had, but it's nice enough and I have to admit that I generally seem to gravitate towards high rye recipes. B-
Whiskey Nerd Details: 90 proof, 45% ABV bottled (50 ml sample size). Drank out of a glencairn glass on 2/27/15.
And what the hey, since the Cask Strength label was somewhat obscured by my lame forced perspective attempt, here's a closer look: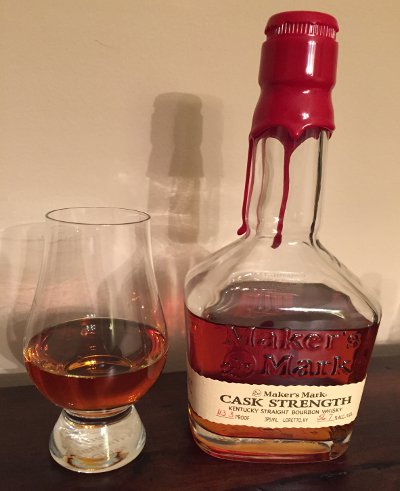 Cask Strength Maker's Mark – Pours a slightly darker golden orange color (not as big as the difference between Four Roses and Cask Strength Four Roses, my only other comparison) with thicker legs that hang around a while. Smells richer, with a more caramelized corn aspect than the regular though it's also got a sorta floral component to it, more spice (but still not a lot), some oak and vanilla come out to play too. I really like the nose after it sits for a while; caramelized corn, oak, and vanilla seem to open up and harmonize into something quite beautiful. Can definitely see the resemblance between the two, but the cask strength is more complex and powerful (as you would expect). Taste is oddly not any more sweet than the regular (maybe even less sweet), but the flavors are certainly more complex. That caramel corn, lots of floral character, almost herbal or earthy notes, heavier on the spice box, but still not especially spicy. Mouthfeel is definitely bigger and bolder, heavier, thicker, and much hotter (again, take into account my baby palate). Adding some water softens it up some, makes it easier to drink, but also mellows out some of the complexity in the nose. Overall, certainly an improvement on the standard expression, richer and more complex. Still not my favorite, but nice. B
Whiskey Nerd Details: 113.3 proof, 56.7% ABV bottled (375 ml). Drank out of a glencairn glass on 2/27/15. Batch No. 14-02
Beer Nerd Musings: Beer is typically a straight up barley malt affair, but both wheat and rye are sometimes used as secondary grains as well (corn is generally derided as a cheap adjunct as it ferments almost completely through and provides little to no flavor in beer – like rice, it is often used in light beer to increase the alcohol without adding any residual sugars…) As with bourbon, rye can add a nice spice component to beer (often used in conjunction with hops in a rye IPA or even barleywine style) and if used in large enough doses, can have a twangy fruit character. Wheat, on the other hand, tends to be a bit more mellow, though it does provide a great platform for weizen yeasts (as in Hefeweizen, etc…) In recent years, wheat has also enjoyed increased usage in small amounts in IPAs and saisons (along with oats and more obscure grains, like spelt), as its mellow nature provides a nice platform and complexity for the other ingredients of beer (like hops or yeast). Of course, wheat has always been around beer and, for example, lambics, dating back hundreds of years. Sometimes wheat and rye even end up in the same brew. It's a crazy world.
In terms of barrel aging, I can only think of one example that I've actually had that was explicitly aged in Maker's Mark barrels. It was Cigar City Capricho Oscuro – Batch 3, which turned out to be a bit overwhelmed by the bourbon (it was not as well regarded as the other batches of that beer). Cigar City also made a variant of Marshal Zhukov's Imperial Stout aged in Maker's barrels that was much better received (albeit super limited). Of course FiftyFifty has made an Eclipse variant using Maker's (though not this year). Oskar Blues finally made a bourbon barrel version of Ten Fidy, and yes, they used Maker's barrels (this is a current release, but I have no idea how common it will be). Of course, I'm sure their barrels are put to use in larger beer barrel programs, like Firestone Walker's or Goose Island's, but those are generally blends of all sorts of barrels…
I seem to have come down on the rye side of bourbon, though obviously I'll need to try some more wheaters to see what's up (perhaps I'll take a flier on a Weller). Still, even amongst the rye recipes that I've seen, I feel like I tend to prefer higher rye recipes. Well, only one way to test that hypothesis. Onwards and upwards, twirling, twirling towards freedom.