Beer has four main ingredients: water, malt, hops, and yeast. There is a tremendous amount of variation in all four ingredients (water being the most unassuming, though there are examples of famous beers that get distinctive character from water, notably beers from Burton on Trent), so whenever I venture out into the world of wine or spirits, I feel a little lost. Where are all the ingredients guys!?
With bourbon, most of what people talk about is the mash bill. Bourbon has to be at least 51% corn, but there's a lot of variation in that other 49%. Rye and wheat are common, and barley is also used. While it's common to pick out yeast character in beer, it's rare to you hear someone talk about that sort of thing with bourbon. However, there has been one exception that I've found, and that's Four Roses. They have two primary mash bills… and five different yeasts. So they have 10 different recipes, all of which are blended together to make the standard "yellow label" Four Roses. Individual variants often show up in single barrel offerings or small batch blends.
What we have here today is the regular Single Barrel (i.e. not the fancy barrel-strength limited edition). Because it's a single barrel, it's got a single recipe, called OBSV. The O means it's Four Roses and the S means it's a straight bourbon (I'm sure there's more to it than this, but bourbon has to be aged in oak for 2 years before it can be called straight). Every Four Roses recipe has those two components. The B refers to one of the two mash bills, this one a bit more rye forward than the other: 60% corn, 35% rye, 5% barley. And the V refers to the yeast, which Four Roses characterizes as giving a "Delicate fruit, spicy, creamy" character. There's no age statement, but from what I gather, these are typically in the 9-10 year range. As someone new to bourbon, it's nice to see Four Roses being so open about their recipes (though I have no idea what those letters really stand for or anything). It makes the homebrewer inside me feel all tingly. Or maybe that's just the booze talking: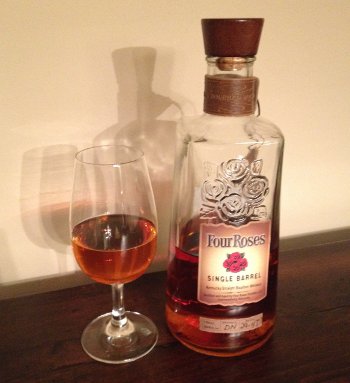 Four Roses Single Barrel – Pours a golden color with an orange tint and no head whatsoever (yes, this is getting a bit tiresome*). Smells like Bourbon! Nice pie spice thing going on in the nose here, cinnamon and the like, but also that underlying sweetness, caramel, vanilla and oak. Taste again hits those pie spice notes, some delicate fruitiness, and that caramel, vanilla, and oak. Mouthfeel is rich, smooth, lots of boozy heat. Overall, I like this a lot and would be super excited to try out the barrel strength version (or the barrel strength small batch stuff). B+
Bourbon Nerd Details: 100 Proof, 50% ABV bottled (750 ml). Drank out of a copita glass. Bottle is at the half-way point.
Beer Barrel Potential: Sign me up, this Bourbon has that nice balance and I suspect the classic caramel, vanilla, and oak combo punch would fit the standard BBA styles. There are several famed beers that are known to be aged in Four Roses barrels. FiftyFifty Eclipse has a Four Roses variant and Cigar City used Four Roses with their straight up BBA Hunahpu's Stout (though this year's fiasco involved rum and brandy barrels, with no straight BBA treatments). Alas, I've had neither of those. Four Roses is, of course, part of a lot of other famous barrel aging programs, like Firestone Walker's and Goose Island's (I've heard rumors of a special Four Roses variant of BCBS, which, you know, sploosh).
So there you have it. Definitely interested in trying some more Four Roses (looks like I missed the barrel strength single barrel, but I'll definitely be on the lookout for the Limited Edition Small Batch stuff in the fall…)
* Tiresome because there's no head, or because I keep making this bad joke over and over again? Take your pick! Alright, fine, it's the latter, I admit it.