U.S. forces have
captured Saddam Hussein
. This is exceptional news! And it figures that I had just
commented
on how intelligence successes are transparent, that we never see them. D'oh! This is a major intelligence victory. We developed an intelligence infrastructure that allowed us to find Hussein, who had
burried himself in a hole
in a family member's cellar. We captured him with shovels. This will most likely lead to an intelligence windfall, as already captured Iraqi officals who may have been biting their tongue for fear of Saddam may start talking... (not to mention Saddam himself)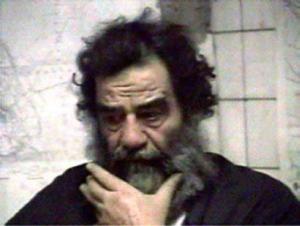 The circumstances of the arrest are about as good as we could ever hope:
It is speculated that he was turned in by a family member (this is looking less likely, I'm not sure how we found him...)
Not a single shot fired, not even by Saddam. He had ample opporunity to shoot himself, but he didn't. That he was captured alive and well will be very beneficial, as it will shut up those conspiracy theorists who would have claimed that it was very convenient that Saddam "killed himself." I've actually seen people who said the same thing about Saddam's sons express suprise that he was taken alive.
That it took so long to get him demonstrates just how dedicated and persistent we are when it comes to tracking down someone of Saddam's importance. I wonder how Osama must feel...
That his actions were so cowardly (and his visual appearance) will go a long way towards demolishing his image.
This will increase support from the U.S. public as well as support from the Iraqi people. A major worry of Iraqis was that Saddam would come back and punish those who cooperated with the coalition. No more. This will allow the Iraqi people to embrace the new government without fear of retribution from Saddam (though they do still have to worry about the terrorists). And this will represent a major blow to the terrorists. No one knows how involved Hussein was in the attacks against coalition forces, but in almost any scenario, this is bad for the terrorists. I believed Bush to be very vulnerable, but this is big for him. The Democratic candidates have been roundly criticising Bush for this, and this will hurt them.
A lot will depend on how things go from here. The impending trial and how it is executed will be very important. We will also need to make sure Saddam doesn't kill himself or get killed (a la Goering or Oswald). If he turns up dead, we'll lose out on a lot.
Lots of others are commenting on this, so here goes:
Gah! Information overload! I could probably find a million other links to put here. Perhaps more later...
Update:
I've been updating the link list like crazy...
| | |
| --- | --- |
| V is for Victory! | A Thumbs up from Kuwaitis |
Update:
Dean Esmay steals my picture
! Hee hee. He's got more
good stuff
as well..
Update 12.15.03:
And I thought yesterday represented information overload. Tons of new stuff appearing today, much of it excellent, and a lot of it having to do with the challenge of what to do with Hussein...