Steve Mumford's latest
Baghdad Journal
is up, and it is, as usual, excellent. In it, he actually focuses on the burgeoning Iraqi art scene (How dare he? I've become so accustomed to his other observations that I was somewhat surprised to see him talking about art. Then I remembered that he is an artist and that his articles are published in an internet art magazine. Duh.) Instead of showcasing Mumford's art, as previous installments have done, this article exhibits the works of various Iraqi artists that Mumford was impressed with (and for good reason, at least according to my unrefined eyes). The artistic community is growing in Iraq, in no small part due to the newfound access they have to information from around the world...
Of the younger generation, Ahmed Al-Safi is a particularly talented painter and sculptor who's managed to make a living selling his art. He paints simple, almost crudely rendered figures reminiscent of the German Neo-Expressionists of the 1980s (whose work he immediately investigated on the web when I told him about them). Ahmed has a wonderful studio in the slummy but picturesque part of town near Tarea Square, where he has bronze-casting facilities.
Emphasis mine. Change is coming to the Iraqi art scene, and while they are now soaking up that which is newly available to them, I find myself eager to see what the Iraqis contribute back to the world art scene...
One widely repeated observation here is that abstraction was a convenient technique for a time when all narrative content was suspect. Everyone expects art to change with the passing of Saddam's regime, though at this point, no one I talked to is making any predictions about future trends in Iraqi art. I've seen no video art and practically no photography in Baghdad. Installation art is unknown. Indeed, few artists in Iraq have even heard of Andy Warhol. Now that communication with the rest of the world is starting to open up, Iraqi artists will discover just how large an ocean they're swimming in.
I'm not an artist, but I know what I like and if the art that Mumford posted is any indication, I hope and believe we'll find that the Iraqis will be strong swimmers in the large ocean of art. More on this subject later...
Update: I just thought I'd pick one of my favorite paintings to display here...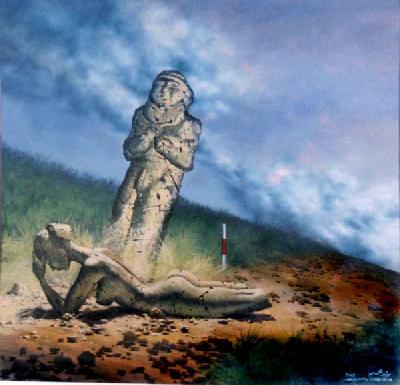 Mumford describes Muayad Muhsin as "a younger surrealist painter from Hilla" and I like this painting a lot. I don't know art, but have some general knowledge of the visual medium from film, and while it may be foolish to apply film theory to art, I think it might provide some insight. The cool colors suggest an aloof tranquility, a calmness, but the oblique angle produces a sense of visual irresolution and unresolved anxiety. It suggests tension, transition, and impending change. The end result is a feeling of calm, but tense and unstable, transition. It seems appropriate...