I stopped in at Wegman's the other night to pick up some beers for presents to my beer club colleagues, and while there I spied this handsome label and a fancy foil cover. I've never heard of Petrus before, but in case you can't tell, I'm a big fan of Belgian beer, so I figured this was well worth a try (apparently this is a practice known amongst beer nerds as Belgian Roulette). So tonight I threw in my Blu-Ray of It's a Wonderful Life, planning to catch up on some blogging and maybe do some wrapping with it on in the background. Of course, it didn't take long, and I simply sat on my couch, mezmerized by the movie (one of my favorites of all time) and sipping on my beer: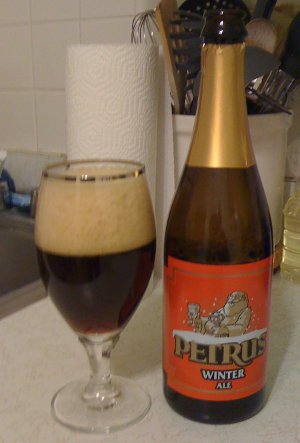 Petrus Winter Ale: Pours a dark red/brown, with a clearish appearance and a nice big light-colored head that quickly dissipates (no real lacing evident). Smells very fragrant, with Belgian yeasts and lots of spiciness apparent. Taste is malty sweet and a little tart, which is unexpected for this type of beer, but not entirely unwelcome either (It's not a sour or anything, but it's there). Lots of carbonation and a medium body make this an easy drink, and the relatively low ABV helps in that respect as well. All in all, not among the best of the Holiday Beers from this year (I think perhaps this would have suffered from double feature with the Ommegang, Bruery, or St. Bernardus beers that take top honors this year…), but a nice change of pace. B
Beer Nerd Details: 6.5% ABV bottled (750 ml, caged and corked bottle). Drank from a goblet.
I think this marks the last new Holiday beer I'll have this year. I'll still got a bottle of Ommegang Adoration and Affligem Noël, one of which I'll bring to share with my family, the other of which I'll hog to myself. And there's also the super secret New Year's ale coming sometime next week as well. Other than that, I've been stocking up on some Stouts and other dark beers, which are at least wintery, if not exactly holiday themed. I'll also probably put an order in for some brewing supplies next week, but now I'm getting ahead of myself.