Remember when Imperial Stouts were special? Just regular stouts that happened to be higher in alcohol than normal? Those things like Storm King, Kate the Great, Darkness, and so on? Then people started going nutso for barrel aged imperial stouts. I should note at this point that I'm not really waxing nostalgic or complaining here, I'm fully on board the barrel aged train to impy stout town, I just wanted to note a progression here. It's not a perfect progression, but in broad strokes it works. We start with big stouts, move on to barrel aging, and then people started losing their minds over imperial coffee stouts (and to a certain extent, they still do). As frequently opined here (I won't shut up about it and I am totally the worst), I'm pretty ambivalent towards coffee. I have gained a certain appreciation for coffee stouts, but I'm almost always wondering what the regular, non-coffeed version would be like.
Nowadays, the trend is towards adjuncts and a kitchen sink of ingredients. Stuff like Hunahpu's, Bomb!, Mexican Cake, and today's beer: Perennial's Abraxas. It's an Imperial Stout brewed with ancho chili peppers, cacao nibs, vanilla beans, and cinnamon sticks. There are other versions with even more ingredients, but this is the regular one lowly mortals like myself can get my hands on. I've not been particularly on the ball with these adjunct stouts, having only had a couple, so let's see if this is a trend worth hunting: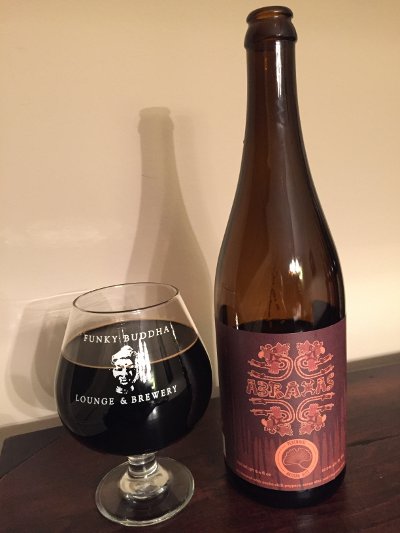 Perennial Abraxas – Pours black and viscous looking with a cap of short lived light brown head. Smells of roasted malts that give it a coffee or dark chocolate feel, with notes of vanilla and spice, definitely getting cinnamon, a little less in the way of chili (though that comes out a bit more as it warms). Taste has a light roast to it, again with the dark chocolate (less in the way of coffee), hints of vanilla, with the chili pepper coming more to the fore here. It's got a bit of a kick to it and the flavor comes through, but it's not really hot either. Mouthfeel is medium to full bodied (I mean, it's not watery, but I was expecting a more substantial body here, especially when considering that it looked pretty thick as I was pouring), very low carbonation, not still, but close, and a little bit of heat from the chili peppers. There's a fine line between a complex beer and an unbalanced mess, and I kinda went back and forth on this one, eventually settling on complex, but it also strikes me as the sort of thing that will be different every time I have it. Overall this is good, and it gets better as it warms, but it's not the mind-blowing stout of the future I was lead to believe it would be. Perhaps a matter of dashed expectations, but it's still a solid beer that I'd totally seek out and drink again. B+
Beer Nerd Details: 10% ABV bottled (750 ml). Drank out of a snifter on 1/22/16. Bottled: 11/2015.
I could see barrel aging pulling this beer together, but from the looks of the trading boards, I don't feel like the hoop jumping would be worth it. This is a fine beer, but even this was too hard to get ahold of…