Every year, a local drinkery puts together a killer taplist on the 4th of July, and for the past two, I've tried to make it over there. Of course, it helps that they're pouring stuff like Hill Farmstead (insert stupid image of Wolverine pining after beer here), and this year there were 2 that I had not managed to wrangle before. In addition, I snagged my first Funky Buddha beer, and a little midwest coffee stout. Let's just say that it was a good day.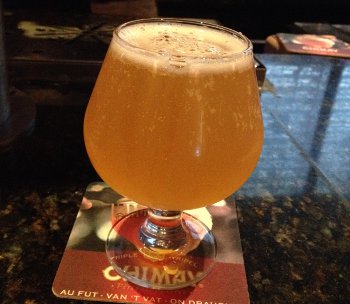 Hill Farmstead Nordic Saison – Pretty excited to try this one, a collaboration with Kissmeyer and Cambridge brewing. Apparently we got some of this before it was even released at HF! Pours a cloudy golden orange color with a whispy layer of head on top that basically just disappears. Smells nice, Belgian yeast, light saison funk, almost fruity notes. Taste follows the nose, light funk, some yeasty character, fair amount of sweetness, a little balancing bitterness in the finish. Mouthfeel is lightly carbonated (generally a problem for me) and a little heavier than your typical saison. Overall, this is a fine saison, but coming from the likes of HF, I generally expect more (Arthur was on tap, and was far superior). B
Beer Nerd Details: ??% ABV on tap (10 oz). Drank out of a snifter on 7/4/14.
Hill Farmstead George – This looks to be a pretty standard American Brown Ale style beer. It's not a style that you would expect to wow you, and it doesn't, though of course, HF's take is amongst the best I've ever had (if not the best). Dark brown color, solid finger and a half of light tan head. Smells about what you'd expect from a brown ale, mild, toasted malt, hints of coffee, chocolate, and roast, maybe a teensy bit of hops, but nothing dramatic. Taste follows the nose, mild toast and roast, well balanced sweetness and bitterness, and so on. Mouthfeel is fantastic, well carbonated, medium bodied, everything blends together well. Overall, this is an exceedingly well balanced, tasty take on the style. It's not going to melt your face, but it's really well done. B+
Beer Nerd Details: 6% ABV on tap (10 oz). Drank out of a snifter on 7/4/14.
So I know what you're thinking, two Hill Farmstead beers and no A level ratings? Well fear not, Abner, Susan, and Arthur were also on tap and are all as fantastic as ever. But after the above two, I jumped ship for my first Funky Buddha beer. They're a Florida brewery that doesn't get much in the way of distribution, but Philly really is a wondertown in that respect, so a few kegs make their way up here from time to time. This offering was, by far, the weirdest thing I had all day.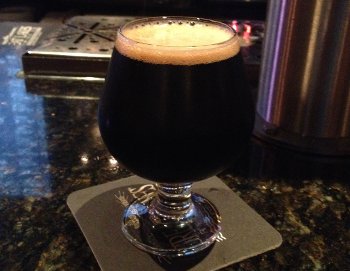 Funky Buddha Last Snow – This is a coffee Porter made with coconut, white chocolate and caramel, and it is weirder than it sounds. Looks like a typical stout or porter, half a finger of fluffy tan head. That coconut and coffee come through strong in the nose. I don't think I'd call it balanced, but it comes off as being toasted coconut or something, and it works. The taste perhaps features a little more of that roasted malt and coffee, but the coconut sweetness still pervades the taste and again, it works reasonably well. Mouthfeel is surprisingly light on its feet, well carbonated, pretty easy going. Overall, it's a really interesting, unique, complex beer. Not something that I'd expect to take the world by storm, but an interesting first impression. B+
Beer Nerd Details: 6.5% ABV on tap (10 oz). Drank out of a snifter on 7/4/14.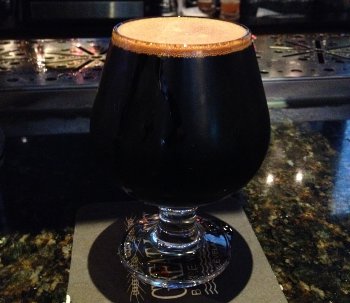 Perennial Sump Coffee Stout – A big ol' imperial stout brewed with coffee. I think we all know how I feel about coffee stouts (I like them, but am still mostly ambivalent about the coffee aspect), so I wasn't expecting much out of this sucker, and it was basically what I expected. My tasting notes are pretty sparse from this point on, so I'm just going from memory here, but this did have a nice coffee character to it, and a solid imperial stout base. It was not a super drinkable stout, and took my a while to work through. I liked it, but was not going as crazy over it as everyone else. B+
Beer Nerd Details: 10.5% ABV on tap (10 oz). Drank out of a snifter on 7/4/14.
So this was a very good day. Lots of new, interesting beer, and some real, genuine classics that I'd had before but will always jump to try again (looking at you, Abner!) Already looking forward to next year's 4th of July celebration!
Posting will probably be light this week, but never fear, we'll be talking great beer again in no time.