Funky Buddha has a reputation for gimmicky sorcery and artificial flavoring. Like most things, this cuts both ways. Some of these beers are absolutely wonderful, others are less successful. As I gather from a Florida-based friend of mine, even the great stuff can get old pretty fast, but in small doses, these can be really fascinating beers (this is something that doesn't hit me as hard, as I only get dribs and drabs once or twice a year, so it's all still a novelty to me). Thanks to that same Florida man, I've recently received a cache of Funky Buddha beers in the mail, so let's dive into a couple of them to see what's kickin' in the sunshine state.
First up is Undefeated Saison, brewed in honor of the Miami Dolphins' 1972 campaign where they became the only NFL team to complete an undefeated season and win the Super Bowl. Back in the day, I had a well worn copy of the Sega Genesis game Madden '93 and used to play with the 72 Dolphins a lot, relying heavily on Larry Csonka, who seemed like an invincible truck. Anywho, the beer bills itself as a "French Countryside Style Ale" (i.e. a saison and my unsubstantiated guess is that it's using the 3711 yeast strain) brewed with Chardonnay and Pinot Noir grape must and fermented with saison and Champagne yeasts. Sounds good, though I feel like this could have been improved with the addition of some Brett and/or a touch of oak. Also needs more Csonka: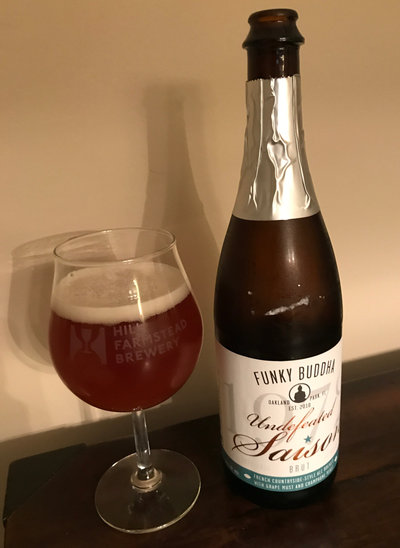 Funky Buddha Undefeated Saison Brut – Pours a orange amber color with a finger of dense white head that sticks around for a while. Smells of vinous fruit, a little 3711 yeasty esters and spice. Taste is sweet and a little spicy, that vinous fruit shows up again and intensifies through the finish. Mouthfeel is medium bodied, highly carbonated and somehow both sticky and dry, maybe even some winelike tannins pitching in. Overall, this is an interesting little saison, nothing to go too crazy over and it begs for some Brett and/or barrel treatment, but it's fine as is (well, maybe a little disappointing, but a far cry from bad). B-
Beer Nerd Details: 7% ABV bottled (750 ml). Drank out of a charente glass on 5/12/17. Released: November 1, 2016.
Next we have Butta' Cup, a double brown ale made to evoke, yes, the fabled peanut butter cup. No brand specified, but you know they're talking about Reese's, because what other one can you really name? I mean, yeah, sure, I know your local chocolatier has a handmade version that is spectacular, but does anyone really think about those? Did you get those when you went trick-or-treating? No. And as I've mentioned before, there's something about peanut butter beer that, while certainly gimmicky, still manages to evoke a feeling of nostalgia and warmth. Or something. So is their artificial flavoring wizardry game doing better than their saison game? Why don't you build me up, butta' cup?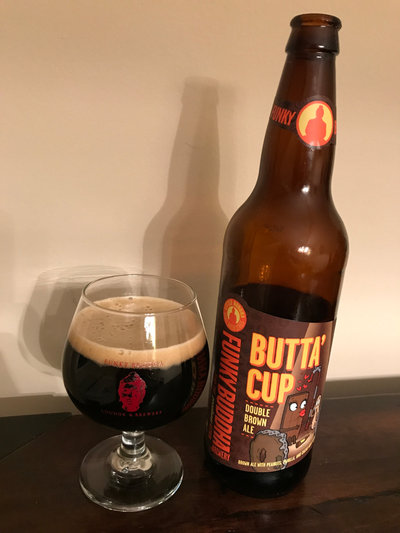 Funky Buddha Butta' Cup – Pours a very dark brown color with a finger of light tan head. Smells of peanuts, vanilla, and a little chocolate, as advertised. Taste has a nice sweetness to it, less peanut butter than the nose would imply, less chocolate too, but a good amount of vanilla. Mouthfeel is medium bodied, well carbonated, a little astringent, but that goes away as it warms. Overall, this is really nice. B+
Beer Nerd Details: 8.8% ABV bottled (22 ounce bomber). Drank out of a snifter on 5/12/17.
So a pretty good showing here, nothing to rival the best of Funky Buddha that I've had (Last Snow and Wide Awake It's Morning), but they're always interesting, that's for sure.