Along with the Oude Geuze, Drie Fonteinen's Oude Kriek is one of their flagship beers. It is basically youngish lambic aged on macerated cherries (pits included!) and refermented in the bottle. I'm reviewing one of the 2015 vintages, but the most intriguing vintage is the 2009.
Drie Fonteinen has been around in some capacity for over a century, but most of that time they were basically a blender. They would buy inoculated wort from lambic producers, then age and blend it. In 1999, they leased a brewing system and started producing their own lambic. In doing so, they became the first new lambic producer in over 80 years. It was pretty good timing too. Lambic was thought to be near dead in the early 90s, but the winds were shifting, and apparently Drie Fonteinen had their finger on the pulse, because the 2000s saw a dramatic increase in interest in Lambic.
This progress call came to a screeching halt one day when Armand Debelder entered his warehouse to find a catastrophic failure of his climate control system. In what's become known as the "Thermostat Incident", a hot air blower essentially never turned off, raising the temperature of the warehouse to 60&deg:C (14060&deg:F), essentially cooking over 80,000 bottles of lambic and even causing a few thousand to explode. Most of the lambic was ruined, and the 10 year lease of brewing equipment was coming due. Armand had to temporarily scrap his brewing operation and find ways to recoup. There were several strategies to do so, but the short story is that they're back to brewing again, and their future is bright.
One way they recouped was to take some of the cooked geuze and distill it into eau de vie called Armand'Spirit. They were also able to salvage a few thousand bottles of the Oude Kriek, which were released with a sticker that says "Saved from Thermostat Incident" and eventually became referred to as "Hot Cherry" bottles. You still see ISOs for these now and again, but reviews are difficult to suss out. It's hard to beat the romantic story behind it, of course, but that also tends to color impressions. Of course, this is all academic for me. It is unlikely that I will ever see a bottle of the stuff, let alone taste it, but a man can dream. In the meantime, let's check in with the current humdrum vintage: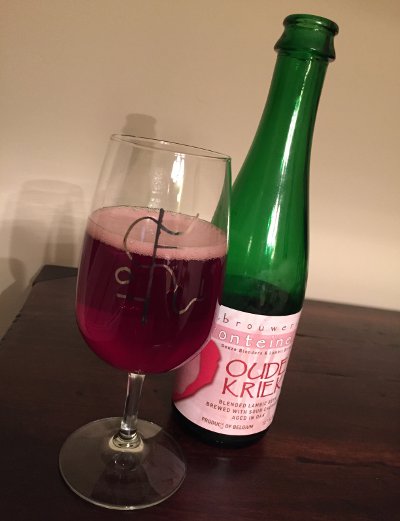 Drie Fonteinen Oude Kriek – Pours a striking, clear, radiant dark ruby color with a finger or two of fizzy pink head. Smells great, lots of tart fruit, cherries, blackberries, and the like, big funky earth character, and oak. Taste takes on a bright fruit character, lots of that cherry comes through strong, the earth and oak are present towards the finish but toned down a bit in favor of the tart fruit, and the moderate sourness anchors most of the taste. Mouthfeel is medium bodied, well carbonated, moderately acidic, maybe a hint of stickiness, but it's not syrupy. Overall, a rock solid Kriek lambic, not quite Cantillon levels, but on the same playing field. A-
Beer Nerd Details: 6% ABV bottled (375 ml caged and corked). Drank out of a flute glass on 12/5/15. Bottled: 2015 January 18th.
Drinking 3F is always a pleasure. Bottles are hard to come by, but not quite as impossible to find as Cantillon these days. Definitely something to keep an eye out for, and usually worth paying a premium for…