Drie Fonteinen has been around since 1887, and they've been making geuze style beers since then. Well, technically, they purchased new and old lambics from other breweries and blended them together (as befits the style). Since they opened, they've gradually been expanding the operation over the generations, to the point where they now have their own production brewery. But seeing as though geuzes are always comprised of a blend, they've kept that skillset up to date as well. Indeed, the guy they put in charge over there, Armand Debelder, is called a Master Blender, and if you get your jollies by obsessing over top lambic lists, you'll see that he's well deserving of that title.
Your typical geuze is a blend of 1, 2, and 3 year old lambics. What we have here incorporates 4 year old lambic as well, clocking in at about 25% of the blend. The rest of the blend is comprised of a "secret" allocation of 1, 2, and 3 year old lambics, because, you know, Master Blenders gotta put food on the table. Given the expense of aging beer, the thirst of angels, and the extra year needed to produce this, the cost of entry is a bit on the high side here (hence the "golden" blend). Is it worth it?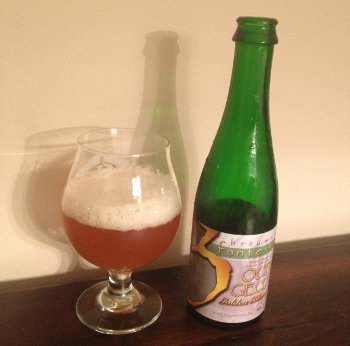 Drie Fonteinen Oude Geuze Golden Blend – Pours a very pretty golden orange color with a couple fingers of fluffy, big bubbled head that seems to fade into a more dense head with decent retention. Smells of musty funk with a big oak element. Taste starts off sweet, with that oak hitting pretty quickly, but then yielding to tart, fruity flavors that escalate into full blown puckering sourness towards the finish. As it warms up, that sourness intensifies even further. Mouthfeel is highly carbonated, effervescent, crisp, with an extremely dry finish. Overall, this is a great beer, certainly a step up from their regular Oude Geuze, and among the best that I've had. A-
Beer Nerd Details: 6% ABV bottled (375 ml caged and corked). Drank out of a tulip glass on 6/14/13. Bottled 02/17/2011. Good until 02/2021.
I've seen people saying that this bottle is sitting on shelves with absurd price tags upwards of $40. But then, it's also on Etre Gourmet for 11 Euros, so do the math on that, and even with absurd shipping costs it's cheaper to order it direct from Belgium. On the other hand, more reasonable prices in the $20-$25 range might be worth it if you're a huge fan of the style… Certainly not a beginner beer though.