For anything that is primarily blended, there's this instinct to see what individual components would taste like. You see this a lot in whiskey, but there are plenty of other applications as well. Take this series of Mono Blends from Boon. Each is primarily composed of lambic from a single foeder (blended with a very small amount of young lambic for bottle conditioning purposes), and this is the third one that I've had. Unfortunately, I've had them over the course of 2-3 years, so this isn't exactly a side-by-side comparison, but I feel like all three have been somewhat distinct.
Vat 77 was very earthy with a big kick of minerality. Vat 79 was noticeably more fruity and tart, though it still retained that mineral character that I seem to get out of all of Boon's lambic. Now we've got Vat 109, a 9000 liter cask built over a hundred years ago (approx 1910 timeframe) and originally made to be used in beer production. That being said, it was used to age Cognac starting in 1935 up until Boon got their hands on it in 2009. This particular batch was brewed in 2014 and released in 2016, only showing up on my local shelves recently (at least, that I saw). With acknowledgement to the infamously unreliable nature of memory, I'd put this somewhere on the continuum between Vat 77's earthy minerality and Vat 79's more fruity character, though all have what I'm coming to recognize as Boon's trademark character.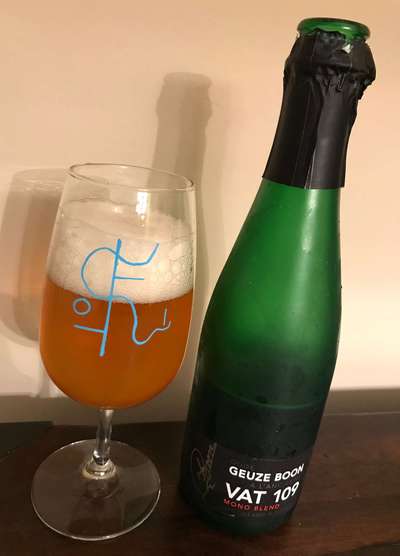 Boon Oude Geuze A L'Ancienne Vat 109 Mono Blend – Pours a hazy golden color with a couple fingers of fluffy, fizzy head that manages to stick around for a bit. Smells great, lots of earthiness, that trademark Boon minerality, and something brighter, fruitier in the background. Taste hits that mineral character pretty hard, lots of earthy funk, with a touch of sourness and fruit only really emerging in the finish. Mouthfeel is medium bodied, highly carbonated, crisp, and effervescent, lowish acidity. Overall, this is another solid offering from the Mono Blend line, maybe not quite as great as 79, but still damn good. B+
Beer Nerd Details: 8.25% ABV bottled (375 ml caged and corked). Drank out of a geuze tumbler on 11/4/17. Best Before 04/19/2025. Batch #: 71312.
I have some extra bottles of Vat 79 and now 109, so maybe one day I'll be able to do a better, side by side comparison (perhaps we can wait until we get some additional batches out there), which would be entirely more reliable than drinking these suckers months/years apart and trying to discern the differences that way.