So it's called "Black Label" despite the fact that the label is clear? Well, ok then, fine, be that way. What we have here is an oude geuze blended to commemorate the brewery's 40th anniversary. It's indirectly the result of a collaboration with Mikkeller, but since the barrels that Mikkeller blended were not empty, Boon decided to put out their own version. The resulting beers should be similar, but since the blends use differing proportions, the results are slightly still distinct. Mikkeller's goal was to blend a lambic that was as dry as possible, almost 100% attenuation. However, the Black Label contains less older lambic (it's still got 1, 2, and 3 year old lambic in there though, so no worries) and is thus more full-bodied and slightly less dry.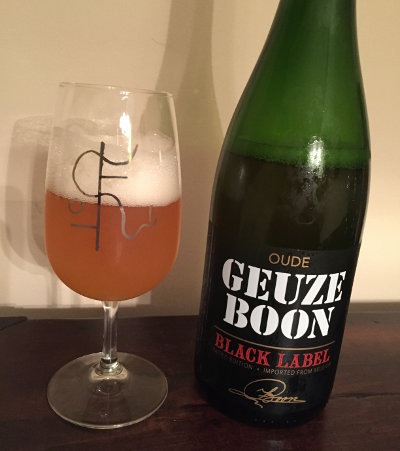 Oude Geuze Boon Black Label – Damn that cork pops with authority. Watch where you aim that sucker. Pours a hazy golden orange color with visible carbonation bubbles and tons upon tons of bubbly white head that sticks around for a bit. Smells nice and funky, some light stone fruit and lemon zest but also some spice and earthy notes, typical Boon house style stuff. Taste hits those fruity notes harder than expected, tart lemons, finishes dry, less of the earthy funk, but it's still there. Mouthfeel is bone dry and effervescent, light bodied, moderate acidity, this is where things diverge from your typical Boon offerings, in a good way I think… Overall, this is quite nice, like a drier version of Boon's other offerings and better for it. A-
Beer Nerd Details: 7% ABV bottled (750 ml caged and corked). Drank out of a flute on 5/29/16. Bottled on: 26/03/2015. Best by: 26/03/2035.
I hesitate to say that this is something that you'll see on shelves since this sold pretty quickly around here. Not, like, people lining up for it, but I got the last bottle a couple days after it went on shelves. I'm sure it's around elsewhere and I'd like to see how it ages, so I'm going to try and track down another bottle or two. Boon continues to be a nice solid option when in need for a lambic fix. Not as good as the big two (3F and Cantillon), but generally available… and sometimes you can find specialty variants like this one, which is nice. Stay tuned, we've got another Belgian wild ale review coming later this week!