Another entry in Boon's Mono Blend series, kinda like a singe barrel offering, only it's got a touch of young lambic blended in for bottle conditioning. Still, it's an interesting series of beers. Vat 77 consisted of 2 year old lambic and was very earthy and minerally, but here we have Vat 79. It's the oldest foeder at the brewery, dating back to 1883. In addition, according to the brewery:
So old that we do not know. The oak comes from oak trees that are almost 250 years old, which means your lambic is matured with trees planted between 1670 and 1680.
Sploosh. Rumor has it that Vat 79 is mostly used as a component for the Mariage Parfait blends (which are mostly 3 year old lambic).
An anecdote from an old brewery webpage: An American lady that tasted lambic from the No. 79 cask said it was "Boon to be Wild". Well that sounds good to me, let's dive in: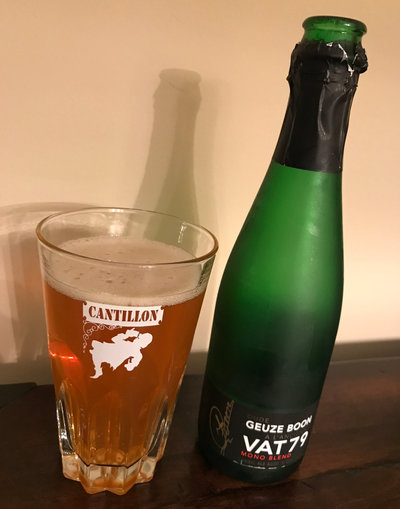 Boon Oude Geuze A L'Ancienne Vat 79 Mono Blend – Pours a slightly hazy golden color with a finger of white head that has good retention. Smells nice and earthy, funk, that trademark Boon minerality, something a little fruity lurking in the background. Taste hits with sweet, fruity notes up front, followed by funky earth and minerality, finishing with oak and tart fruit. Mouthfeel is medium bodied, highly carbonated, moderately dry, medium acidity, a nice oaky character to the mouthfeel too. Overall, this is one damn fine geuze, better than Vat 77 for sure, and stacks up favorably against the competition. A-
Beer Nerd Details: 8.8% (back label) or 9% (front label) ABV bottled (750 ml, caged and corked). Drank out of a geuze tumbler on 4/29/16. Batch #62203. Best Before 12/17/2034. Brewed on the 19th and 20th of 2011. Bottled 17th Dec 2014. Released April 2016.
There have been two other Mono Blends released, Vat 44 and Vat 109, but I have yet to see those around just yet. I will most certainly be keeping my eyes peeled for those…