Sometimes you have a beer and it's great, but you wonder what it would be like if they only stuck it in Bourbon barrels. If you're like me, you think that about most beers, but one beer that stuck out for me has always been Lost Abbey's Serpent's Stout. It's pretty fabulous on its own, but just imagine the majesty that would result from a Bourbon barrel treatment! So when I saw that they made another batch of Track #10 (after the initial Boxed Set, they rebrewed some of the more popular tracks), I jumped. High. For the uninitiated, Track #10 is basically Serpent's Stout aged in Bourbon Barrels with real Meatloaf. No, wait, sorry, that's not Meatloaf, it's a much more harmonious Coffee and Chocolate combo. According to this video, the coffee is from Ryan Bros and was steeped in the beer using L'eggs Everyday Knee Highs purchased from a local CVS. TMI? Too bad, because despite my infamous disdain for beer made with coffee, this is some pretty spectacular stuff: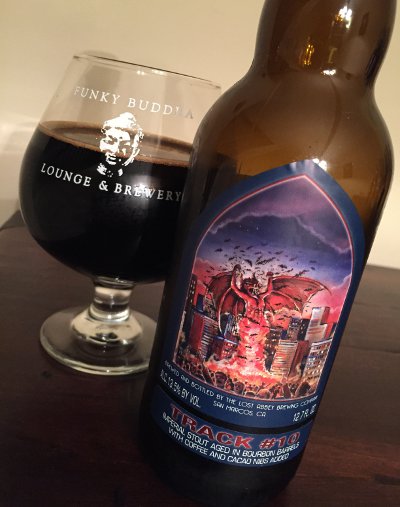 Lost Abbey Track #10 – Bat Out Of Hell – Pours a deep, dark brown, almost black color with a light brown head. Smells utterly fantastic, lots of rich chocolate, some coffee, caramel, oak, and vanilla. As these things go, the nose is quite well balanced, not betraying a dominating factor. Taste starts with some sweet, rich caramel, moves on to more roasty, coffee-like flavors, followed by chocolate and maybe even some hop bitterness in the finish. Really nice balance between roast, chocolate, and light on the coffee (my kinda coffee beer). Mouthfeel is full bodied but well carbonated, slightly astringent from the coffee and and a little boozy, some stickiness in the middle, but drying out a bit in the finish. Overall, a pretty fantastic little number, but I kinda wish they made a straight up BBA Serpent's Stout. A-
Beer Nerd Details: 13.5% ABV bottled (375 ml caged and corked). Drank out of a snifter on 9/6/15.
As of right now, I believe only Track #8 and Track #10 have been rebrewed, but who knows. Maybe we'll see more tracks from the box set someday… Or perhaps just a straight up BBA Serpent's Stout…