As previously mentioned, Tired Hands really gets into the spirit of the Halloween season. Last year, they made a series of beers named after classic monsters like Vampire, Zombie (a personal favorite), Ghost, Goblin, and so on. This year's theme appears to be 80s horror monsters, including some suitably obscure choices that warm this jaded horror movie lover's heart (if you're so inclined, check out my generalist blog, where I've been marathoning horror movies for about six weeks at this point). As I write this, Tired Hands is hosting their All Hallows' Eve Supper which features all of these beers and food pairings (not to mention an exclusive, Captain Howdy, which sounds rather great). Alas, I was not very quick on the gun for that, so no supper for me. I'll have to content myself with the regular awesomeness of their beer. So let's do this:
Jason – 6.9% citrus IPA – Awesome juicy ipa, citrus and pine hops, nice bitterness in the finish, just great! I feel like I should have more to say about this since I really enjoyed it, but I'll just note that Friday the 13th Part VI: Jason Lives is arguably the best of the series (with strong contenders in IV and of course, the original). A-
Pinhead – 5.9% ABV saison with cascade, Simcoe, and Amarillo hops – Nice blend of saison and pale ale attributes, a little sweet saison spice upfront with the hops hitting in the middle and contributing a nice bitterness to the finish. In other news, they're remaking Hellraiser. Barker is involved, which is promising, and it's hard to be annoyed by this when there are literally, like, 7 sequels, most pretty terrible. On the other hand, dammit Clive, we need you to finish that third Book of the Art you started writing, oh, 20 years ago (though apparently the manuscript for The Scarlet Gospels, another book he's been talking about for decades, has been sent to the publisher, so that's cool)! And now that I've spent more time talking about Clive Barker than the beer itself, I'll stop. B+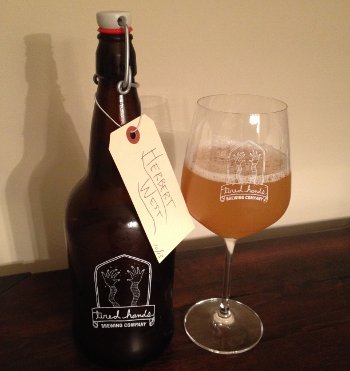 Herbert West – 7.6% ABV Coffee IPA Ethiopian Worka beans courtesy of ReAnimator coffee in Philly (hence the name of this beer) – An interesting spin on your typical Tired Hands IPA, juicy hops of course, but the coffee adds something that doesn't immediately read as coffee. Easy to pick out when you know it's there, but the character is more earthy and almost chocolaty than your typical coffee. In other news, don't you think that the severed head from Re-Animator looks an awful lot like John Kerry? A-
This next beer is a sour wheat saison brewed with PA wildflower honey and fermented atop passion fruit, lime, and grapefruit. Jean kept posting pictures of the pellicle on Twitter, but when I looked at it under my electron microscope, I saw this: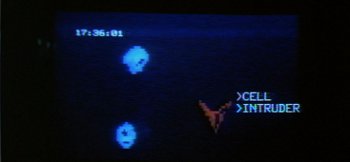 The Thing – 6% sour wheat fruit saison – Um, wut? Halp, this am so fruity that I can has lolcat speech. For realz, this is very strange and quite pleasant, tropical fruit all over, light tartness that is perfectly balanced, sorta like a bigger, stronger Berliner Weiss, really nice! Also, The Thing holds up pretty damn well. Best damn practical effects ever. A-
Freddy – 8% robust porter – Dark like my nightmares, not your typical porter, lots of complexity, chocolate, coffee, very light roast, hint of caramel, smooth as can be, easy going. Keep picking out new flavors as I drink. Really solid stuff! I know Robert Englund got a little down for a while because he was so well known for this one character, but he's become this great horror icon, a grand old man in the genre, and he's raised the profile of a lot of small horror movies in the past decade, so good on him. And Freddy (at least in the first film), is still fantastic. B+
Emerald Skeletons Listening To Your Footsteps – 7.5% IPA – I suppose this is arguably not part of the Monsters series, but it sounds pretty scary, and apparently Emerald Skeletons are gigantic spiders, which are terrifying in themselves, so I'm including it. And yep, another typically great Tired Hands style IPA (at this point, I'm pretty sure I can pick out their IPAs blind), standard citrus and pine, maybe some floral hops too, interesting complexity beyond the hops that's hard to place, but all is well balanced and it's really nice stuff. A-
Blonde Zombie – 11.5% imperial honey IPA – This is basically the same beer as last year's Zombie, but without any of the dark malts. Whoa, this is really nice, citrus, pine, and floral hops in the nose and taste, a little sticky, but it doesn't feel like 11.5% at all. Dangerously drinkable for such a monster (pun intended!)… I might still prefer the original Zombie, but this is still a great beer. Favorite zombie movie I saw during my horror movie marathon this year: Pontypool. It doesn't quite stick the ending, but it's pretty solid (but then, I'm not much of a zombie fanatic, so take this with a grain of salt). A-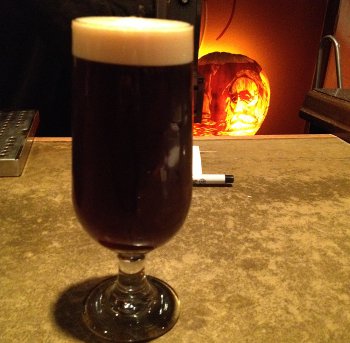 Marty Rantzen – 6.8% smoked gourd brown ale – I love the obscurity of this beer name's reference, and if you haven't seen Slaughter High, um, well, you're in for something strange. For instance, during a sex scene, the girl asks the guy for a little mid-coital dirty talk and he responds with "Uhh..tits! Screw! Tits!" He's a poet, I guess. Also notable, someone is dispatched with… a "poisoned" can of Pabst Blue Ribbon (that or it's just regular PBR, they never really say). Oh yeah, the beer. It's a straightforward brown ale base with some added complexity (presumably from the smoked gourds, though I can't really pick them out), nice toasted malt character, easy drinking. I like. B+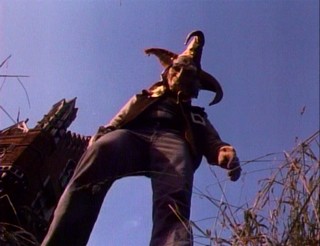 So there you have it. A pretty interesting bunch of beers, actually, so kudos to Tired Hands. Moar holiday beer reviews to come later this week.