Every month, a bunch of friends and I get together at a local BYOB and drink lots of beer. I seem to have run out of beer puns for this month, but there was no shortage of beer at tonight's gathering (despite only 7 attendees):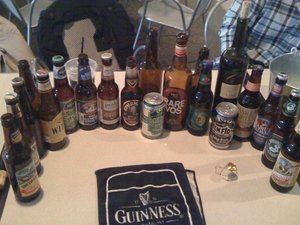 (Click for bigger image)
No real theme this month, but lots of new beers, along with some new ones. Not all of the pictured beers were cracked open, but most of them were (I believe only 4 left unopened, though there was still some beer left in a couple bottles). For reference, here's what I tried:
Sea Dog Wild Blueberry Wheat Ale – Intense blueberry aromas and very fruity taste. Overwhelmingly blueberry. Not bad, but not especially accomplished either. C+
Unibroue Éphémère – Again, an intense sour apple aroma and flavor, this one is much better balanced and an interesting beer. I've actually had this a few times before, and it's something I've always enjoyed, even if it's not my favorite of Unibroue's offerings. Everyone seemed to enjoy it though, and it's probably a good gateway craft beer. B
Southampton Biere De Mars – A very nice looking beer, with a nice spicy aroma and a flavor that is quite unusual, but still drinkable. The consensus among attendees was somewhat mixed, but I enjoyed it, even if it's not exactly a favorite. There's a flavor there that I couldn't quite place, but which made this a rather unique tasting beer. Fellow beer club members had a similar feeling. I'll give it a tentative B
Ommegang Rare Vos – One of my all time favorites, I've actually got a bottle of this in the fridge, so expect a full review… at some point. A great beer though, and very popular with the beer club crowd, even with the non-beer nerds.
Victory Prima Pils – I have had many of these over the years, and it's one of those beers that tastes very different out of the bottle than it does on tap. And honestly, I think I prefer the bottled version. For a pilsner style beer, it's extremely hoppy, but I rather like that distinction. Well worth a try, and probably something I'll give a more thorough review to later. For now, I'll leave it as a B+
Oskar Blues Gordon Imperial Red Ale (aka G'Knight) – One of my contributions for the night, and a solid DIPA. Expect a full review at some point in the near future. Beer club crowd seemed to enjoy it, despite it's hoppy nature.
Peak Organic Simcoe Spring Ale – It's got that pine resin aroma and flavor from the Simcoe hops, but it's otherwise a pretty standard IPA. Not particularly popular with the overall beer club crowd, but it's solid, if nothing special. B
Long Trail Pollenator – Holy shit, is this a terrible beer. And of course, I ended up taking more of this than most other brews. I immediately regretted the decision. Tasted like skunked piss. My first F since starting the blog.
Oscar Blues Ten Fidy – A very roasty 10.5% stout. I enjoyed it, but those who don't typically go in for stouts didn't seem to care for it. Not to get all sexist or anything, but all the guys seemed to enjoy it, while the females seemed to dislike. I have a couple more of these, so expect a full review at some point in the indeterminate future.
Leinenkugel's Summer Shandy – Smells and tastes of a sorta carbonated lemonade. Very little beer flavor and I really did not enjoy, though some of the more girly beer club members seemed to like it. D
Blue Point Spring Fling – A very average pale ale. Not bad, but absolutely nothing special about it. Profoundly average beer. C
My Homebrew Tripel – I brought a nice 22 oz bottle of my tripel, which has really undergone a transformation since bottling. I've been trying about one bottle per week since I bottled, and it's gone from an overly-sweet and under-carbonated beer to something much more drinkable. It used to be a very bright orange color, but it has since matured into a more appropriate lightish brown color. The taste is still a little too sweet and too alcoholly, but it's still a pretty good attempt, and I have a feeling it will mellow out with more time. Expect a more thorough review of this homebrew at some point. If nothing else, I do believe it came out better than my first attempt. This was one of the first beers we opened though, and someone did mention that it could have been a bit of a palate-killer because it's so intense (but luckily most people only took a small sample). It certainly was a strong beer – more than one person commented that they got the sorta wine-flush feeling from the alchohol. So far, I'm pretty happy with this beer, and I think it's only been getting better with time.
Dana's Maibock Homebrew – Fantastic homebrew brewed by my friend Dana from a Mr. Beer specialty kit. Very sweet with a nice tang in the finish that I couldn't quite place. Still, very enjoyable beer, maybe my favorite from Dana's homebrewing efforts. Most of the Mr. Beer stuff is pretty average (and Dana also brought a Red Ale which was pretty normal stuff), but their specialty kits seem to produce some really good beers, and this one is a prime example (I also rather enjoyed Dana's specialty Tripel from a while back). We made a deal to trade some of my tripel with some of her maibock. Excellent stuff
So yeah, I suppose you could take the ratings above with a grain of salt (as conditions were not optimal for tasting), but I think the ones I actually rated are pretty accurate. And several of the others will be reviewed on this blog in the near future. It may seem like the above are pretty low, and there were definitely a couple of real stinkers, but some of the ones I didn't provide a rating for will most likely come in to the B to A range, so there were definitely some great beers that were available tonight…
All in all, another successful outing for the beer club. I was surprised at the amount of beer that we ended up getting through, even if we did leave some of the beers pictured above unopened (though I will say that the only unopened beer that I've never had before was the Breckenridge Vanilla Porter). As always, I'm already looking forward to next month!