When I started this blog, I was generally looking to write about every new beer I tried. I learned a lot, which was the point, but I'm also sure it was boring. Being the 3583756th blog to review Sierra Nevada Pale Ale isn't particularly constructive or, frankly, all that interesting. I don't want to read that, let alone write it and inflict it upon you. So what I'm getting at here is that I might not review every beer I try anymore, and I might do more posts like this, with just a few quick hits on mildly interesting beers I've had lately. In fact, this has been happening for a while now, and it's part of the reason I feel like everything I review is really good – I'm not putting much energy into those bad beers. Anyways, I'm sure you're devastated by all this, but I'll try to make up for it by drinking and reviewing interesting beer and maybe even writing things that aren't just reviews. So for now, let's just look at a few beers I've had over the past couple months, but which haven't inspired posts of their own: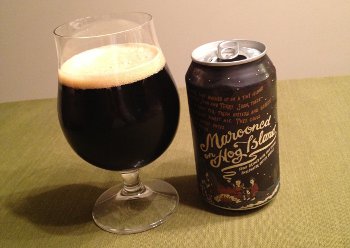 21st Amendment Marooned On Hog Island – Jay loved this and I always fall in love with 21st Amendment's artwork, but then, I'm not a particularly big fan of oyster stouts either. Something about the salinity that most of them have just doesn't work that great for me, though it can make for an interesting change of pace. This one pours a black color with a finger of tan head. Smells of sweet roasted malts along with something I can't quite place (brininess? Presumably the oysters…) Taste is straight on stout, sweet with plenty of roasted malt and that briny oyster character coming through towards the finish, which retains a bitter roast too. Mouthfeel is very nice, well carbonated, lighter bodied than I'd expect, but still substantial. Overall, it's a solid beer, but it didn't hit me in the gut like I wanted. B
Beer Nerd Details: 7.9% ABV canned (12 oz). Drank out of a tulip glass.
Duck-Rabbit Wee Heavy Scotch Style Ale – Man, Duck-Rabbit sounds like it'd be right up my alley – a brewery specializing in dark ales? Sign me up! And yet I'm almost invariably disappointed by their wares. Granted, I haven't had anything other than their regular lineup, but still. I like Scotch ales, but this one doesn't feel like the style at all. It pours a deep, dark brown, maybe copper color with a finger or two of fluffy light tan head. Smells rather odd, kinda like a soda. Caramel and fruit are there, but perhaps a uncommon yeast character is showing up as well. Taste is similar, plenty of caramel, some fruit, and that soda-like character from the nose. Mouthfeel is more carbonated than expected, and I'm guessing this has a higher attenuation than your typical scotch ale. I mean, it's not dry, but it's nowhere near what a Scotch ale is supposed to be either. Feels a little unbalanced, sloppy, though it's not at all unpleasant. Overall, I guess I'm just not feeling this one. Certainly not a bad beer, but a little disappointing and not really on-style. B-
Beer Nerd Details: 8% ABV bottled (12 oz). Drank out of a tulip glass.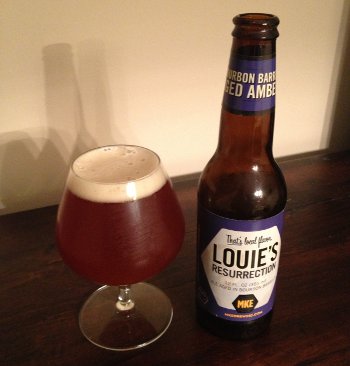 Milwaukee Brewing Louie's Resurrection – I got a pair of these beers in that trade that brought me a bunch of Three Floyds, and I had one right away that was pretty darn good. Not mind-blowing, but a really nice bourbon character mixed with a typical malty red ale. Solid stuff, but then I think I let the other one sit around for a bit too long. It pours a brownish amber color with a finger of off white head. Smells of toffee, caramel, light bourbon. Taste hits with that toffee and caramel right away, very sweet start, rich flavors, mild bourbon character, some euro hop flavor. Mouthfeel is medium bodied, well carbonated, very easy drinking. Overall, a very nice beer. Not going to expand consciousness or anything, but good. B+ (fresh) or B (not so fresh)
Beer Nerd Details: 7.5% ABV bottled (12 oz). Drank out of a snifter.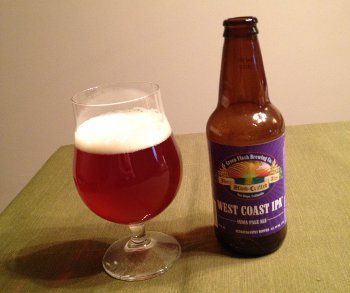 Green Flash West Coast IPA – This one would probably qualify as a boring review of a regular beer, but it happens to be my first Green Flash beer ever, which is surprising given their wide availability in the area. Will have to seek out more from them. This one pours a deep orange color with a finger of white head, plenty of lacing. Smells like an IPA! Lots of citrus and pine hops. Taste follows the nose, a little more crystal malt character than I was expecting from a "West Coast" IPA, but as an east coaster, this does not bother me at all. Again with the citrus and pine, maybe some herbal spice too, nice bitter finish. Mouthfeel is medium bodied, crisp, easy drinking stuff. Overall, solid beer! B+
Beer Nerd Details: 7.3% ABV bottled (12 oz). Drank out of a tulip glass.
Deschutes Obsidian Stout – This one came to be via my first BIF trade (which is something I'll explain in a later post). Pours a very dark brown color with a couple fingers of fluffy, light brown head. Smells like a sweet stout, caramel malts and some roast apparent, but also maybe some floral, citrusy hops. Taste starts sweet, with a light roastiness emerging quickly and lasting through the finish. Some floral and citrus hops make themselves know, but they're not aggressive, just adding a nice complexity and balancing bitterness to the brew. Mouthfeel is well carbonated, with a slightly yet pleasant astringent character, medium bodied. Overall, it's an above average stout, more along the lines of what I look for in a stout. It didn't blow my mind, but it's a worthy brew. B+
Beer Nerd Details: 6.4% ABV bottled (12 oz). Drank out of a tulip glass.
So there you have it. Tomorrow, we return to the realm of amazing barrel aged monsters, so grab your broad sword and strap on a shield, things are going to get elemental up in here.