We've already established that Funky Buddha has a thing for kooky ingredients that they are mystically able to incorporate into good beers. Now it's time to take a look at a more unassuming take on a classical style. Sure, it's got oats and lactose, but those aren't particularly unusual in a big imperial stout, so this is about as close as it gets.
At first glance, I could not find any information on this fellow Nikolai Vorlauf, so I concocted a story based on the bear pictured on the label. A performer at the infamous Moscow State Circus, Nikolai got himself into trouble when he started walking on his hind legs and… exposing himself to passers by (hence the censored strip on the label). Thus began Nikolai's decades-long quest for revenge upon the cruel taskmasters at the circus. Alas, this speculation was foiled by the truth (imagine that!) It turns out this beer is named after two different things. One is Nikolai Volkoff, a WWF wrestler famed for his bearhug (he teamed up with The Iron Sheik to win the tag-team championship at the first Wrestlemania). The other is a brewing term, vorlauf, which is the process of clarifying the wort being drawn out of the mash tun. Not as fun as my version, but hey, it works: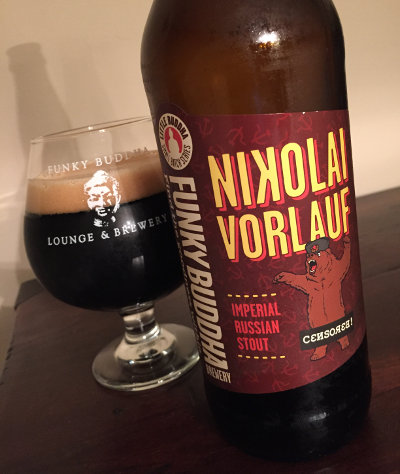 Funky Buddha Nikolai Vorlauf Imperial Stout – Pours a very dark brown color, almost black, with a finger and a half of tan head. Smells sweet, caramel and vanilla, hints of roast. Taste starts off sweet, that caramel and vanilla are here, typical milk stout feel too, a light smokey roast emerges in the middle, finishing on another sweet note. Mouthfeel is medium to full bodied up front, but thinning out in the finish, low carbonation, maybe a hint of booze. Overall, this is rock solid, but nothing exceptional. B+
Beer Nerd Details: 9.5% ABV bottled (22 ounce bomber). Drank out of a snifter on 7/15/16. Bottled on 11/18/15.
Many thanks to Kaedrin beverage compatriot Steve for slinging this my way. More southern Florida goodies will be had in the near future, for sure, so stay tuned.