Not wanting to (literally) beat around the bush, beer has a relationship with weed. Not one that I'm especially interested in or care much about (not my thing), but it's hard not to recognize the affinity amongst certain infamous brewers. There's often an almost certainly false speculation that hops and marijuana are biologically related, mostly because they sure look and smell similar. Then again, this requires a working knowledge of biology and, well, my main takeaway from this examination is basically: "1) Don't become an angiosperm taxonomist unless you love frustration, because 2) taxonomy can be a giant pain in the butt." Which is to say, well, they're both plants and it passes a literal sniff test, so that's probably good enough for most.
So what the hell am I talking about weed for? Well, after my exhaustive research session of searching Google for "Sour Diesel", this beer is clearly named after an infamous strain of Marijuana. Not sure why that's a great name for weed or beer though. I mean, yeah, I guess it indicates a certain dynamic flammability, but that's not generally something I look for in beer. Anywho, starting life as a stout made with chocolate rye malts and fermented in oak barrels, this was then soured (er, sour dieseled?) with lactobacillus (no mention of Brett or Pedio, for what it's worth). The label sez it's a "satisfyingly dank experience", so let's find out: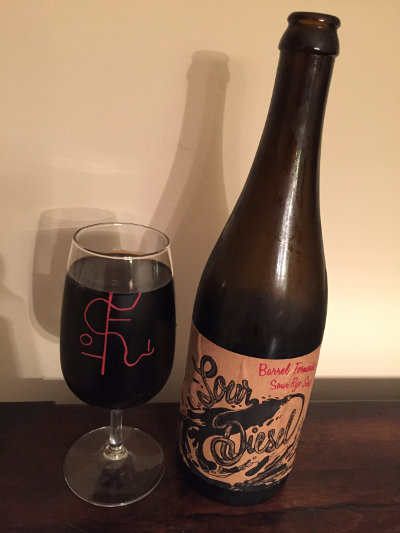 Burley Oak Sour Diesel – Pours a very dark brown color, almost black, with practically no head whatsoever. Smells nice, fruity, that sour twang, maybe some cherries. Taste hits those sour cherry notes hard, lots of dark, sour fruits, some heft from the dark malt, a little one note, but tasty. Not particularly dank, but sure, it's sour. Mouthfeel is medium bodied, low carbonation (maybe just enough, but lower than I usually want out of a beer like this), moderate sourness. Overall, this is a nice lactic sour, a little one note, but a good enough note. B
Beer Nerd Details: 7% ABV bottled (750 ml). Drank out of a flute glass on 9/10/16.
One more Burley Oak sour in the pipeline, but I've had it before. It's also a sour stout, but it felt like it had more character than this one, even if I feel like it might strip all the enamel off of my teeth if I drink a whole bottle. Stay tuned!