Farmhouse yeast! Well water! Segal Ranch Cascades! The reanimated corpse of Sean Hill's grand-uncle Arthur! YOU WON'T BELIEVE WHAT HAPPENS NEXT!
Ugh, stupid Mark. Clickbait goes in the headline, not the body of the post. I'm the worst. You know what's not the worst? Hill Farmstead! They are, in fact, the best. Arthur is one of their flagship saisons and this particular bottle went through an additional dry-hopping process with, you guessed it, Segal Ranch Cascades. They're really cornering the market in Cascade hops you guys. Let's see how much that treatment impacted the base (hint: not much, but who cares):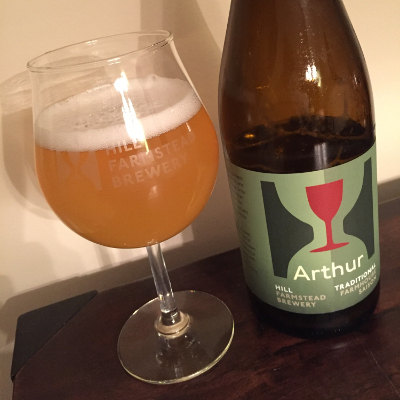 Hill Farmstead Dry Hopped Arthur – Segal Ranch Cascade – Pours a slightly hazy, very pale yellow gold color with a finger of white, fluffy head and decent retention. Smells great, typical Hill farmhouse character, fruity, hints of that dry hopping contributes additional resinous citrus notes, but it's really quite subtle (very much like… regular Arthur). Taste starts sweet, hits a nice tart fruit character, lemony, a little farmhouse in the middle, maybe a little of that citrus and resin hop character, but it's very, very subtle, finishing on a clean lactic sourness. Mouthfeel is crisp, light bodied, and refreshing. A little more acidic (lactic, not at all acetic) than I remember, but no worse for it, it's actually very refreshing. Overall, yep, it's Arthur all right; the dry-hopping is quite subtle, but nice. A-
Beer Nerd Details: 6% ABV bottled (750 ml). Drank out of a charente glass on 8/27/16. Bottled: 2016 06 30 DH (that appears to be the only indicator of the dry hopping process on the label).
Oh, another world-class saison from Hill Farmstead? Go figure. Stay tuned, we've got a couple other Hill Farmstead (or HF adjacent) efforts on the way.