In the swanky world of lambic, brewers like Cantillon and Drie Fonteinen seem to get the grand majority of attention, but fine folks over at De Cam put out some decent stuff as well. Alas, I think this particular beer fell victim to one of my pet peeves: carbonation. Namely, this has very little in the way of carbonation, and while it has that very promising 3 years in a barrel, the unblended nature means that it doesn't quite live up to the expectations set by the likes of Cantillon and Drie Fonteinen. Of course, both of those breweries have janky uncarbonated and unblended versions of their beer too, so perhaps I shouldn't be too judgmental here, but this was still a bit of a disappointment for me.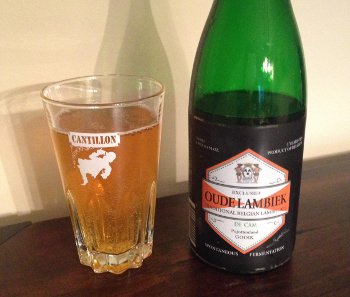 De Cam Oude Lambiek – Pours a golden color with visible carbonation but minimal head. The smell has a very nice funk to it, earthy, sour, fruity, almost vinious aromas, maybe a bit of oak and vanilla too. Taste is surprisingly tame, fruity but not super sour, almost like a sort of white grapejuice. There is a hint of sourness and some other funky notes, like earth or barnyard stuff, especially in the finish. Mouthfeel is light but almost flat, very little in the way of carbonation (and you know how I am with carbonation (and if you don't – I like my beers, especially sours like this, to have ample carbonation)), not super acidic or sour. Overall, this has some nice elements but is still a big disappointment. B-
Beer Nerd Details: 5% ABV bottled (750 ml caged and corked). Drank out of a Cantillon lambic glass on 6/28/14.
So I'm assuming this is the equivalent of something like Doesjel or Bruocsella, so I can't quite hold this against De Cam, even if this does not make a particularly good first impression (especially considering the price), but I'd totally be willing to try the "regular" Oude Geuze De Cam, which seems like it plays in the same territory as the big boys… but then, I need to actually find a bottle of that stuff, which may be difficult…