In the Beer Justice System the people are represented by two separate, yet equally important groups. The drinkers who investigate crime and the District Attorneys who prosecute the offenders. They meet once a month at a local BYOB to sample beers. These are their stories: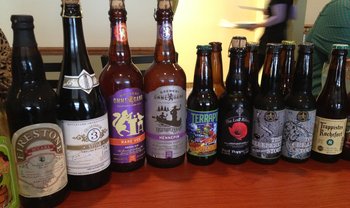 The following notes, compiled by our resident stenographer, should be taken with a grain of salt as I'm pretty sure the stenographer was also drunk (as evidence, well, the stenographer was me). In order of drinking (not in order of picture, and sadly, we didn't get to all beers in the picture either):
Starr Hill The Love – A pretty straightforward but enjoyable hefeweizen. Super carbonated, overwhelming head, but a nice banana/clove weizen yeast character, highly drinkable stuff. B
The Captain's Brew House All American – This is actually a buddy's homebrew, and I arrived a bit late, so I only really got to try the yeasty dregs of the bottle, but it seemed pretty darn good – easily the equal of the previous beer. Would like to try it fresh sometime. Still, truly a beer worthy of Captain America (i.e. the namesake of my buddy's home brewery).
Ommegang Hennepin – You know, I've mentioned this beer numerous times on the blog, but I've never actually reviewed it. It's a really nice beer, one of my favorites, the beer that introduced me to the world of good beer. Nice Belgian yeast character, light, crisp, refreshing, quaffable stuff. I might be into chasing more funky varieties of saison these days, but it's always fun to revisit this beer and it holds a special place in my heart. A
Ommegang Rare Vos – The slightly maltier sibling of Hennepin, I also love this beer (which, yes, I've actually reviewed before), one of those beers that is also probably impacted by nostalgia for me, but it's just as good as ever. A
The Captain's Brew House Shameless IPA – Another homebrew, this one is actually a Northern Brewer Dead Ringer. It was very good, with a big malt backbone, but also a nice hop character. I'm not a huge fan of centennial single hopped IPAs, but this one was solid.
Kaedrin Dubbel – My homebrewed dubbel continues to evolve, with an almost coffee-like character emerging right now (but not straight coffee, and not really a roast either, somewhere perhaps between those flavors). It's actually quite interesting. I'll be interested in trying this again in isolation, as beer club isn't exactly the best setting for my palate!
Trappistes Rochefort 8 – Truly a classic beer, one of my favorites of all time. Previously reviewed.
Boulevard Collaboration No. 3 – Stingo – A collaboration with Kaedrin favorite Pretty Things, this one goes a more English route, though it's souped up a bit more than that might lead you to believe. Nice subtle hints of breadiness and toffee with maybe a hint of dark chocolate. Didn't really strike a big chord with me, but it was certainly a well made beer. B
Starr Hill Double Platinum – A solid, if a bit boozy DIPA. Nice hop character, but the booze was more prominent than I expected for an 8.5% ABV beer. It was probably a little warmer than it should have been, but I'll leave it at a B for now.
Lost Abbey Red Poppy – Another of my contributions for the night, this is still a spectacular beer, and made a lot of waves with the attendees, even folks who don't normally go in for "beer". Previously reviewed, and still an A in my book.
Firestone Walker §ucaba – Very generously contributed by Kaedrin friend Dana (she's not a huge bourbon fan, but knows that some of us other beer club members are), this sucker is as good as ever. Previously rated and still an A in my book.
And that just about wraps up this episode of Law & Order & Beer. Fortunately, all As and Bs, so no District Attorneys needed. See you next month.